Any Rolls-Royce is a rare and exclusive automobile, but some customers want an entirely individual creation and they're willing to pay big bucks to get it.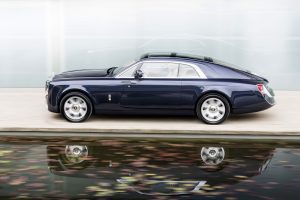 The Sweptail, which made its debut at the 2017 Concorso d'Eleganza in Lake Como, Italy, is inspired by coach built Rolls-Royces of the 1920s and 1930s. The owner requested a custom-made two-seater coupe with a large panoramic glass sunroof and also wanted the car to incorporate the 'Swept tail' look seen on certain Rolls-Royce models of the 1920s.
The Sweptail was custom ordered for an alleged sum of $12.8 million USD, which if accurate would make it the most expensive new car of all time – even after adjusting for inflation. In the automaker's words, the Sweptail "is a Rolls-Royce – but like no other before."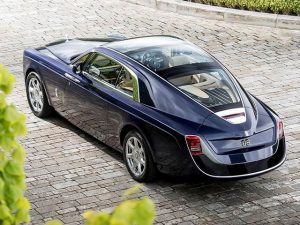 One of the most prominent styling features on the extroverted Sweptail is the different take on Rolls-Royce's Pantheon grille. Milled from a single piece of aluminum, the grille is the largest fitted to any modern-era Rolls-Royce and is flanked by thin LED running lights and circular headlamps. The side profile of the car is similar to that of the now discontinued Phantom Coupe, but instead of ending at the C-pillar, the roofline jets backward and extends past the boot lid edge. The true styling centerpiece is the glass panoramic roof, which Rolls-Royce claims is "one of the largest and most complex ever seen on a motor car of any marque."
The interior is similarly impressive with contrasting open-pore leathers and Ebony trim throughout. Rolls-Royce says the vehicle boasts its cleanest dash design to date and houses a special clock made of the world's thinnest Macassar veneer. Other unique interior features include a teardrop-shape rear parcel shelf, a champagne cooler in the center console and electronically operated luggage panniers designed to store a custom-made carbon fiber luggage set.
The owner of the car has been working with Rolls-Royce since 2013 to bring the Sweptail from concept to reality.