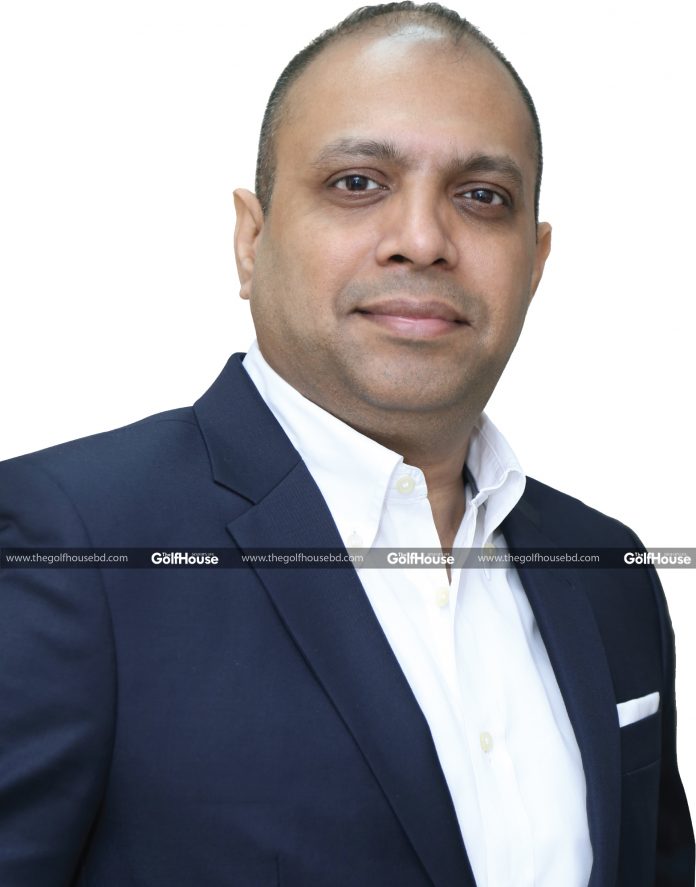 Taslim Ahmed, the Chief Executive Officer of Unitrend, feels our golfers need to be made into icons so that they and the game itself get more exposure, which in turn will help spread the game among the mass. This marketing professional, who has years of experience working with McCann World Group and Pacific Bangladesh Telecom Limited (Citycell), Nestle Bangladesh Limited among others, feels the potential brand value of golf and golfers is huge; only need to tap in to this market.
Why Unitrend has joined hands with TheGolfHouse?
Unitrend, a 33-year-old company, is being branded afresh. Over the last one and a half years, we have been trying to branch out into other avenues which are innovative in nature. We promote brands, we promote passion. I have joined Unitrend about a year ago. My aim is to promote passion in different sectors. Passion plays a big role in sports. The success of golf didn't come in a day; there was a lot of passion involved. We have identified golf as a sport which needs to be highlighted. We thought we should be associated with golf, and TheGolfHouse is one of the finest avenues to partner with the passion for golf.
How much prospect do you see in Bangladesh golf?
It will take a bit of time, but the potential is there for sure. Shooting can be a prime example. We won gold in shooting a long time ago, but due to lack of patronisation the game did not grow as much as it should have. Chess had a great future too when Niaz Murshed and Rani Hamid were playing, but if there was the right guidance, the game would have gone far. I can see the same potential in golf, which is just flourishing. A little more patronisation can take it further.
We are working with the vision that golf will be the second biggest sport in the country by 2025. How can this vision be turned into reality?
I would first congratulate you for having such a vision. We usually suffer due to lack of vision. There needs to be a vision. I am completely optimistic about it. I am hopeful because in terms of organisation, golf is way ahead of other sports. I have led the sponsorship of a tournament called Captain's Cup, which gave me the inside knowledge of the game. I think the most important thing is patronisation and letting people be aware of the game and its potential. Golf needs to be spread throughout the country and the golfers need to play more overseas. There needs to be icons in the game for youngsters to follow. You don't always need proper golf courses; you can play it on miniature golf courses, you can play it on the school campus. We just can start in a corner with the basics and then there can be a transformation into golf courses.
We are a sports loving country. Do you think sports can in fact help building brand values for companies?
Undoubtedly sports and music can play a big role in building image of a country, unite a country. Sport is a great uniting factor. And whichever brand is associated with a particular sport, will get the mileage automatically. Sport is a huge property to build for a brand. A lot of business houses use this. Even when launching consumer goods, sports events are roped in as a branding partner. If golf is highlighted more in media, people will get more interested in the game while the companies will also be encouraged to sponsor golf events and golfers.
……………………………………………………………………………………………………………….
……………………………………………………………………………………………………………….
A lot of brands use sports stars as brand ambassadors. What is the scope and potential of this thing?
The potential is endless, but first you have to make that sports person an icon. We may have many such brand ambassadors, but those haven't been turned into icons. The golfers need to be turned into icons through more promotion. Only then a sponsor will come forward. For example, a cricketer maybe doing a great job as a brand ambassador of a telecom company, while a golfer may fit more as a brand ambassador of a car, watch or an aviation company/brand. But we need the promotion of golf and golfers first.
That is the job of the media. But what can the golfers do to be regarded in that category of sports ambassadors?
The golfer has to have the latest know-hows of the game, the latest trends and the tools and techniques of it. They need to maintain a certain standard diet, lifestyle etc in line with other international players. So he needs to have that knowledge, that awareness of the international standards in golf. He has to continuously strive to improve himself.
People say golf is a lifetime game in the sense that you can start playing it at any stage of your life. Has that interest never occurred to you?
My interest in golf came only when I started working as a patron or a sponsor. I have been involved as a sponsor for the last 5 to 7 years, but it was difficult for me to make the time to play the game myself. If I get the time, I will definitely start playing pretty soon.
Tell us about your company Unitrend and its clients.
Unitrend Limited has been affiliated with the world renowned McCann Worldgroup – which is a leading global marketing company providing today's marketers with best-in-class strategic and creative services. Also, Unitrend Limited is now a part of Impress Group which has strengthened its resources and prominence in the industry enabling Unitrend to move faster, aim higher and reach further.
Our main focus is on integrated marketing communications. Recently we are working on digital marketing and corporate reputation management. Globally our partners are McCann World Group. Our clients involve Berger Paints Bangladesh Limited, Nestle, American Express, City Bank, Islami Bank, Anwar Group, Bashundhara Group, etc. We give customized marketing communication solution to these companies.