"Where eyes and mind serenade by a cool breeze by the sea, with a vast horizon of unending ocean and the sky reveals the finest stars."
The sea, millions of grains of sand, rain, sunsets and sunrises; the moon, and the tranquility – if you want to enjoy nature in all its glory, Mermaid resort is the place for you. You will not even know how the morning turned to noon, and then to evening, as your day slips by while you remain immersed in the magically changing scenes all around you.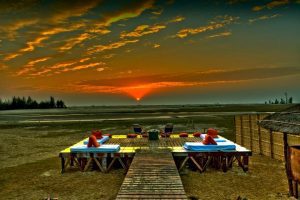 Waking up to the roar of the waves not far away, with Bay of Bengal a few steps away, enticing you to dip your feet in its warmth. When you sip a cup of tea while soothing your sight over the waters a gentle music playing somewhere behind you will set the perfect ambience.
Mermaid Beach Resort is some way off Cox's Bazar city, and the road to it is an experience in itself, with sheer hill on one side and the Bay with its waves on the other, and patches of Jhau (Coastal She-oak) and coconut trees. Upon entering the resort, you become oblivious to whatever lies outside of it. You forget how far away you are from daily life, which way you came. No worry of the world will touch you. The resort welcomes you with flowers and green coconuts. "All we need is love" – an entrance plaque proclaims. There are many cottages in the serenely secluded resort. The outlay is inspired by Thai and Indonesian resorts, but the cottages are completely done with local materials.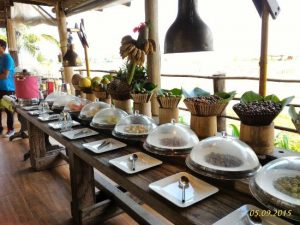 Wonderful lanterns and paper decorated lights, large tress all around, flowering shrubs and a vegetable garden to boot – a piece of heaven indeed. The décor inside the houses is also very nice, neat and clean. There are many frescos and wall paintings. There are also quite a few pools and ponds, with blue lotus in bloom. The cottages have a pool adjacent to them. You will not lack for anything as a tourist.
While it is easy to get lost there, there's a room and unfelt comfort waiting. You can take a bicycle from the cycle stand and make your way to your choice of room. The choices, too, are seemingly endless. If you want proximity to the beach, then opt for the Beach Bungalows or Beach Villas which boast one large bedroom and are located almost a minute away from the beach. The prices for these range between TK 11,000-15000++ per night, the spacious 2 bedroom beach villas will cost around TK 12,000++ per night. To pamper yourself further, why not opt for the one bedroom Beach Villa with a hot tub and a living room? For TK 35,000++ a night, it's all yours. Apart from the obvious beauty, what are most impressive about the place are the available amenities. The management has thought of all the comforts a tourist might be looking for at any moment. Like there are many sports to just plonk down to see the sea, whenever you wish, on the randomly placed sitting arrangements on dry patches of highland amid the tidal waters.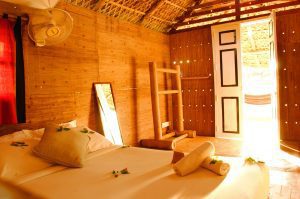 Mermaid started its operations in 2004, solely with a beach shack. Even then, the idea was to work with nature and for nature. Mermaid strives to not only preserve the beauty of Cox's Bazar but also to showcase it, along with the hospitality that people of Bangladesh are famous for.