Sajib Ali, one of the most promising professional golfers of the domestic circuit, has had a rather lean patch of late. He worked on his game and found out that it was his back swing that was letting him down. Thanks to his sponsors Bay Developers, the 29-year-old availed a training course in Malaysia which he feels helped rectify his game. He is looking forward to a new beginning in the upcoming season.
Q: How did you come to golf?
A: I became a golfer only because of former member Moeen Ahmed Chowdhury. I used to work with him and he bought me a golf set and asked me to play. Then Gemcon Group sponsored 12 of us in 2007 and we started improving. Later R&A sponsored us for five years.
Q: Your father was a caddie master. Did he encourage you to play golf?
A: Well, my father died when I was eight or nine years old. I used to come to the golf course with my family. That was a good time for me and I have many fond memories of those days. However, I was too young at that time to understand the game.
Q: When did you become a ball boy?
A: My father died in 1997 and I was the only son of my family. Later the authorities appointed me as a ball boy so that I could earn a living. I worked with the women golfers during that time. I didn't have any ambition of becoming a golfer though.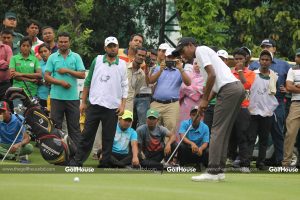 Q: Your performance over the last one year hasn't been too inspiring. However, you, along with some other golfers, took a one-month training in Malaysia recently. Has it helped your game? How is your overall game at the moment?
A: I had trouble with my back swing. I couldn't rectify the issue. I discussed this with my sponsor and asked them if I could go for a training. The company gave consent and arranged for the expenditure. I think my swing has improved. I hope this change in swing will have an impact on my overall game.
Q: What is your target for the next season?
A: My target is to give my best shot at the PGTI events held in Bangladesh. I hope I can do well in the other domestic events as well.
Q: Which golfer do you follow?
A: I don't follow anyone at home. Among the foreign golfers, I follow Phil Mickelson. I learnt the game watching him play. He is the best in chipping and I follow this aspect of his game mostly.
Q: What is your current golfing routine?
A: I come to the golf course at around 7:00am everyday and go to the gym an hour later. Then I practice swing, driving around 200 to 300 balls. After lunch, I practice chipping for around two hours before I finish it off with putting.
Q: You are currently sponsored by Bay Developers. How long have they been sponsoring you? What other things they help you with apart from financial asistance?
A: Bay Developers have been sponsoring me since 2009. I was previously too thin and underweight for my height. So they suggested me to gain weight and gave focus on my fitness and nutrition. I worked on those things and gained some weight, which eventually helped improve my game. The sponsors are happy with the progress. I thank Bay Developers and its managing director Iftekhar Ahmed Khan especially.
Q: What suggestion do you have for budding golfers?
A: Those who are amateurs should not think about earning money or turning professionals at this stage. If they think they should earn money and become BPGA members, then they will be making a mistake. When you are an amateur, you have a lot you can learn from golfers at home and abroad. They should rather concentrate on their own game and only turn pro when they reach a certain level.