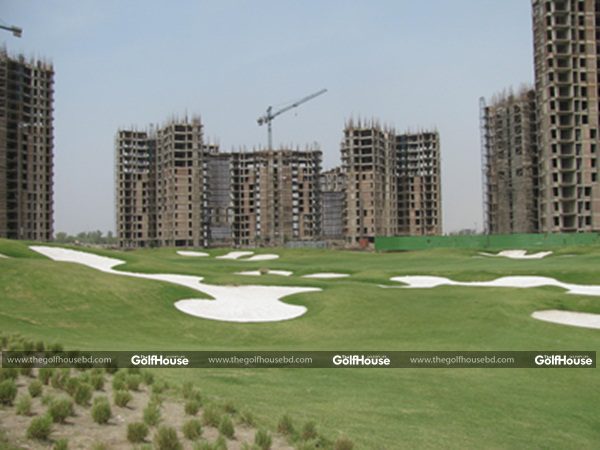 With the second fastest growing economy (IMF 2016), a country with a significant reduction in poverty, a classification of being among the next 11 emerging market economies and the 2nd largest financial sector in the sub-continent, the world is asking what next for Bangladesh. While predicting the future is fraught with risk it would be a safe guess that golf will be part of this growth.
In other Asian nations we have seen with improved economic situations that golf related developments have soon followed. As China opened up its economy 600 new golf courses emerged within a 25 year period. Since the 1980's Thailand has seen many new golf courses built and Bangladeshi neighbour India has also seen a steady growth of new golf projects since 2000.
With the creation of these new projects the combination of golf and residential areas has emerged as the most common formula for their development. The general consensus is that golf adds value to real estate and real estate is more attractive to the market when linked to golf.
While no one wanted to argue with this presumption there was very little in the way facts to support the notion, especially in India. As both site planners and golf architects for golf related projects who have already completed 18 projects across India, those of us at Pacific Coast Design (PCD) felt that it was time for the myth to be measured by fact. Over five months, PCD collected key supporting information on the advertised selling prices of similar type residential developments, some being on golf associated developments and others being on only residential developments.
Six cities were researched, with villas and apartments being investigated separately. The cities chosen were cities where the golf/residential product is a common part of the residential property market. The golf component varied between the various developments with some being full scale 18-hole championship courses and others 9-hole or 9-hole par-3 products.
Importantly the information was gathered on a like for like basis, that is the properties identified for comparison were basically the same, in the same area of the city (non-golf properties selected closer to city amenities), with similar facilities and of similar floor space, the only significant difference being that some properties were associated with golf and the others were not.
Without exception both villas and apartments in every city researched displayed a significant increase in the advertised selling prices for golf related developments as opposed to the advertised prices for a similar type of properties in the same part of the city but with no associated golf course type of product. Average advertised prices fluctuated from an increase of 25% to over 150% for the golf related properties when compared to developments with no golf.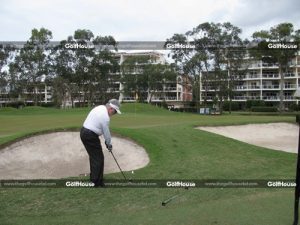 For example apartments on golf course developments in the Noida region were being advertised on average at a price 67% higher than the average similar Noida apartment.
With this research there should be no hesitation in saying developments on properties with an associated golf product are attracting a higher price than those without golf.
While developers may point out that golf courses use land and this land comes at a cost, does this the additional return on the villas or apartments cover the cost of the land? On some projects this would appear to be the case. With other projects Planning Authorities impose open space requirements (20 to 40%) on the new development, here golf can add a further benefit to the developer. Open space or parkland cannot generate any income to offset the ongoing maintenance costs, whereas golf (as open space) can deliver an income that offsets the cost of maintenance.
The flexibility of what a golf course can be is also a valuable asset for the developer. Originally the 18-hole championship course was golfs' main product, but now courses of all sizes and formats offer the opportunity of creating a golf product without the burden of using great expanses of land. 9-holes, par-3's, golf ranges and combinations of these offer the developer the flexibility to create entertaining golf products, on almost any land size. When well designed and constructed these golf products will attract golfers, generate income and give the project the market edge that golf can create.
The flexibility of golf doesn't end with the type of golf course, the course area can be designed and managed to accommodate other activities, be it walking trails, fitness paths or function lawns. A well planned golf facility should add more than just golf to a project.
Environmentally, golf can also enhance a project. The open space created provides valuable lungs for the city as well as habitat for local fauna. The drainage of the course can be designed to collect and return water to the ground aquifer, while the course irrigation can be undertaken using recycled effluent water from the villas and apartments of the actual development.
With this research the value of golf on a residential development has been identified, the opportunity for developers to utilise this additional profitability is a combination of product planning, design and marketing however it is now evident that the golf course can offer more than just a great place to enjoy your day.
Looking at Bangladesh it appears only a matter of time before golf finds its way into this burgeoning economy.
[The writers Phil Ryan and Paul Reeves, Principals of Pacific Coast design Australia, have worked in the golf industry for over 30 years and are members of the Society of Australian Golf Course Architects. Pacific Coast design is an Australia based company that has over 30 years of experience working throughout Asia, having completed more than 70 projects.]