Faridul Islam Fagun, a professional golf mentor, who gave up playing for teaching the game, says he wants to devote the rest of his life to help budding golfers flourish.
Q: Tell us about your background, experience and how you got into the golf industry?
A: I've been with golf since 1990. I came to golf when I was a student of class-VIII and started working as a ball boy at Kurmitola Golf Club. After completing my HSC in 1994, I got promoted to caddie's position. Since then I've always thought how I could assist golfers, not only by carrying their equipments but also by helping their game. I started learning rules of golf, handicap formula and its impact on scoring results from Mr Masud (the caddie master of KGC at that time). I also started learning how to play golf and assist golfers from Mr Atower Rahman, Mr Chanmia and some other good golfers. I asked them various aspects, read golf tips from golf magazines. In 2001, I joined Mainamoti Golf and Country Club as a golf instructor. I worked there for course supervision, players' handicap, preparing of group flight schedule, starter and result compilation of golf tournaments up to January 2017.
From 2001 to 2014, I was a regular golf instructor there and conducted many golf training programs too without having any certificates but only with practical knowledge. In 2014, I was introduced to Brig Gen Salim Akther (Retd) by Brig Gen Mohiuddin Siddique. They sent me abroad for D and C category courses. I am now preparing for B category before moving to A category. In 2016 I did junior golf training program and skill development internship course under PGA level-1 certified coach Mr Indrajit Bhalotia from Protouch Golf Academy, India. At present I'm working for the Rangpur Golf Club.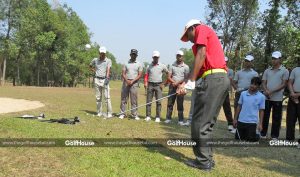 Q: Do you subscribe to any particular teaching method?
A: No, I don't subscribe to any particular teaching method but I use NGAI ball flight laws and D plane teaching method in accordance with my students' physiology (ability and limitations of body movements).
Q: What tools and technology do you use?
A: Our lives have changed due to technology, and golf is no exception. Golf instruction and sports performance is moving towards intelligent technologies which allows us to understand more through conducting research and using those to finding faults in golf swing and helping athletes perform at a higher level. I especially use "V1 Golf", which allows finding huge fundamental things of golf swing through video analysis.
Q: Do you play competitive golf?
A: I have participated in many amateur and professional tournaments. I realized that my game is not that competitive. So I decided to pursue coach's career.
Tell us about your future plan
A: Golf is not only a profession to me but also my passion. My ambition is to use my golf knowledge to produce quality golfers for international tours, but it depends on how much support I get from BGF & BGA.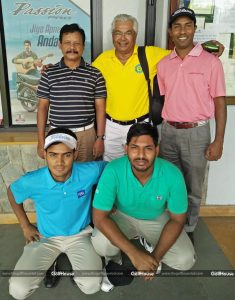 Q: Share a good memory with your learners.
A: My student Mohammad Akbar (player of Bangladesh national team now) went to Malaysia for advanced stage golf learning for four weeks. After three weeks, he called me and said: "I have learnt many things from here in the last three weeks and I found that you taught me more than 70% of those. I wouldn't have realized that had I not come to Malaysia."
Q: Do you have any suggestions to those who want to play golf?
A: The game is easy and enjoyable if one learns the fundamentals of swing, sequence and skills accordingly. Improper practice cannot make a man perfect, so please learn golf from a right coach, at the right place and at the right time.
Q: We promote golf as the second biggest sport of Bangladesh in 2025. What's your opinion on it?
A: I think Bangladesh has immense potential in golf. Bangladesh has world class golf courses like the one in Kurmitola where Asian Tour events are held. The interest in the game is growing. We have a player like Siddikur Rahman to be proud of.
BGF, KGC and BGA are working to promote golf in Bangladesh. Many professional golfers are participating in Asian Tour events and our national team is also doing its best abroad.
But the game is expensive. So I hope that the sports ministry and sponsors would come forward to help the game grow and help us achieve our goal.