by Brendon Elliott
Introducing your child the game of golf is a great reward for the both of you
 My first bit of advice is simple; no matter what age your child is when they get started, make sure that having fun is #1. Whatever your aspirations may be for your child with golf, you need to remember (and remind your child) that it's just a game. In my mind golf is the greatest game known to man, and perhaps you feel the same, but if your child does not see things that way that's fine. Even if your child does grow to love the game and winds up devoting a great deal of time with it, make sure they grow up to be a well rounded individual. Encourage them to play other sports or develop other talents in areas such as art and music.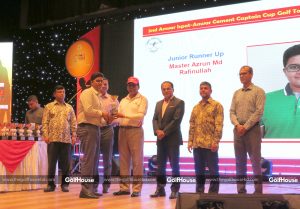 Before They Pick up a Club, I highly recommend that you start your child out by teaching them some of the most important principles of the game. These initial teachings do not even require a club or a ball. The most wonderful thing about the game of golf lies in these principals. What are these principals? I'm speaking about the Etiquette and Rules of the game. Golf is historically an honorable game, the idea of a game where a participant is more or less self policing themselves cannot be found in many (if any) other games. The aspects of etiquette within the game mirror that of the way people should act in everyday life, with respect and concern for others. The moral core of golf which will resonate throughout your child's entire life are unquestionably what makes golf, in my opinion, the greatest game in the world. For more information on the Rules of Golf log onto the USGA's website and there page on The Rules. For more information on Golf Etiquette log onto Mr. Golf Etiquette and the USGA's website and there page on Etiquette.
Find an Instructor, now that your child has been primed on the core values of the game, it's time to look for an instructor.
Finding the Right Equipment, when it comes to looking for the right equipment, you have a lot to choose from. Most of the major golf club companies make junior sets. I would suggest however to initially look at a junior specific golf equipment manufacturers. Studies have shown that a large number of juniors develop their swings using faulty equipment that leads to lifelong swing flaws. Historically, kids learned the game with adult clubs that were cut down to junior size, but were still way too heavy and unbalanced which made learning the game difficult for even the most athletic kids.
Where to Play, most golf courses are very accommodating to junior golfers. Some set aside specific times when juniors are allowed to play so be aware of that. I suggest looking for a course that offers junior or "family tees." Recently, Leadbetter Indoor golf Academy launched in Bangladesh at Kurmitola golf club Dhaka, you must visit there for the junior program.
What to Wear, now that your child has a grasp on the essence and rules of the game, has a quality instructor, good, well fitting equipment, and a place to play, they need to "dress the part" of a golfer. As with most of the major golf equipment companies, most of the major golf clothing manufacturers have junior apparel lines
Be Realistic, if your junior golfer turns out to become a good golfer you need to remember to be realistic in your potential expectations for them. If your son or daughter can make the cut on the course, make sure what they do off the course is equally as impressive. Make sure that they are true student-athletes and that their grades are up to par. Also make sure that they are well rounded and are active in extracurricular activities away from the course. This will make all the difference. From a competitive playing stand point, make sure your child plays in as many quality and high profile events as possible.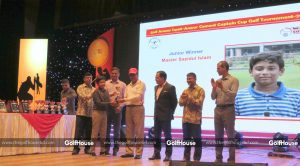 Professional Golfer vs. Golf Professional, A Professional Golfer is an individual who makes a living by playing golf (i.e. Tiger Woods) and a Golf Professional (notice the order of words) is an individual who makes a living in the business of golf.
If your son or daughter is not quite a tour quality golfer (Don't worry, very few are) there is still tremendous opportunities out there for a career in golf. The PGA of America offers an in-depth training program for those interested in a career in the golf business. The PGA Professional Golf Management Program is the vehicle needed to have your child navigate their way toward a rewarding career in the golf business.
The 18th Hole, as you can see there are endless opportunities out there for your son or daughter within the wonderful game of golf. What I gave you is just a small sampling of the resources available to you if your child shows an interest in the game.
If you have any questions on Junior Golf please feel free to contact me at brendonelliott@pga.com or log onto my website www.BrendonElliottGolf.com and go to the Junior Golf Central page for more information.