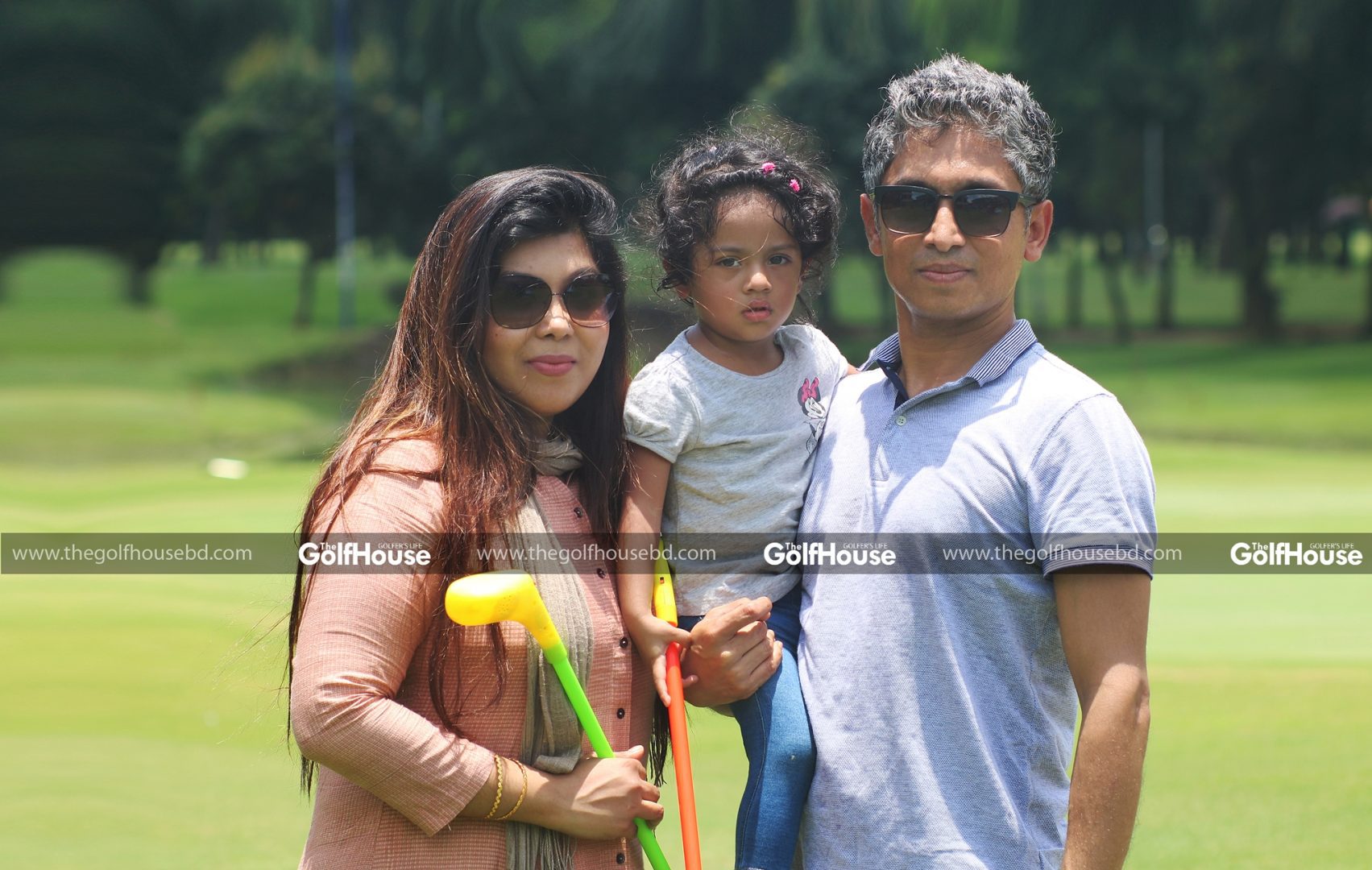 NM Asaduzzaman is the vice-president of Orion Group. He wasn't into golf that much, but it was due to his father-in-law's influence that he came to the Kurmitola Golf Club. His wife, though, had started earlier and is a slightly more accomplished golfer. Despite their busy careers, the couple enjoy their time at the golf club, where they get the opportunity to further their social networks. They have decided to give their daughter a go at the golf swing as they feel there are enormous opportunities opening up for professional golfers.
How did you two start playing golf and who encouraged whom to the game?
Mrs. Asaduzzaman: Basically my husband influenced me, but my inspiration was my father. My father is a golfer and he was a member of the golf club. So he inspired me first to play golf and then my husband influenced.
Mr. Asaduzzaman: I think golf is the only game that one can play till the last day of his life. I've not only influenced my wife, I'm trying to get my daughter interested in the game too. She comes here often and does a bit of golfing with a plastic club. My father-in-law is basically our inspiration and through him, my wife became a permanent member here. Inshallah we will continue playing golf for long.
A lot of people lose interest when they see that it takes a lot of time and effort to actually graduate from the driving range to the actual course. But your transition period was rather smooth and fast.
Mrs. Asaduzzaman: I took my handicap earlier than usual because I felt that it would seem difficult on the driving range while things would seem easier once one gets on the course. Some people give up due to apprehension of the hard work and effort the game requires, but I didn't see it that way.
Mr. Asaduzzaman: The course is something different. Playing on the green is very different from practicing on the range and it unshackles one from those apprehensions.
……………………………………………………………………………………………………………….
Also read: FEEL PROUD FOR BEING PART OF SIDDIKUR'S SPONSORSHIP
……………………………………………………………………………………………………………….
What was your routine before taking the handicap?
Mrs. Asaduzzaman: My target was to achieve my handicap within one and a half months. So I prepared my slot and schedule in that way. Liton bhai was my trainer and I gave the test after one and a half months.
Which aspect of the game attracts you most?
Mrs. Asaduzzaman: The field attracts me most. When I get on the course, I feel like playing more and coming here every day.
Mr. Asaduzzaman: When you play on the golf course, you feel different, especially in a city like Dhaka. Golf is the only game that gives a completely different feeling with all the green, calm, quiet and serenity. You won't get it anywhere else.
You were saying golf could be taken as a career choice.
Mr. Asaduzzaman: Exactly. I feel that I should try my level best to make my daughter a professional golfer if she likes it. This is a prestigious profession with worldwide opportunities and there are opportunities in Bangladesh too. As far as I know, Bangladeshi girls are playing golf, participating in foreign tournaments. I hope there will be more such opportunities opening up in near future.
Does golf help or hinder your profession?
Mrs. Asaduzzaman: It has helped us in the sense that we have got a good golfing community and a friend circle here.
Mr. Asaduzzaman: Golf is a game where one can make business deals because it widens your network, your friendship, your contacts, etc.
Do you think golf can help your business?
Mrs. Asaduzzaman: Well we don't really look for that kind of help, but the other aspects of the game are really rewarding.
What do you think is the prospect of golfers in Bangladesh?
Mr. Asaduzzaman: Well, I don't think we are in a position to comment about the golfers because we are just beginners and very amateur. But obviously our golfers are doing well.
What is your message to those who want to play golf yet haven't started?
Mrs. Asaduzzaman: I would say to them that it may look like it's very hard in the beginning, but once they start it on the field they would feel better and feel more encouraged.
Mr. Asaduzzaman: I have just started and I will try for my handicap soon. This game is a bit expensive, but those who can afford it should definitely try it out. I'm sure they will feel good about it.