Dusai Resort & Spa is the first five-star boutique villa resort & spa in Bangladesh, situated within a small tropical forest on hillocks just beside the tea gardens in Moulvibazar. World Luxury Hotel Awards nominated Dusai Resort as the "Best Luxury Forest Resort" in Asia for 2016. The resort's chairman and managing director Nasser Rahman is proud of the achievement and the name that the resort has created for itself within a short span of time. However, he feels that for high-end resorts like this to prosper there is a need for a whole change of approach to the way tourism is addressed in our country. He feels the private sector must play the leading role in redesigning tourism sector of the country, with an enabling hand of the government.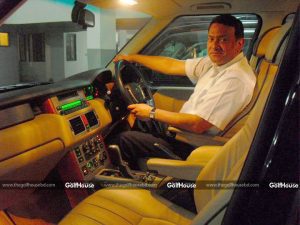 Q: What is the story behind setting up the Dusai Resort?
A: I frequent this question even four years after the inauguration of the resort. The story is very simple. We had a family land of about 40 acres. The area was tree-infested rolling hillocks. After I saw a resort being built in Sylhet, I thought that we could have a much better, high quality resort on our land. That inspired me to start the Dusai Resort. Original plan was to make it a three-star resort, but on suggestions of a foreign consultant, it was turned into a five-star resort. Dusai Resort has won three international design awards. For service quality and atmosphere, it has won the best luxury forest resort award in Asia in 2016.
Dusai Resort & Spa is the first five-star boutique villa resort & spa in Bangladesh TheGolfHouseQ: Describe the scenic beauties on offer here.
A: The land is an amalgamation of a few hillocks, each 35-40 feet high. My father had planted about 12,000 trees on it. That has given Dusai a different flavor which no other resort has. Dusai has a long serpentine lake in the south and two large fish ponds in the north side. We have a reserve forest at the end of the resort. We have mini valleys with swimming complex, open air theatre. The resort has a natural landscape which the guests like very much.
Q: What is the signature feature of Dusai Resort?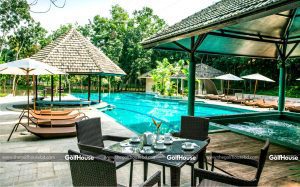 A: There are several signature places in the resort.The swimming pool complex, the tea valley restaurant with a wooden thatched roof structure on a small hill – these two are our signature features. Our reception hall is pretty unique too.
Q: How is Dusai Resort contributing to Bangladesh tourism?
A: The Sylhet region is a god-gifted place of the country. But there were no quality holiday resorts or hotels here. People earlier used to go to Cox's Bazar, where there is nothing except the beach. But there are many places to go in Sylhet and Maolvibazar like Lawwachhora rain forest, Madhabkunda waterfall, Ratargul swamp forest, Bisnakandi mountain range, Jaflong river. What happened after our resort and another sister concern in Sylhet is that people are coming in droves. The trend now is to go to one of these two resorts and then explore the entire region.
Q: What should tourism authority do to promote tourism in Bangladesh?
A: I keep on telling the tourism board that among all the SAARC countries, only Bangladesh and Pakistan are not tourist destinations. All the other countries are infested with tourists. We only get some middle and low-end tourists that inbound operators bring in. What is most needed is to promote Bangladesh first. For resorts like us to sustain, we need upper-end tourists to come to Bangladesh. We need to have a proper master plan and get the private sector involved. A government official can never ever make a tourism plan by himself or themselves. The stakeholders: the inbound tour operators, high-end hotels, transport agencies – they need to be on the frontline, they need provide the ideas how to draw the master plan. We need to appoint foreign consultants to promote tourism.
Q: Golfers are tourists while tourists also love to play golf. So do you have any plan to invest in golf tourism?
A: Golf is a very expensive venture. For an 18-hole golf course, you need 30-32 acres of land which is very difficult to obtain. Even for a nine-hole golf course, you still need 18-20 acres. In Maolvibazar, there was a nine-hole golf course maintained by Duncan Brothers, but it is now abandoned. It was made by the British for the expats to play golf. If the authorities agree and the golf course is leased out to us, we can it turn it into a proper golf course. This will bring in a lot of high-end golfers from Asian countries at a very cheap cost.

Q: What would you say to tourists of Bangladesh?
A: In Maolvibazar and Habiganj, within a 40-km triangle, three 5-star resorts have come up. Two of them are Dusai and the other one is a hotel. Now we see a new trend, especially in winter months, that tourists take a three-day tour and experience their time in all these places. However, Sylhet is one of the most heavy rainfall areas in Asia and that is the beauty of it. People don't understand this and they think rain is a deterrent. Rain is actually a very attractive medium. It's beautiful during rains in these places. However, people have a tendency of going on holidays during winter. Sadly tourists are not coming as much as we had expected. If we want our resort to be occupied 50% of its capacity, we need only 24,000 people in the whole year which means 2000 people in a month. In the other resort in Srimangol, we only need 3000 people a month. So in total we need 60,000 people visiting the two resorts throughout the year. In a country of 165 million people, we don't get that 60,000 which is a shame. It's simply not possible to sustain purely on Bangladeshi tourists, you need foreign tourists. Otherwise it's a struggling affair for all the resorts. In Sylhet, pure room rate is difficult to go below Tk6000. Below that, you're not making money.
Q: As a businessman, what is your message to young entrepreneurs or those looking to found a startup?
A: The first thing you need in doing business is to remain honest and committed to your business and to your commitments. It's most important to keep delivering competence and abide by the financial ethics and not to shortchange anyone, whether a supplier or a co-business partner.
Q: TheGolfHouse is in its third year. You have followed this magazine since its inception. What message do you have for its readers?
A: When I first saw the magazine, I thought let's put some ad in this magazine. We did for several months continuously despite the fact that it didn't have that much subscription. I would say it has now transformed into a quality magazine. It is the only golf magazine in the country with diversified articles. However, since the number of golfers is very limited, I guess the magazine has the scope for diversifying itself into a lifestyle magazine, which you are doing little by little. I hope the magazine expands its scope and increases subscription further in future.
For more about the Resort:
DuSai Resort & Spa
Srimangal Road
Niteshwar, Giashnagar
Moulvi Bazar, Bangladesh.
P: +880 861 64100
Hotline: +880 01617005515
E: rsvn@dusairesorts.com
Web: www.dusairesorts.com