As Panuphol Pittayarat explains in his entry for his March diary he has only just started playing again as he battles a shoulder injury. "Coconut", as best we know him, has had cryotherapy, physiotherapy and dry needle treatment plus more to try and get back on Tour, and while he is still not 100% he does plan to compete in next week's Trust Golf Asian Mixed Cup in Pattaya.
March
Since my diary last month, I was hoping to be able to play the International Series Thailand at Black Mountain, but unfortunately, I wasn't able to because of my [shoulder] injury. I took a long break and decided to rest instead.
I was basically out of action from the Monday of Royal's Cup week until just four or five days ago. At the moment I still have some pain after I hit balls, but I think it's getting better because I know how to treat it now.
I went to do a lot of stuff to try to fix it during the time off. Physiotherapy of course, but also cryotherapy at the place where Jacob Fleck, who caddies for Joohyung Kim, used to work. Cryotherapy is an ice-cold chamber; you go in there and it's minus 140C degrees and you stay in there for three minutes. I went to do some dry needles treatment too.
I actually also went to Samitivej Hospital in Bangkok and got injected with some medicine. I'm not sure what they put in me, so I don't want to guess what it was called. It was some pain relief medicine I think, but it hasn't really helped me that much. I probably went to see four or five doctors during this whole time off.
Now I am doing better, and I have just started practicing again for the last four or five days. At the moment, it's kind of a bit tight again. They call what I have a bulging disc, it's kind of slipped out a bit. Maybe the same thing that Tiger Woods had years ago. It's in the C4, C5 and C6 vertebrae which is where it goes into my neck, shoulder and shoulder blades.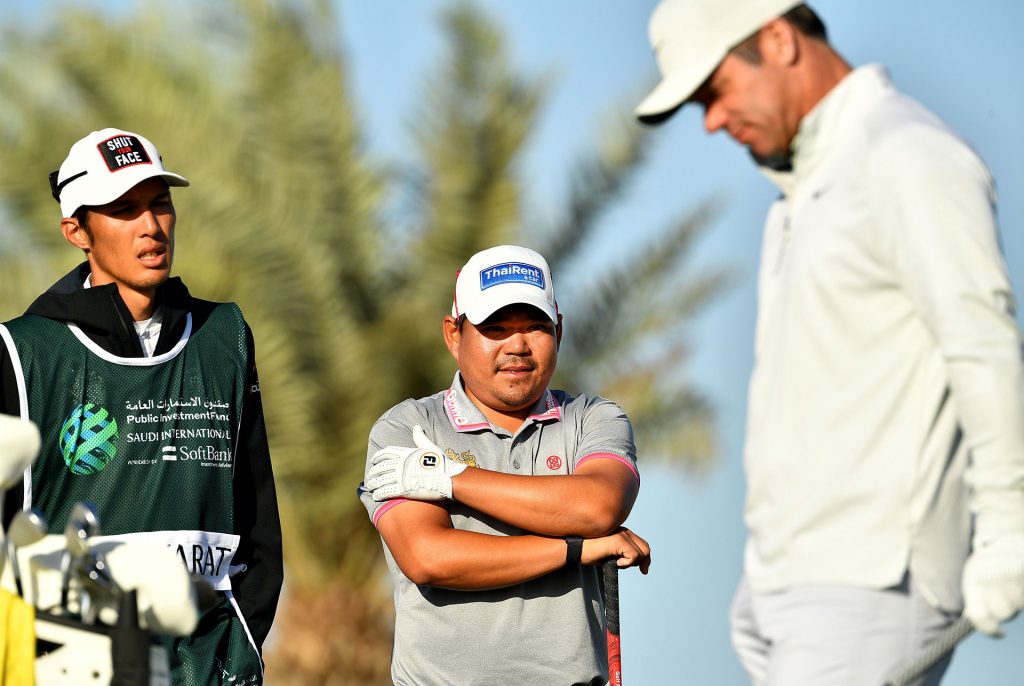 Next week I am going to play the Trust Golf Asian Mixed Cup in Pattaya. No matter what, I will be there. I'm just going to go see what I can do with what I have at the moment. I'm confident that I'm going to be playing, but I'm not very confident with my A-swing, my A-game because it's still a little bit in there, the pain, but I'm going to try to get some medicine for pain relief and then go with it.
I'm probably not going to be swinging my strongest swing, but I'll give it a go. I need to play golf again, I'm sick of staying at home. I could go at full speed if I want, but if I do there's going to be pain. I could probably hit it 70% right now, and it's not going to be a lot of turning or a lot of bending. It's probably going to be like an old man's swing. Yeah, I might be doing an old man's swing haha.
During the time off I watched the International Series Thailand on TV, I watched Phachara Khongwatmai a lot during that whole week. Last week I caught the highlights from The DGC Open, Delhi Golf Club looked tough! It was good to see Nitithorn Thippong get his first Asian Tour win, he's been working hard on his game and practicing a lot, so it was very well deserved. He got his chance to win, and he took it. Delhi Golf Club is not really a power game course, but you have to be very precise. It's also the same course Kiradech Aphibarnrat got his first Asian Tour win on back in 2011, so maybe it's a good sign for him.
I haven't been able to do any cycling lately, but I've been doing a lot of walking, a lot of it! Because I haven't done it for a while, it would be hard to walk 18 holes for, you know, four or five days in a row next week. I learned this lesson from quarantining in Japan last year. I stayed in the room for two weeks, and when I went out to play again, I could barely walk. I never knew that golf was hard to walk until I stopped walking.
During the time off I've been very careful about COVID. I haven't had lunch or any meals with friends; I haven't played golf with anyone else; haven't sat around with a lot of people. A lot of people around me got COVID but they all recovered and are fine again now.
That's it for now, wish me luck in Pattaya!