The logo and trophy of the Bangabandhu Cup Golf Open 2022, one of the Asian Tour's emerging tournaments, have been unveiled.
Chief of Army Staff and President of Bangladesh Golf Federation General S M Shafiuddin Ahmed, as the chief guest, unveiled them at Kurmitola Golf Club in Dhaka Cantonment on Tuesday evening.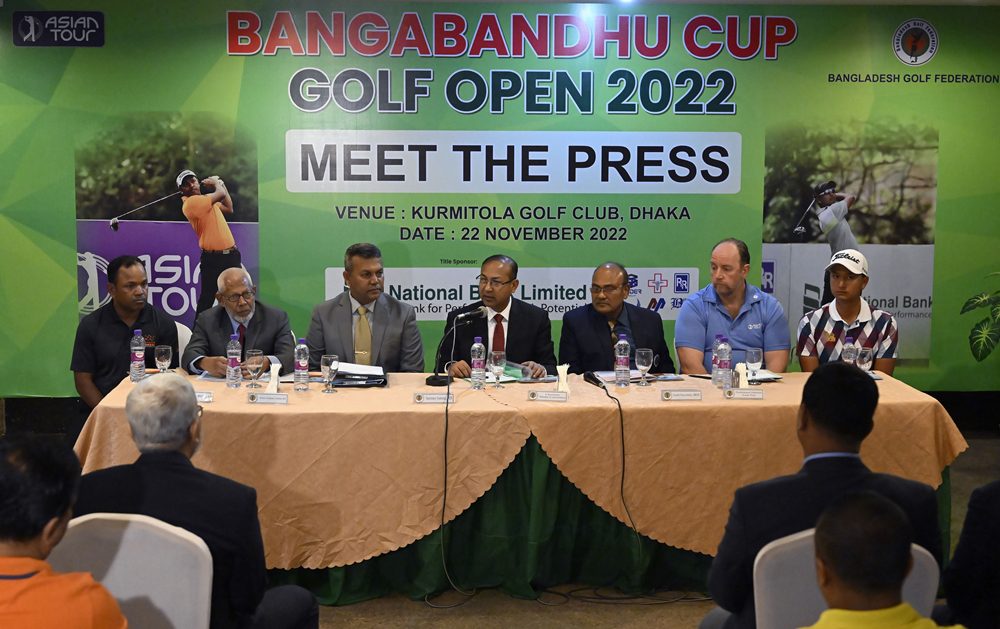 Bangladesh Golf Federation is organising the international tournament on November 23-27 sponsored by National Bank Limited.
Director of National Bank and Chairman of R&R Aviation Ltd, R&R Holdings Ltd and PowerPac Holdings Ltd (Sikder Group) Rick Haque Sikder joined the logo and trophy unveiling ceremony as the special guest.
President of Bangladesh Cricket Board Nazmul Hassan Papon, MP, Momtaz Begum, MP, Senior Vice President of Bangladesh Golf Federation Major General Md Zahirul Islam, famed actress Jaya Ahsan and Nazrul song exponent Shaheen Samad, among others, were also present on the occasion.
In his speech, General S M Shafiuddin Ahmed said Bangladesh has been able to maintain its development march even amid the COVID-19 pandemic and other obstacles.
He said such development has been possible because Bangladesh is an independent country. "We're truly grateful to our Father of the Nation Bangabandhu Sheikh Mujibur Rahman who gave us this country and the dream to develop it," he added.
The Army Chief said development is taking place in all sectors including sports and that golf is also seeing much development.
He expressed gratitude to National Bank for sponsoring "such an expensive game".
Rick Haque Sikder, in his speech, expressed profound respect for and gratitude to Father of the Nation Bangabandhu Sheikh Mujibur Rahman who presented the nation with an independent Bangladesh.
"I would also like to respectfully remember my father Mr Zainul Haque Sikder, one of the closest associates of Bangabandhu, who patronised numerous charity and social welfare initiatives. He was the Chairman of Sikder Group and National Bank Ltd," he said.
The National Bank Director recalled that his father, younger brother Ron Sikder and he himself secured the approval of the tournament's name after "Bangabandhu" from Prime Minister Sheikh Hasina, who always patronises sports in keeping with her family tradition.
"The country's sports sector received the highest patronisation from our honourable Prime Minister Sheikh Hasina and made significant achievements. We successfully organised the first Bangabandhu Cup Golf Open in 2019. But we couldn't organise the tournament in 2020 and 2021 due to the COVID-19 pandemic although necessary contributions were made by my father and our entities for the event. By this time, my father passed away due to COVID," he said.
Rick Haque Sikder said R&R Holdings, PowerPac Holdings and R&R Aviation are now carrying on Zainul Haque Sikder's legacy in various sectors.
"We're very proud to sponsor Bangabandhu Cup Golf Tournament this year and also hope to continue our support in the days to come," he said.
Rick Haque Sikder mentioned that apart from the Bangabandhu Cup Golf Open, R&R Holdings, PowerPac Holdings and R&R Aviation have been organising the Independence Cup since its inception in 2011 and other golf tournaments in different districts.
Golfers from 23 countries will take part in this year's tournament to be held at the Kurmitola Golf Club in the Dhaka Cantonment. It will conclude on November 27 with the distribution of prizes among the winners.