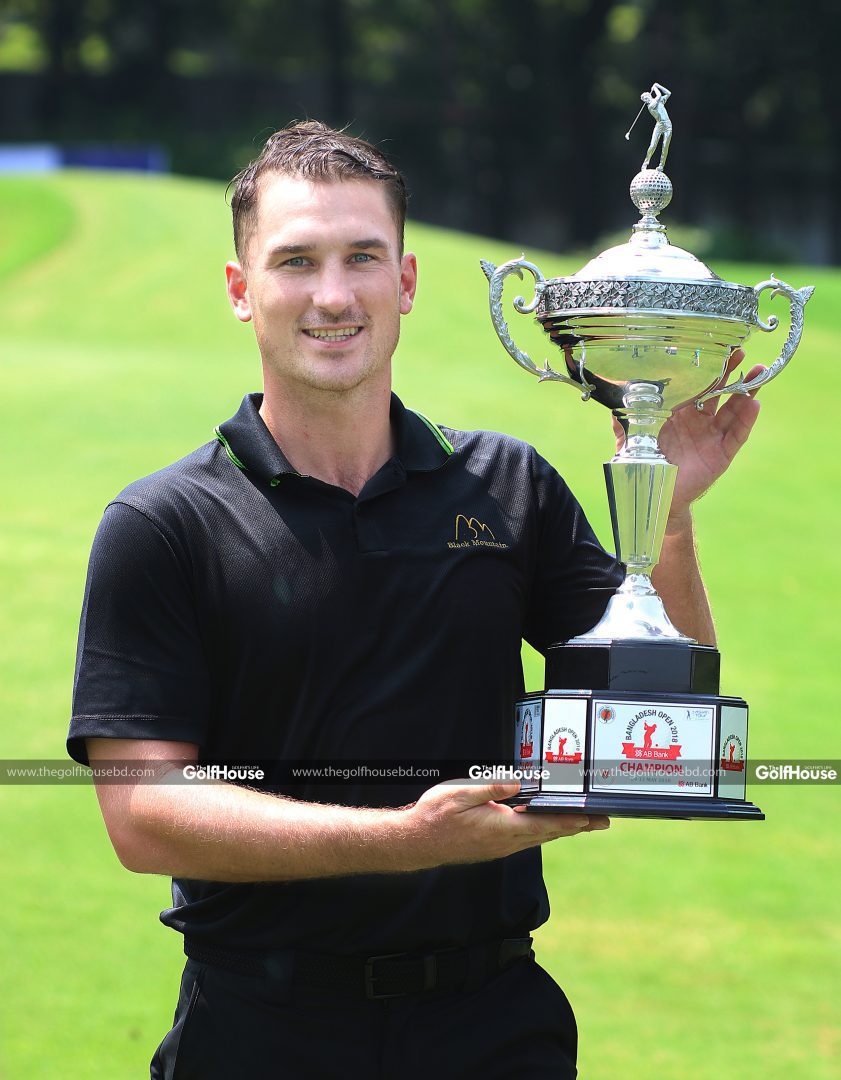 Malcolm Kokocinski is the second Swede to win in three weeks on the Asian Tour, following Alexander Bjork at the Volvo China Open.
This win means a lot to me. I don't have a status on the Asian Tour before this week so I am really pleased with how I played here to win. I have been playing well the last couple of months. I knew my game was good so I just had stick to my game plan and hit some good shots coming down the stretch.
I stayed patient out there. I was playing well all week so I knew a good round will come sooner or later. It was a big putt for me on the last hole. I knew Harrison was on -13 after looking at the leaderboard coming down the 18th. I'm glad I pulled off the putt. This will give me a lot of confidence for the future. The goal now is to win more trophies!
It's really nice to perform under pressure. I knew a birdie on the last would put me up there. I wasn't really thinking about winning. I was just focused on hitting good strokes to give myself a chance. I played in the last group for the first time on the Asian Tour yesterday and I didn't play as good as I did today. I had a lot of lip-outs yesterday.
I guess playing in the second last group today helps lessen the pressure a bit. I am very happy with how I performed this week. I have been getting a lot of encouragements from my peers out here around the golf course this week as well as the members and staff of the club.
It was nice to be back at the Kurmitola Golf Club this week. This is my third time here this year. I came twice earlier for the ADT events and I played very well. That experience has definitely given me a lot of advantage and confidence.
……………………………………………………………………………………………………………….
……………………………………………………………………………………………………………….
Coming to play on the Asian Tour didn't feel very different from playing on the ADT actually. I knew I was playing well so I just wanted to play my own game and not think about anything else. It's been a great week. The people are very friendly here.
I went back to the Qualifying School earlier this year but didn't make the grade so I went to play on the ADT. I have had some good results on the ADT so I decided to stay in Asia and see what the year has to offer. My experiences from playing on the ADT has helped a lot. I have been in these situations before so I knew I had to focus on my shots to get the job done. I'm glad I pull in off this time.
I would like to dedicate my win to my best friend Colin, who just had a new baby, and my parents back home, who are very happy for me, and all my friends. It's been a couple of years in Asia. I have enjoyed all the travelling. The ADT is a good platform for me to get onto the Asian Tour and from the Asian Tour, I have more opportunities to get on the bigger Tours as well.
I am from Sweden but both my parents are from Poland. I started playing golf when I was 10 years old. I went to college in the United States and then came here to play on the Asian Tour in 2013 and I've been here since then.
WINNER'S BAG –
AB BANK BANGLADESH OPEN 2018
Driver: TaylorMade M2 (2016) 9.5* Shaft: Mitsubishi-Chemical Kuro Kage XT 60 X
Fairway1: TaylorMade SLDR 14* Shaft: Fujikura Speeder Motore 8.3 S
Hb/Ut1: TaylorMade M1 (2016) Rescue 17* Shaft: Graphite Design Tour AD HY 95 X
Irons: Titleist AP2 716 (4-9) Shaft: Precision Project X 6.5
Wedge1: Titleist Vokey Design SM6 46* F-Grind
Wedge2: Titleist Vokey Design SM6 50* F-Grind
Wedge3: Titleist Vokey Design SM6 56* M-Grind
Wedge4: Titleist Vokey Design SM6 60* L-Grind
Putter: Odyssey Mystery Milled 1.92.AR.1
Ball: Titleist Pro V1 x (2017)
Shoe: FootJoy
Cap: Titleist
Bag: Titleist
Glove: FootJoy
Note: No 3 Iron