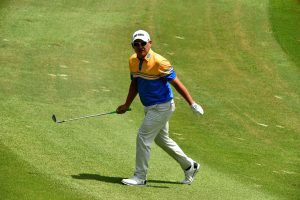 Sentosa, Singapore, August 21: Angelo Que is easy to spot on the golf course. Not only is the Filipino known for his swashbuckling shot-making skills, his bright, colourful and striking sense of fashion has made him a standout star on the Asian Tour.
Nicknamed the Human Highlighter by his peers, the affable golfer, who is a three-time Asian Tour winner, has been plying his trade with success since 2003. Throughout 15 seasons, Que has made many lasting memories both on and off the golf course on the region's premier circuit.
"The Asian Tour is family. This is where I started my career, where I made my name, where I made a lot of friends," said Que during the filming of the second phase of the Asian Tour's digital #whereitsATcampaign.
"Without the Tour, I would be a nobody, just another guy on the street trying to live their life."
In 2004, just days before Que won his first-ever professional title at the Carlsberg Masters Vietnam, the Filipino was a lowly 122nd ranked player on the Order of Merit which prompted him to submit his application for the following year's Qualifying School.
As fate would have it, Que upset the odds and defeated a top field which included Thongchai Jaidee and Corey Pavin to triumph in Vietnam.
Que has consistently finished inside the top-60 on the Order of Merit every year, including a stellar 2014 season where he broke into the top-10 for the first time with a sixth placing.
He also achieved his best result on the European Tour that year with a second-place finish following a play-off defeat to Scott Hend at the co-sanctioned Hong Kong Open.
Que pulled off a stunning approach shot from thick rough on the 72nd hole for a closing birdie which saw him tie Hend in regulation play.
Que is excited that the Asian Tour is collaborating closely with different international Tours, which he believes will offer players a window to world golf.
"With the Tour growing and growing, it's going to have more playing opportunities for everybody. It's going to be tougher for everyone but at the same time, it's going to be more fun," said the 38-year-old father-of-two.
Although he has been searching for an elusive fourth title the past seven years following his last success at the 2010 Selangor Masters, Que relishes every moment of being on Tour and believes the experience has shaped his life beyond the golf course.
"The Asian Tour has given me a lot of knowledge and understanding of different cultures. Spending time with different people, making new friends, it is my home. It is my home Tour and I wouldn't change it for anything else," said Que.
"Every country is different. You learn their ways and understand more of how people think. It broadens your perspective in life. You will appreciate more of what you have and be more content.
"It has made me a better person, I think because of this, I'm happier in life."