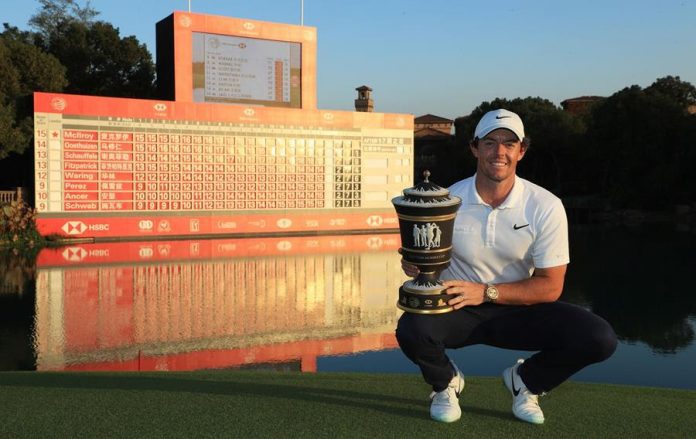 Rory McIlroy of Northern Ireland
  World number two Rory McIlroy of Northern Ireland showed why he is in a class of his own by defeating defending champion Xander Schauffele of the United States with a birdie on the first play-off hole to win the WGC-HSBC Champions on Sunday.
Schauffele, who would have been the first player to retain the WGC-HSBC Champions title had he won, started the day two shots back but surmounted a fightback with a final round six-under-par 66 which brought him level with McIlroy.
The American conjured a moment of brilliance by sinking a six-foot birdie putt on the last to force the play-off with McIlroy, who missed a 25-footer that would have seen him snatch the outright win in regulation play.
In the first play-off hole, Mcilroy's birdie was enough to secure his fourth title of the year after the American, who was battling flu all week, was unable to reach the green in two after hitting his drive into the left rough.
McIlroy, on the other hand, hit a wonderful drive and found the green in two to set himself up for a birdie which Schauffele could not match.
Victory at the Sheshan International Golf Club was McIlroy's third World Golf Championships (WGC) title, and first since the Dell Technologies Match Play in 2015.
Thailand's Jazz Janewattananond ended his week with a commendable tied-14th finish after rounds of 70,69,69 and 70 in what was his first WGC event in Shanghai.
Did you know?
Rory McIlroy now holds three career World Golf Championships victories – 2014 WGC-FedEx St Jude Invitational, 2015 WGC-Dell Technologies Match Play, 2019 WGC-HSBC Champions.
McIlroy's latest win is his second victory in Asia after the 2011 UBS Hong Kong Open.
He played his last 39 consecutive holes without a bogey
McIlroy hit 34 of 56 fairways (Tied-30th), 52/72 greens in regulation (Tied-eighth) and needed 106 putts (Tied-eighth)
The world number two now has six top-10s (4th/2009, 5th/2010, Tied-fourth/2011, Tied-sixth/2012, Tied-sixth/2013, Tied-fourth/2016, 1st/2019) in eight appearances at the WGC-HSBC Champions.
Xander Schauffele defeated Tony Finau in a playoff on the first hole in 2018 at the WGC-HSBC Champions with a birdie for the victory after making birdies on 17 and 18 to force extra holes.
First-round leader Li Haotong, the highest ranked player from China in the field, closed with rounds of 64-72-74-72 for a tied-24th finish.
Jazz Janewattananond posted a tied-65th and 57th finish in Korea and Japan respectively prior to his arrival in Shanghai.
His tied-14th finish at the WGC-HSBC Champions was the best result he posted in the last three weeks.
Players' Quotes
Rory McIlroy (Nir) Fourth round 68 (-4) Total 269 (-19)
This third WGC win was so hard. I felt after shooting 10-under par for the first two days, thinking going bogey-free over the weekend, I thought that would probably be enough to get the job done. I played 73 holes this week with Xander, and I have to give credit to him. He's battled the flu all week and he's played unbelievably well considering how he's been feeling.
18 has been good to me over the week. I had an eagle Friday, a great birdie yesterday, and got lucky in regulation not to go in the water and it was a relief to hit those two shots in the playoff. He was battling a flu all week, wasn't feeling his best, and so the calibre of golf he played this week, it takes some doing. I don't want to take anything away from him. He birdied the last to get into the playoff, and then I produced two of the best shots of the day when I needed it, which was really cool.
Xander Schauffele (Usa) Fourth round 66 (-6), Total 269 (-19)
Unfortunately a good attitude doesn't make you hit it 350. But I tried, I tried my best. Played great. I did. I beat him on the day just to get in a playoff, and unfortunately I couldn't pull it off.
Rory's great. I would have much rather played a par-three for a play-off or something. He's the best driver in our game. So if I was a betting man, I probably would have bet on him if we had to play the hole over and over again. He's a great guy. Couldn't be happier for him. Like I said, I played great all week; fought. It was nice to have a chance on the back nine. Rory, he's an elite player. When he's on, I'd say he's arguably the best player in the world. He made me play better. I played with him in Japan, as well. I think I played six out of eight rounds. So he's made me better during my Asian Swing and I know what I need to do to become a better player.
Louis Oosthuizen (Rsa) Fourth round 69 (-3) Total 271 (-17)
To be honest, the way I've struggled off the tee box this week, I've done really well. I lost it on nine and 11, had chances on 13 getting it back. I gave it a good shot. Tried to make a few birdies at the end. It's one of those. I was very inspired by the boys' play last night, the Springboks, and I thought I could go out and do it today, but unfortunately not. I started off nicely, and I just hit a very loose tee shot on nine. The wind changed completely on me on my second, on 11, and I can't do those things playing against class players like Rory and Xander. You just can't give away holes. You want to have a chance going down the stretch on Sunday. That's what we work hard for, and try and get under the pressure. I always say, if you feel the pressure on a Sunday afternoon, you've done a good job.
Jazz Janewattananond (Tha) Fourth round 70 (-2) Total 278 (-10)
I was struggling a lot the first two weeks but just found a bit of momentum this week. I just still couldn't get over my putting. It could have been a lot better. I hit it good this week. Still, I'm really happy with the result, my first WGC and a top-15. It's still a learning process for me and I'm trying to get there as playing such events week-in and week-out like is very demanding. I still need to improve but now I know what I need to improve even more