Jamal Hossain Mollah, who broke a four-year drought on the PGTI circuit by winning the Ahmedabad Open recently, spoke to The Golf House about his joy at ending the drought and his confidence of winning more regularly in coming months.
How was the feeling of winning the Ahmedabad Open on Eid day?
It was a great experience. Winning the trophy made the Eid more memorable. I was missing my family a lot as this was my first Eid abroad. So everyone was happy with the result. It was a double delight for me and my family.
What was your family's reaction after the victory?
I called my family after the victory. Everyone said that the decision I made to go to India while missing the chance to spend the Eid day with them was vindicated.
How did the day go for you?
Well I started the day with Eid prayers as my tee-off time was at 1:00 pm. It was scorching hot there at the time, like 41-42 degrees Celsius, which is why the tee-off was late.
How challenging was the event for you?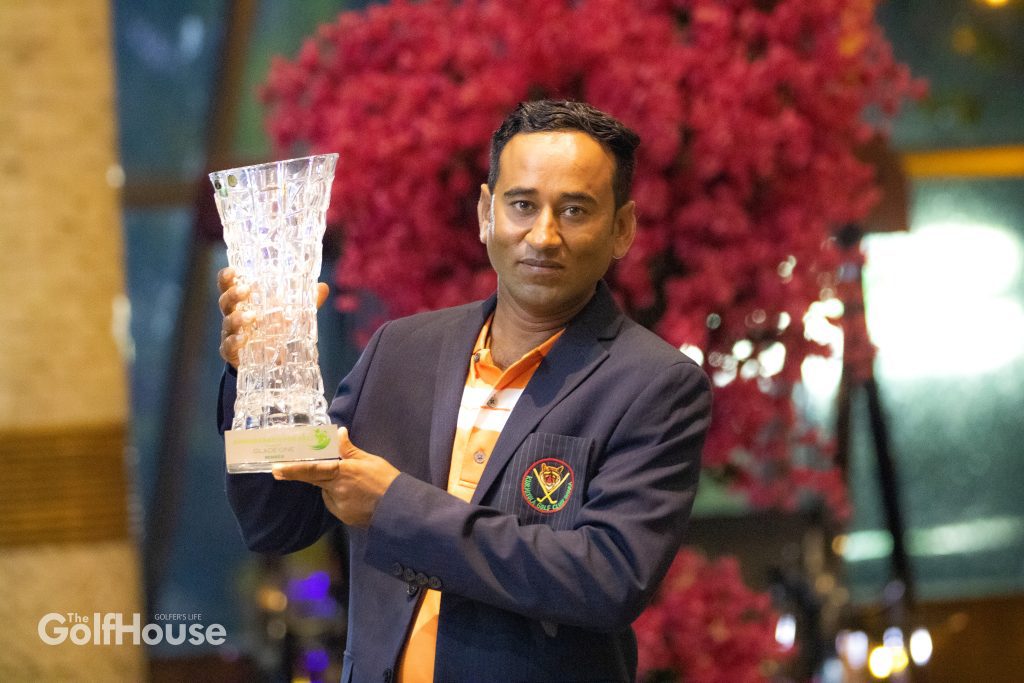 After hitting three-under in the opening round, I didn't book a flight ticket as I had some confidence in myself. You know you have to play the Pro-Am if you win it, so I didn't book my ticket. I had played well in Chandigarh, finishing fourth after leading in the third round. I had the urge and desire to win.
As you said you missed the Chandigarh trophy by very little and missed out on a couple of more titles in recent times. Why do you think this happens?
When you play well things can go your way, when you don't play well, they don't. But yes maybe we take a bit more pressure when we sense the title. Everybody wants to win and that pressure of winning may weigh heavy at times. One wrong decision cost me in Chandigarh as I used the wrong club. Maybe luck didn't favor me either.
You were up against Rashid Khan for the title. How was the duel?
Rashid is a very good guy and he gave me good support all through the last two rounds. I was three shots ahead of him at one stage, but a mistake cost me one shot on the 17th hole while Rashid made a birdie. So I was leading by one shot going into the last hole. And he had the chance to force a playoff as I only settled for a par, but he couldn't make the birdie in the end.
So this was your fifth PGTI title overall?
Yes, my fifth on the tour and first since 2019. So that's a big relief for me to end a four-year drought. My first was as an amateur when I won the Bangladesh Open in Kurmitola back in 2009. The others were in Hyderabad, Noida and Kolkata.
Is the 18 lakh rupees that you earned, the biggest peozemoney of your career?
Indeed it is. I have won 30-40 or 50-lakh rupee events in the past but this one was a 1 crore rupee event. Apart from the monetary value, the win will also help me participate in all the events on the circuit over the next two years. Since the DP World Tour is now a partner of PGTI, I'll get to play in the big DP World Tour events in India.
Any other perks for winning this title?
If I finish on top of PGTI Order of Merit, I'll get to play in the PGA Tour.
Since you're currently in fifth position on the merit, do you think finishing on top is a possibility?
That will be difficult since the one who's leading the table is way ahead as he has won a DP World Tour event.
So what's your next target?
The PGTI is off for the next two months. So I'm thinking whether I should go for the Asian Development Tour in the meantime. You know I had gone for Asian Tour Qualification earlier this year, and although I failed, I did enough to be eligible to play in ADT. I'm thinking about it.
So you are more satisfied with your game now compared to previous years?
I am. I have the confidence to play even better. My hitting is pretty good and if I can improve my putting a bit more, I can win a few more titles. The most important thing is I played during Eid and was able to earn a laurel for the country. That is my biggest satisfaction.