Lieutenant colonel Faridul Mahmud (retd) and Mrs. Kusum Farid are a whole-hearted golfing couple. Ever since Mr. Farid, now a director of Bangladesh Golf Academy, introduced her wife to the game in 2009, the two have enjoyed some memorable time on and off the course.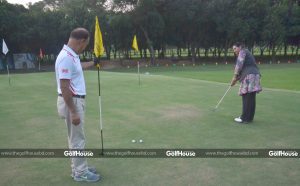 Q: Mr. Farid, tell us how were you introduced to golf?
A: During the time Lieutenant General Ershad was the president of the country, I was his security officer. I used to go with him to the Kurmitola Golf Club. So I naturally developed an interest in the game, but since I was his security, I didn't have the opportunity to play. Later I started playing the game when I was in Rangpur as a battalion commander. After I came to Dhaka, there was a break in my game, but when I went to Chittagong, I started playing again and took my wife along with me. That was around 2009. She wasn't all that keen in the beginning, but slowly started to enjoy the game.
Q: Mrs. Farid, how did you react when he asked you to join him?
A: I declined straight. I thought it was impossible for me to play the first time I went to the golf course. Then he asked me to give it a try for a week, and I did but it wasn't anything serious. However, I started playing seriously in 2011 after moving to Dhaka. I finished runner-up in a club championship during that time.
Q: Golf can be played for a long time. Do you agree with this assertion?
A: Age is not an issue in starting this game. And this is the only game that you can play as long as you can walk. In all other sports, you have to retire after a certain age. But in golf you can play as long as your body allows you, especially for amateurs like us.
Q: In today's world when the internet and television occupy a large part of our daily life, how does golf find its place?
A: It depends on the individual. If you play golf regularly, you can stay away from a lot of bad influences. After playing nine holes, one won't have the time or the patience to watch TV serials or get indulged in internet browsing. Golf can keep people away from other addictions and depression.
Q: Mrs. Farid, tell us about your golfing achievements.
A: I was the club champion in 2015 which was a big achievement for me. I won rewards and jacket for that. I won Federation Cup at the Army Golf Club three times in a row.
Q: How do you two get along in golf?
A: We don't usually talk when we are playing in a competition, but when we are practicing, we talk a lot. We even discuss about the game after coming home. We discuss the finer points of the game. I [Mr Farid] like to enjoy the game, but my wife is very serious about it.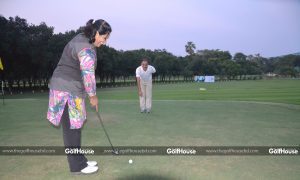 Q: What lesson, if any, have you learnt from this game?
A: When you start playing this game, you are told that it's a game of integrity and honesty. This game influences one's personal life. You cannot but stay honest when playing this game. It also teaches you discipline and consideration for others.
Q: We would like to see golf as the second biggest sport in Bangladesh by 2025. But we need more female golfers for that. What can be done in this regard?
A: Time is very important here. Not everyone can dedicate that amount of time, especially the juniors who are occupied with their studies. You need to sacrifice your studies or family if you have to become a full-fledged female golfer.
For men, though, it is different. I think we have the potential to do well in this game rather than some other physical sports. And there is enthusiasm and response among men about the game. We need more and enhanced facilities though.
Q: How is the academy working in this regard?
A: We are working with different agencies of the government in regards to setting up logistics at the Bangladesh Golf Academy. The sports ministry has agreed to provide us with equipments that we need. The academy is already patronizing underprivileged children. We have more than 30 underprivileged students who are doing either level-1 or level-2 courses.
Q: TheGolfHouse has stepped into its third year. What is your opinion about the magazine?
A: We first saw it during the first Bashundhara Bangladesh Open. Initially we thought it would not have much circulation value, but we have been proven wrong. As the game grows, there will be more demand for this magazine and other magazines as such.