BGF congratulates Golfer Jamal Hossain on his fantastic performance at the Ahmedabad Open Golf Championship 2023 presented by Glade One, and says winning the titles is a remarkable achievement.
Jamal Hossain (33-36-69-70) chipped his way to a gritty final-round performance of two-under 70 to break his four-year-long victory drought at the Ahmedabad Open 2023 presented by Glade One, a Rs. 1 crore event played at the Glade One Golf Resort & Club.
Jamal, lying overnight third, one shot off the lead, emerged triumphant in round four as he totaled eight-under 208 for the week thus securing his fourth PGTI title which was also his first win on the tour since 2019.
Jamal's success at Ahmedabad pushed him up 16 spots from 21st to fifth place in the TATA Steel PGTI Rankings. The Dhaka lad had also posted a tied fourth finish at Chandigarh last week after leading early in the final round.
Delhi's Rashid Khan (34-35-68-72), the round three joint leaders, finished runner-up at seven-under 209 following his fourth round of 72.
Delhi's Kshitij Naveed Kaul (33-35-69-73), the round three co-leader, claimed third place at six-under 210 after shooting a 73 on day four.
Eighteen-year-old rookie Shaurya Binu (72) of Bengaluru took tied fourth place at five-under 211 along with Kolkata's Viraj Madappa, who shot the day's best score of 68 and Delhi's Kapil Kumar (71).
The first two rounds of the tournament comprised nine holes each. The third and fourth rounds comprised 18 holes each. The tournament was played over a total of 54 holes. The par for the course in the third and fourth rounds was 72. The 9-hole course was played twice in rounds three and four with different pin positions.
The 38-year-old Jamal Hossain began the day with a bogey on the first but immediately made up for it with a chip-in for an eagle from 30 yards on the second. Jamal then landed his chips within a foot on the fifth and 11th for tap-in birdies on both holes.
Hossain's bogeys on the 13th and 17th couldn't stop his march to the title as he landed his approach within four feet for another birdie on the 15th and made a crucial two-putt for par on the 18th to pocket the top prize of Rs. 15 lahks.
Jamal has the distinction of being the first player to win on the PGTI as an amateur when he bagged the Bangladesh Open back in 2009. Karandeep Kochhar of Chandigarh later joined this list.
Jamal said, "I played my wedges and chip shots to perfection today. After a bad start, the eagle on the second gave me a lot of confidence. I then just focused on keeping it in play.
"There was some pressure on me going into the last hole when Rashid got within one shot of me. However, I had clarity in my thought process while teeing it up on the last hole. I knew finding the green in two shots and making par with a two-putt could be good enough to win. I executed that plan well.
"I learned from my mistakes in Chandigarh last week where I was in the lead in the early stages of the final round before I blew away my chances with some poor iron shots.
"I've waited a long time for this win. I would like to thank my home course Kurmitola Golf Club and the Bangladesh Golf Federation for all their support. I would also like to thank my sponsor for the last 14 years of its support. My family and friends have also been a great source of encouragement for me," added Jamal.
Two-time Asian Tour winner Rashid Khan, a major contender for most of the final round, mixed three birdies and three bogeys on Saturday. Rashid made par on the last hole thus missing the opportunity of taking the match into a playoff.
Among the Ahmedabad professionals, Varun Parikh had the best finish in tied 16th at even-par 216.
Noida-based 15-year-old Aarav D Shah of Australia won the prize for the best performing amateur as he ended the week in tied 22nd place at a total of two-over 218.
As the PGTI heads into its mid-season break, Om Prakash Chouhan of Mhow continues to lead the TATA Steel PGTI Rankings with the season's earnings of Rs. 52,52,650.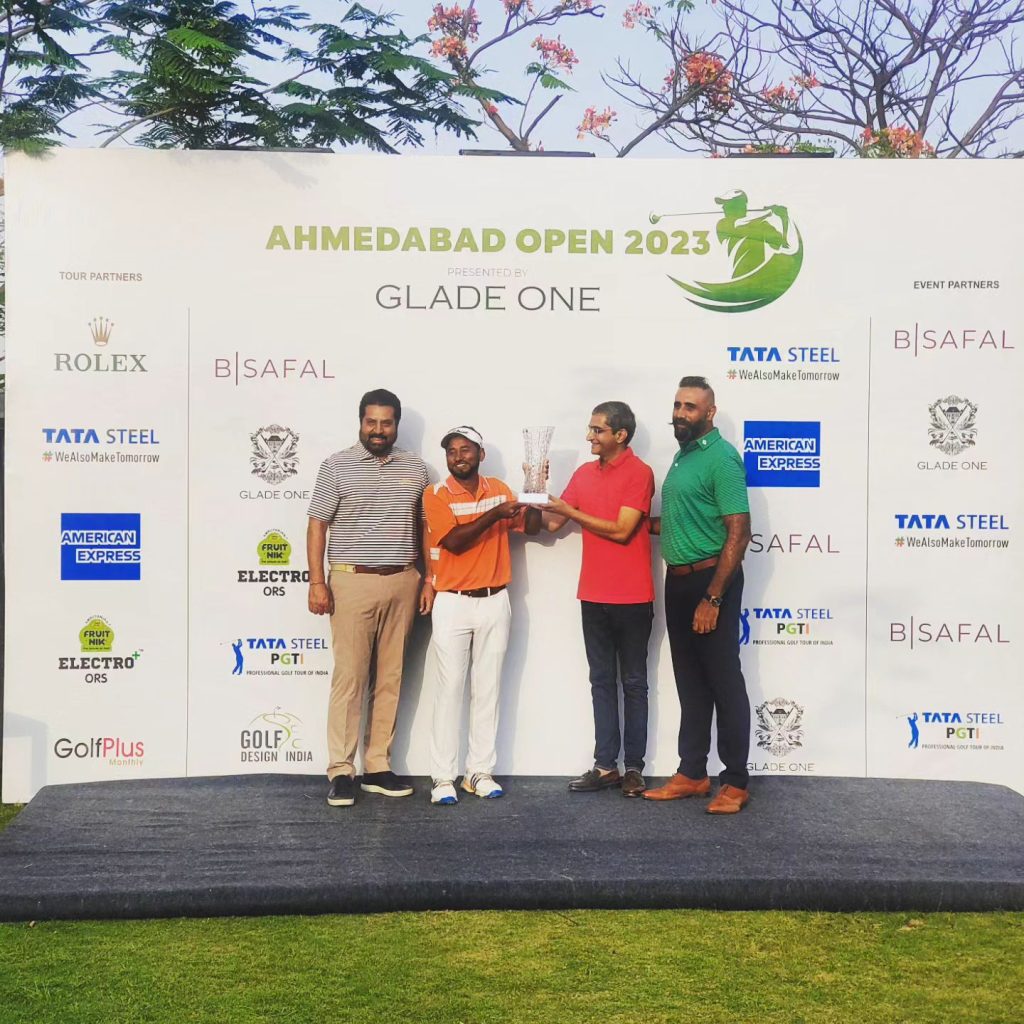 Round 4 Leaderboard:
208: Jamal Hossain (33-36-69-70)
209: Rashid Khan (34-35-68-72)
210: Kshitij Naveed Kaul (33-35-69-73)
211: Viraj Madappa (35-36-72-68); Kapil Kumar (36-36-68-71); Shaurya Binu (34-34-71-72)