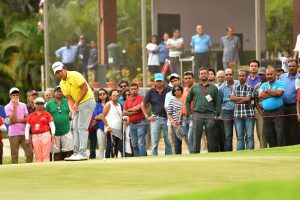 Bengaluru, India, August 5: Poom Saksansin of Thailand pulled two shots clear of home favourite Khalin Joshi after shooting a one-under-par 70 in the third round of the TAKE Solutions Masters on Saturday.
The baby-faced Poom traded four birdies against three bogeys to hold on to his lead for the third straight day with a 12-under-par 201 total at the inaugural US$300,000 Asian Tour event.
Joshi, who hails from Bengaluru, produced a gutsy fight-back with five birdies on his homeward nine after dropping a double bogey on the ninth hole on his home course, the Karnataka Golf Association (KGA) golf course.
Chikkrangappa S., a two-time TAKE Solutions Masters on the Asian Development Tour (ADT), birdied the last hole from 50-feet to stay within range of Poom, who he trails by four shots following a 69.
Dharma of India produced the shot of the day when he holed out with a three-wood for a magical albatross from 270 yards on the par-five fifth hole. It was the Tour's 23rdalbatross and third of the season. Dharma posted a 69 to share 18thplace.
Did you know?
This is the third time in his career Poom Saksansin holds a lead into the final round. He held a two-shot lead at the 2014 Queen's Cup and 2016 BNI Indonesia Masters, which he went on to win.
Poom's third round 70 is his worst score after 54 holes. He only dropped four shots in the entire tournament so far, three of which came in the third round.
He struggled off the tees today, finding only five fairways as compared to 11 (round 1) and eight (round 2). He made 32 putts in a round of four birdies and three bogeys.
Poom will play in the last group on Sunday with his good friends Khalin Joshi and Chikkarangappa S. They grew up playing against each other in the junior and amateur circuits.
Joshi trailed Poom by seven shots after 10 holes but birdied holes 11, 14, 15, 16 and 18 to cut the Thai's advantage to two. He will be battling for a first Asian Tour win on Sunday.
Joshi found only two out of 13 fairways but took advantage of a solid putter where he made 27 putts.
He was born in Bengaluru and grew up playing golf at the Karnataka Golf Association (KGA) golf course. Khalin's father was a former president of the club.
Chikka put himself in position to win the TAKE Solutions Masters for the third time. When he won in 2014 and 2015, it was staged on the Asian Development Tour (ADT) and played on a different golf course.
Joshi and Chikka are both sponsored by TAKE Solutions. They are close friends on and off the course and grew up trying to outplay each other in the junior and amateur ranks.
Player's Quotes:
 Poom Saksansin (Tha) – Third Round 70 (-1), Total 201 (-12)
 I missed a lot of fairways and when I was on the fairway, my iron shots were not accurate so I'm very happy to play under-par. My swing feels a bit off but it is not a big problem. I will go to the driving range and fix it.
I want to play like my first two rounds which is to put my ball on the fairway. In Indonesia I didn't expect to win but this event I have a little bit more expectation because I've won before. I feel that if I play well, maybe I can win. If I play no good, bye-bye.
We (Khalin Joshi and Chikkarangappa S.) played together as junior golfers so it will be nice to play with them again. I want to see if there's any difference from when we were amateurs and now professionals. When we were amateurs, Chikka was a little bit better than me.
I feel that I have a bit more advantage because I win before. Now I feel that I can win. I know Chikka and Khalin can also win, but I don't know if they know it or not.
Khalin Joshi (Ind) – Third Round 68 (-3), Total 203 (-10)
I have mixed feelings about the round as I didn't play that well. The front-nine was poor but I had a good comeback on the back-nine.
I had a good feel on the first four holes as I swung it well and was also striking it well. Then a bad tee shot on sixth just changed my whole rhythm. I felt I was just hurrying it a little at that stage.
Importantly, I didn't give up and hung in there despite those dropped shots on the front-nine. Thereafter the birdie on the 11th helped me calm down. The birdie on the 14th despite a poor tee shot also lifted my spirits. I enjoyed a good stretch from there on.
I'm thrilled with the five-under on the back-nine. I'll carry some confidence from the latter stages of the round.
The conditions got quite tough when it rained in the middle of the round. It was hard to get the ball out of the rough.
I've not played my best today, but I hope I can bring out my 'A' game tomorrow and finish the week in style.
Chikkarangappa S. (Ind) – Third Round 69 (-2), Total 205 (-8)
 It was a good round. It was a bit of a struggle in the beginning. I made a good finish so I'm happy with it. The birdie on 18 was very special. I really wanted to be in the last group and give Poom a tough fight. I told my caddy that I'll either gain or lose a shot so I attacked the green. I holed about a 50-foot birdie putt.
The final round is going to be good fun playing with my good friends Khalin (Joshi) and Poom (Saksansin). We played a lot of junior golf together and we will really battle it out tomorrow.
It makes a lot of difference for me (to be in the last group) because I know what the guys are doing. I have a higher chance to be aggressive and go for shots which I have to. Being in the last group is always an advantage for me.
It is absolutely like when I won my first ADT event (in 2014). I was six shots behind and I won. It is really going to be amazing. I'm still looking for one solid round so hopefully it comes on the final day.
It is a big day for me. I'm trying to defend my title and there's a lot of advantage being a local boy. There will be a huge crowd supporting Khalin and I.
Abhinav Lohan (Ind) – Third Round 64 (-7), Total 206 (-7)
I feel good. I made a few mistakes yesterday. I made a nine on a par-five so it was nice to shoot a low round today. I hit it close and rolled my putts in. I kept it fairly simple.
I'm wearing Shubhankar Sharma's pants so maybe that's why it brought me luck. We are staying with Khalin (Joshi) this week and Shubhankar had three of the same pants and we use the same size. He gave one to me and I said I'll wear it tomorrow! So I guess this is his lucky pants.
The course is playing similar so as long as you keep the ball on the fairway, you will be fine. I was five-under in the tournament then I made a big number. I held it together at the end. I was hitting the ball well today but I had one bad hole again (double bogey on the ninth hole) but I told myself that the par fives are coming up and I took advantage of that.
I didn't think I would shoot a seven-under. I didn't have a number in mind really, I just went out to play. Sometimes when you have no expectations, it is better and when you get into the zone and suddenly you can read the lines and make putts.
Scores after round 3 of the Take Solutions Masters being played at the par 71, 7060 Yards Karnata Golf Association course (am – denotes amateur):
201 – Poom SAKSANSIN (THA) 64-67-70.
203 – Khalin JOSHI (IND) 68-67-68.
205 – Chikkarangappa S. (IND) 68-68-69.
206 – Abhinav LOHAN (IND) 70-72-64, Divyanshu BAJAJ (IND) 66-71-69.
207 – Natipong SRITHONG (THA) 72-71-64, Casey O'TOOLE (USA) 69-73-65.
208 – Tirawat KAEWSIRIBANDIT (THA) 71-72-65, Ajeetesh SANDHU (IND) 69-72-67, Danny CHIA (MAS) 70-67-71, Syed Saqib AHMED (IND) 67-70-71, Rory HIE (INA) 69-67-72.
209 – Carlos PIGEM (ESP) 67-73-69, Jyoti RANDHAWA (IND) 69-69-71, Rahil GANGJEE (IND) 70-66-73, Viraj MADAPPA (IND) 66-70-73, Sujjan SINGH (IND) 67-69-73.
210 – Panuphol PITTAYARAT (THA) 72-70-68, Manu GANDAS (IND) 70-71-69, M. DHARMA (IND) 71-70-69, Scott BARR (AUS) 68-73-69, Gaganjeet BHULLAR (IND) 69-72-69, Suradit YONGCHAROENCHAI (THA) 70-71-69, Honey BAISOYA (IND) 73-67-70.
211 – Settee PRAKONGVECH (THA) 71-73-67, N. THANGARAJA (SRI) 72-71-68, Shiv KAPUR (IND) 70-71-70, Shubhankar SHARMA (IND) 74-66-71, S.S.P. CHAWRASIA (IND) 69-70-72, Aman RAJ (IND) 69-69-73.