Tamsui, Chinese Taipei, September 29: Gavin Green of Malaysia and Juvic Pagunsan of the Philippines shared the second round clubhouse lead at the weather-disrupted Mercuries Taiwan Masters on Friday.
Green traded three birdies against one bogey for a 70 to continue his fine form while Pagunsan, the 2011 Order of Merit champion, returned with a 69 for a seven-under-par 137 total at the US$800,000 Asian Tour event.
The Mercuries Taiwan Masters was suspended due to lightning at 7.10 am for an hour and 35 minutes which led to the stoppage of play later in the day due to darkness. A total of 24 players will return at 7am on Saturday to complete their rounds.
Overnight leader Settee Prakongvech slipped to third place following a 73 while Adilson Da Silva of Brazil carded a 68 to trail the clubhouse leaders by two shots on a 139 total at the Taiwan Golf and Country Club.
Playing for the first time at the Taiwan GCC, Green struggled in the windy conditions but did well to return with red numbers and stay in contention for a first Asian Tour title.
After finishing second in the season-opening SMBC Singapore Open, Pagunsan produced a solid round highlighted by five birdies against two bogeys. The Filipino is on a mission to claim his first victory since winning his first Asian Tour title in 2006.
Did you know?
Green bogeyed the par four third hole for the second consecutive day. He dropped only two bogeys while shooting nine birdies in 36 holes.
He is making his first appearance at the Mercuries Taiwan Masters this week.
Green is 17-under-par in his last six rounds on the Asian Tour. He has three runner-up results this year and is currently ranked third on the Order of Merit.
Pagunsan is the first Filipino to win the Asian Tour Order of Merit in 2011.
He is currently ranked 17th on the Order of Merit. A good result or a victory this week will squeeze him into the lucrative CIMB Classic where the leading 10 players on the Order of Merit as of October 9 will qualify.
He found only three fairways but made up for it with a hot putter where he made 25 putts.
Pagunsan's best result at the Mercuries Taiwan Masters was tied ninth in 2011.
Settee slipped to third place after leading in the opening round. He is still in the hunt for a first Asian Tour title. This is his second appearance at the Mercuries Taiwan Masters. He made his debut in 2014 where he missed the cut.
Adilson Da Silva is the only Brazilian in the elite field. He shot a 68 to stay within striking distance. Despite the windy conditions, he returned with a bogey-free card.
Player interviews:
Gavin Green (Mas) – Second Round 70 (-2), Total 137 (-7)
It was a little bit tough. The wind was up and swirling. It was tough to hit a shot. I had a mixture of good and bad drives. Overall I wasn't in it with my driver. I made a huge up-and-down on my first hole (10th) and that got my momentum going.
I made a couple of birdies and tried to stay patient but lost my cool in the middle of the round but I closed out with a birdie and par so that was good.
It was tough to judge the wind because it was swirling. It was difficult to get the right club. I'm fine with a two-under. I'm going to try and play under par during the weekend and see what happens.
The game plan that my caddy and I have worked so far. I'll try to attack most of the par fives but I won't go crazy or aggressive on the other holes. It is always fun to be in contention but there are two more days and there are a lot of good players. I hope my putter stays red hot.
 Juvic Pagunsan (Phi) – Second Round 69 (-3), Total 137 (-7)
I had a slow start, same like yesterday but I managed to recover nicely. The weather was bad but I'm very happy with the round. I'm playing very well this week and I'm feeling confident. I'm trying my best to qualify for the CIMB Classic. I need a good result this week. Yes, it was one of my goals at the start of the week.
Settee Prakongvech (Tha) – Second Round 73 (+1), Total 138 (-6)
 It was not an easy day because it was very windy. I didn't expect much because I wanted to play safe. There was not wind yesterday but it was entirely different today so I didn't expect very low scores.
I misread the greens on a few holes but that's okay. I'm still in a good position and I'm happy with the result.
Ben Leong (Mas) – Second Round 69 (-3), Total 140 (-4)
 It was a funny round. I putted really well. I didn't hit it that great and it was tough because the wind was swirling. I kept telling myself that par is a good score. Even without this (windy) conditions, you will take par on every hole on this course. Well that's my mentality.
You need to play smart here. You can hit the perfect shot and get a bad break because it is so firm out here. It is a test of patience, character and attitude here. You can't get upset over bad shots.
I'm just concerned with my own game. It is coming along. You need to commit to your shots and I guess that's what's been holding me back.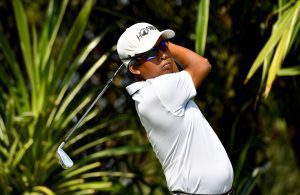 Scores after round 2 of the Mercuries Taiwan Masters 2017 being played at the par 72, 6923 Yards Tamsui Course course (am – denotes amateur):
 137 – Gavin GREEN (MAS) 67-70, Juvic PAGUNSAN (PHI) 68-69.
138 – Settee PRAKONGVECH (THA) 65-73.
139 – Adilson DA SILVA (BRA) 71-68.
140 – Ben LEONG (MAS) 71-69, Suradit YONGCHAROENCHAI (THA) 68-72, Danthai BOONMA (THA) 68-72.
141 – Chikkarangappa S. (IND) 70-71, Lionel WEBER (FRA) 70-71, Shiv KAPUR (IND) 70-71, Antonio LASCUNA (PHI) 70-71.
142 – Micah Lauren SHIN (USA) 74-68.
143 – HSIEH Chi-hsien (TPE) 72-71, LIN Wen-ko (TPE) 69-74, Terry PILKADARIS (AUS) 71-72, LU Wen-teh (TPE) 71-72.