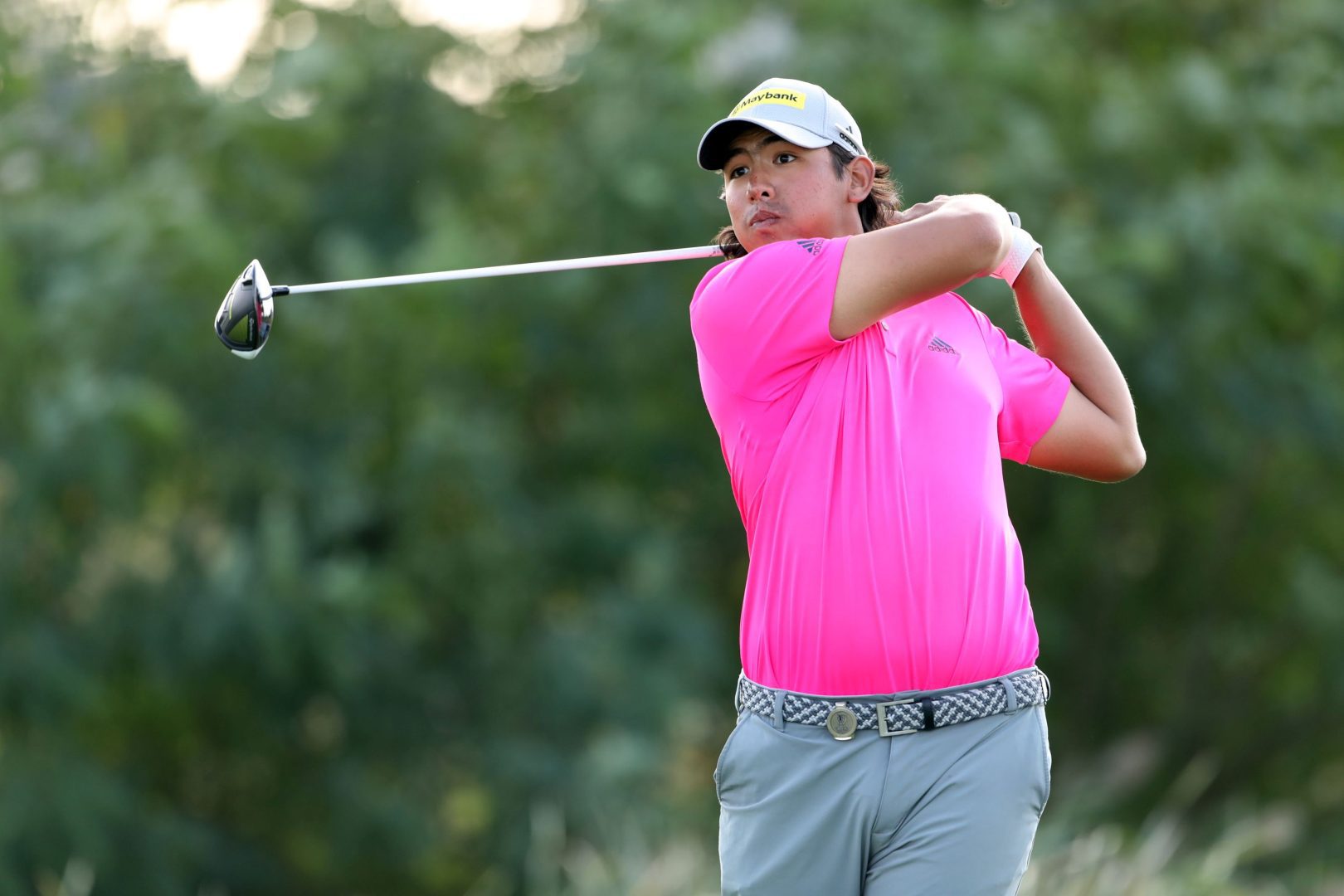 Incheon, Korea, September 15: The Korean trio of Kyungnam Kang, Junsung Kim and Seungtaek Lee dominated the leaderboard as they shared the second round lead at the Shinhan Donghae Open on Friday.
Overnight leaders Kang and Kim carded matching two-under-par 69s while Lee moved into the share of the lead by returning with a 67 at the KRW1.2 billion (approximately US$1.06 million) event which is co-sanctioned by the Asian Tour and the Korean PGA.
Malaysia's Gavin Green will be hoping to break the Korean stronghold as he trailed the leaders by a single shot with his two-day total of seven-under-par 135.
Having started the day tied for seventh, Green remains upbeat of his chances as he took advantage of his booming drives to surge ahead at the 6953-yard par-71 Bear's Best Cheongna Golf Club.
Thailand's Prom Meesawat and Panuphol Pittayarat also battled their way into contention by firing a 67 and 68 respectively to stay four shots adrift of the Korean leaders.
Korea's Sangmoon Bae missed the cut in his first professional tournament in two years after posting rounds of 74 and 75.
Did you know?
Kyungnam Kang is a 10-time winner on the Korean Tour but has yet to win on the Asian Tour.
Playing in his fourth Asian Tour event this week, Kang's best results on the Asian Tour this year were recorded in Myanmar and Singapore where he finished tied-ninth and tied-11 respectively.
Junsung Kim earned his Asian Tour card when he finished tied-27th at Qualifying School this year. He is playing in his second event on Tour this week.
Kim finished tied-45th at the Shinhan Donghae Open last year.
Gavin Green is playing at the Shinhan Donghae Open for the first time since he turned professional in 2015. His average driving distance over the last two rounds was 312 yards.
Known as one of longest hitters on Tour, Green is equally adept with his short game. He sank his eagle putt on 14 from 18-feet today.
Green is looking for his Asian Tour breakthrough this week. He has enjoyed three top-10 results, including two runner-up finishes in India and Chinese Taipei this year.
Prom Meesawat is searching for his first win on the Asian Tour since 2014
While he has yet to lift an Asian Tour title, Panuphol Pittayarat has already enjoyed three top-10s this season.
The weekend cut was set at two-over-par with 71 players progressing into the final two rounds.
Players' Quotes:
 Kyungnam Kang (Kor)
It was a very windy day but overall still very satisfying day. Teeing off on holes 14, 15 and 16 were very tricky as the fairways are very narrow and it's very easy to hit the ball out of bounds. I believe anyone who play well on these three holes will have a good chance of winning this tournament.
Junsung Kim (Kor)
I made several mistakes in his starting back-nine 10 but overall I'm pleased with how I played today. I've been hitting the ball well even before this tournament started and I'm glad it showed this week. The pin positions are tough here especially on the 17th and 18th hole. It's very difficult to save par on 17 when you miss your tee shot while you got to be really accurate off the tee on 18.
Gavin Green (Mas)
Definitely very happy as the conditions were really tough today. The winds were blowing very strongly when we teed off and pretty much stayed that way throughout the round. But I stayed really patient. I missed a couple of short putts but didn't get frustrated. The eagle on 14 helped and I made a nice birdie on 18 to finish at -7. I've been hitting several good drives out there and if I can continue that way, hopefully good things can happen. I'm not going to be overly aggressive but I'm going to pull out driver on a lot of holes and try to take out the par-fives. I'm definitely not holding back on that.
Prom Meesawat (Tha)
It was not an easy day as the winds picked up right from the very first hole. I'm hitting the ball good and putting very well too. I'm very happy with my round especially playing under these conditions. The course is wide and it favours the long hitter. Not the most ideal conditions for me but I'm making up for it with my putting which has been very good so far.
 Panuphol Pittayarat (Tha)
It was a very good round as I played really solid. I struggled on one hole yesterday. I made a double bogey on seven yesterday but made up for it with a birdie on that same hole today. So that made me happy. I've been striking the ball well the whole year but just somehow haven't got the job done. The game's looking good again this week and hopefully I can finish strong.
 Leading scores after round 2 of the The 33rd Shinhan Donghae Open being played at the par 71, 6953 Yards Bear's Best Cheongna GC course (am – denotes amateur):
134 – Kyungnam KANG (KOR) 65-69, Junsung KIM (KOR) 65-69, Seungtaek LEE (KOR) 67-67.
135 – Gavin GREEN (MAS) 68-67.
136 – Younghan SONG (KOR) 67-69.
137 – Giwhan KIM (KOR) 70-67, Sanghee LEE (KOR) 70-67, Jarin TODD (USA) 68-69.
138 – Prom MEESAWAT (THA) 71-67, Panuphol PITTAYARAT (THA) 70-68, Eunshin PARK (KOR) 69-69, Chan KIM (USA) 67-71, Ben LEONG (MAS) 71-67.
139 – John Michael O'TOOLE (USA) 69-70, Lionel WEBER (FRA) 67-72, Richard T. LEE (CAN) 68-71, Jeunghun WANG (KOR) 68-71, Taewoo KIM 1468 (KOR) 71-68, Bio KIM (KOR) 68-71, HUNG Chien-yao (TPE) 69-70, Natipong SRITHONG (THA) 68-71.
140 – Taehee LEE (KOR) 68-72, Peradol PANYATHANASEDH (THA) 73-67, Junsub PARK (KOR) 70-70, Chanwoo KIM (KOR) 70-70, Keith HORNE (RSA) 68-72.
141 – Tirawat KAEWSIRIBANDIT (THA) 68-73, Rahil GANGJEE (IND) 71-70, Poom SAKSANSIN (THA) 72-69, Jazz JANEWATTANANOND (THA) 70-71, Hyungseok SEO (KOR) 74-67, Namchok TANTIPOKHAKUL (THA) 69-72, Sam CHIEN (USA) 72-69.