Yes, it's true that age is just a number when it comes to playing golf.
However, senior golfers, who already recognize the physical and mental benefits of regular play, may not relish the changes in their body they encounter as they age. With advancing age, comes more knowledge and understanding of golf, but less physical strength and endurance.
Maj Gen Md Shahidul Islam (Retd), Ex Chief Surgeon, CMH Dhaka, Consultant Urologist, Ayesha Memorial and United Hospital, Dhaka has been playing golf regularly with Brig Gen Md Azizul Islam (Retd), Ex Adviser Specialist in Psychiatry CMH Dhaka and Professor of Psychiatry, Armed Forces Medical College, Principal US Bangla Medical College and Senior Consultant Psychiatry, Square hospital ltd, Dhaka and Brig Gen Md Rahimgir (Retd), Ex Professor of Microbiology, Armed Forces Medical College, Consultant Microbiology Dept., Lab Aid Hospital Dhaka along with Brig Gen Md Rezaul Karim (Retd), Ex Chief Surgeon CMH Dhaka, Consultant Orthopedic Surgery of United Hospital Dhaka.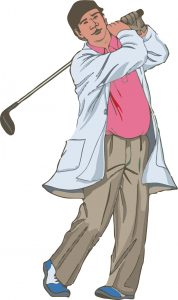 TheGolfHouse team caught up with them on the green of Kurmitola Golf Club recently to have their opinion and tips on the game.
"Golf is one of the few sports that you can play regardless of age. Some golfers don't learn how to play game until they are 50 or 60 years old while others have been playing for decades.This is just one of the reasons that golf is, in my opinion, the best sports ever," said Maj Gen Md Shahidul Islam (Retd).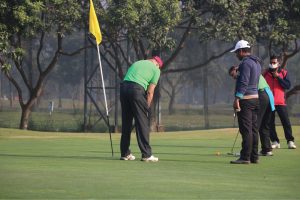 "While you can play golf forever, it doesn't always mean that it is an easy sport on your body. There is a lot happening in the golf swing that just isn't a natural movement for the body. From swinging, walking, and constant movement, golf can get harder on your body as you age. But, golf is also a great form of exercise an amazing way to spend time with family and friends. You can enjoy the game with your kids, grandkids, friends, and even strangers," he added.
"As players age and lose some of their power and flexibility, it is important to make modifications, focusing on strengths and mitigating weaknesses. This often means players need to shift their emphasis from hitting the long shots down the fairway to improving their short game, honing chip shot skills," said Brig Gen Md Azizul Islam (Retd).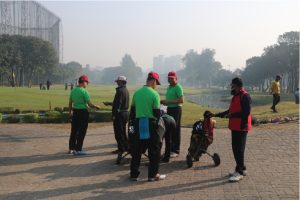 "Since strength and flexibility often deteriorate with age, a solid warm-up routine is critical to preserving physical ability and preventing injuries on the golf course. Whether from old sports wounds or arthritis, there are some common problem areas for seniors such as ankles, hips, necks and shoulders," said Brig Gen Md Rezaul (Retd).
"Maintaining muscle strength helps players achieve proper posture, stance and balance, increasing their endurance on the course and reducing aches and pains of the course, I recommend 10-12 minutes of practice swings and stretching exercises pregame," he added.
"Since the mechanics of a senior player's game has changed, it is important to reexamine golf equipment and accessories. Toss those long irons and replace them with easier-to-hit hybrids, and exchange their low-lofted 3-woods with much user-friendly high-launch 3-woods," said Brig Gen Md Rahimgir (Retd).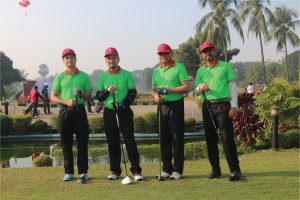 "The shafts in their clubs need to match their strength and ability, older golfers shouldn't be afraid to change their grips to a larger size. Superior grips help increase a player's strength and power, allowing them to grip the club better," he added.
"The practice is still the key to achieving and maintaining a lower score. I recommend that people spend the bulk of their practice sessions making 3 to 4-foot putts. Even a 50 per cent conversion of those putts results in a significant decrease in overall score. After all, the end goal is to get the ball into the hole in as few strokes as possible," said Maj Gen Md Shahidul Islam (Retd).
"Golf is mainly played on a five-and-a-half-inch course, the space between your ears. That's because golf is filled with precise mental calculations such as ball location, grass depth, wind direction, green speeds, slope, and much more. It is a great way to help keep the mind strong," said Brig Gen Md Azizul Islam (Retd).
"As seniors age in retirement, they rarely come across the level of strategic thinking they did in the workplace, and golf is a great way continue to keep your brain fit. It is also proven that golf releases endorphins (the 'feel good' hormones), which help to boost your mood and well-being. With the release of these endorphins, it can help relieve your overall stress. The sport also teaches the importance of patience and controlling emotions to prevent sending the mental aspect of the game into a tailspin," he added.
Filially, as we continue to age in our home, it can be harder to stay connected with friends. Regular golf outings can help build and maintain relationships with friends as well as provide you with a recurring event to look forward to. Mental stimulation outside of the home with other like-minded individuals is very important to your personal health. TheGolfHouse team salute these four senior golfers that they are continuing their game after the official retirement from the govt. job and this stage of age.