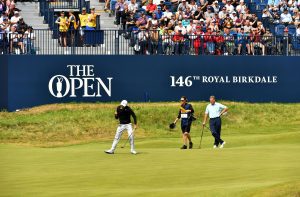 Southport, England, July 23: China's Li Hao-tong equalled the lowest final round in Major history and earned a spot at The Masters next year after finishing third at The Open on Sunday.
The Open debutant fired a brilliant seven-under-par 63 thanks to a flawless card highlighted by four closing birdies. He totalled six-under-par 274 to finish six shots behind eventual winner Jordan Spieth of the United States at Royal Birkdale.
Li's effort matched only three other players' final round score – Jodie Mudd (1991), Payne Stewart (1993) and Henrik Stenson (2016).
"Not really, actually," Li replied when asked if he expected to shoot a 63. "For some reason after hole No. 8, I just started holing everything. Now I'm feeling awesome, it is unbelievable actually. It means a lot to me."
"It's kind of a dream come true, you know. I definitely got a lot support from China, from my friends, from fans, you know, just keep behaving myself and play some decent golf. I think it was just more a mental thing. When I had bad shot, I just always tell myself, hang on in there and try to hole the putt. Glad to see I holed everything," he smiled.
This is the best ever finish by a golfer from China in a Major tournament. Liang Wen-chong previously finished tied eighth at the 2010 US PGA Championship.
However, Lu Liang-huan of Chinese Taipei or better known as Mr. Lu remains as the best Asian finisher at The Open with his runner-up result also at Royal Birkdale in 1971.
Li's playing partner, Ernie Els of South Africa, who is a multiple Major champion, praised the young Chinese for his fearless approach.
"That's not the same number as (Brendan) Grace, but that's as good a round," Els said. "He had a nice attitude. You could see he was not backing off. The wind was picking up too. He didn't miss a putt. He did everything he could."