AQIB ARAFAT KHAN CLASS IX,
INTERNATIONAL SCHOOL DHAKA
Q: How did you get into golfing?
A: I started at around the age of four or five. My dad introduced me to golf and since then I have been coming with him.
Q: Why do you play golf?
A: My dad encourages me to play golf. A lot of the time when I'm stressed due to studies or other things, golf helps me relieve of the stress. I enjoy the area, the environment and the whole package.
Q: What is your future plan regarding golf?
A: I hope to be able to get better, to be able to compete with the professionals. I don't want to be a professional, but want to be as good as a professional.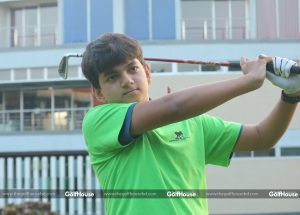 Q: What are you studying currently?
A: Right now I'm in grade IX at the international School in Dhaka.
Q: Do your friends know that you play golf?
A: Yes, and some of them play too. One of the friends even got featured in the magazine. They all enjoy golf.
Q: What do you think is the most important thing in golf?
A: I think knowing how to play and enjoy it, being able to make friends and socialize – these are the best things about the game. A big part of golf is getting to know people, it really helps you connect.
Q: Any message to youngsters like you who don't play golf?
A: I think they can try it; some might enjoy it while some might not. If they do enjoy it, I think it's a really good sport to get into.
Q: What is your future plan other than golf?
A: I haven't planned it out yet, I'm just going with the flow.
Q: What do you think about Leadbetter Academy's school for kids?
A: I think it's a good way to get kids into golf. If they enjoy it, they can take it professionally.