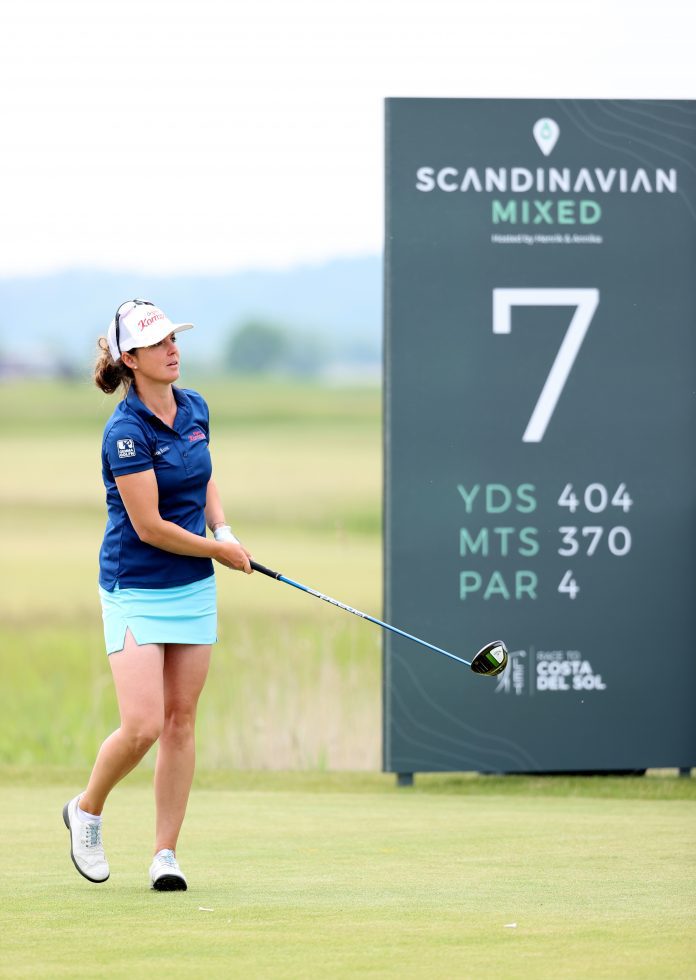 Round One Report
Christine Wolf became the first woman to lead a European Tour event as she shared top spot on the leaderboard with Sam Horsfield after day one of the Scandinavian Mixed Hosted by Henrik & Annika.
History was made on the Race to Dubai at Vallda Golf and Country Club as a field of 78 men and 78 women teed off over the same course playing for one trophy and one prize fund of €1,000,000.
The men had dominated the first half of the day but in the afternoon Austrian Wolf came home in a blistering 30 to sign for a 64 and set the target at eight under.
Englishman Horsfield then birdied two of his last three holes to join her a shot ahead of countrymen Steven Brown and Ashley Chesters, Spaniard Pep Angles and Finn Kalle Samooja.
After a 12 month delay due to the Covid-19 pandemic and days of seeing the men and women on the range and practising together, the action did not disappoint when competitive shots were finally hit in the European Tour's first fully strokeplay event.
Tournament hosts Henrik Stenson and Annika Sorenstam were playing together and they finished at two under and one over respectively, with playing partner and fellow Scandinavian great Thomas Bjørn also at one over.
Wolf, winner of the 2019 Hero Women's Indian Open on the Ladies European Tour, was bogey free with six birdies and an eagle, picking up four shots in her final four holes to take her place in the history books with her mum on the bag.
Horsfield claimed two wins on the UK Swing last season and while he then had a spell out with a back injury, he has not missed a beat since his return with two top fives and no missed cuts in his six events on the 2021 Race to Dubai. The 24-year-old birdied all four of the par fives over the Gothenburg layout on day one and felt that was the key to his success.
Player Quotes
Christine Wolf: "I started quite well and birdied the first two par fives that came up and actually hit it quite close on some of the holes but didn't make any putts on the front nine. Then all of a sudden, I hit it close and towards the end the putter got really hot. It was nice!
"I've been hitting it really well especially my drives, they're down the middle. I know I can hit it really hard, and it will still stay straight. I'm trusting my game.
"We love competing against the guys, we've had a few mixed events at home. It's just fun. At home there's a lot of guys I play against, and I really like competing against them."
Sam Horsfield: "It was just really solid. I haven't really been taking advantage of the par fives this year. So that was my main goal. I hit every fairway and played them in four under today. That gets you going – four under right there, toss in a couple more and it's eight under.
"It was definitely different but I really enjoyed it. (Alice Houston) was really good, I think she made four birdies in a row on the back nine. I didn't really know what to expect, to be completely honest with you. But she played really well and I had a great time.
"It was a great week. It was the first time I'd made a cut in a Major, first non-U.S. Open. That was cool to play four days in a Major. I got food poisoning and was supposed to play last week in Germany. When I got here the other day it was my first time playing or practicing since the PGA, so I'll just hopefully keep it going the next few days and go from there."
Henrik Stenson: "It was good to play with Thomas (Bjørn) and Annika. I don't think it was the prettiest round we could have put together between us but we finished – we finished as friends – and we live to fight another day. That's probably the best way to describe the golf, but it was good fun.
"I don't know what happened (on the 15th). I obviously managed to hit one good shot and it was one of those that looked like it very much could make it. I don't think it was more than a car key between the ball and the hole. That would have been a nice one to finish off the day with.
"I think we would have done a good hybrid today. If he played tee to green and I took care of the putting I think we would have had a lot better score than we had individually. I've got some work to do, no question, and the quest continues."
Annika Sorenstam: "I enjoyed it very, very much. Sometimes it's not about the score, it's more about the atmosphere, the people you are with and the surroundings. We could not have asked for a better day.
"It was nice to finally get out there and play. I really enjoyed it. I was quite pleased with my game from tee to green, and from there, not so pleased. That's just the way it is, but I think overall it has been a great day. Looking at the scores you can see they are quite low so hopefully that means a lot of players are happy.
"It's great (to have family here). We haven't been able to be near each other, but for them to be out here and watch, it's been 13 years since I've played in Sweden, and they want to be part of it. Especially for the kids to come out here and watch me play. They watch me on the range and the putting green, they know all the time I put in so for them to come out here and watch is very special. My parents are out here. It's a family affair."
Round One Scores
64 C WOLF (AUT), S HORSFIELD (ENG),
65 A CHESTERS (ENG), K SAMOOJA (FIN), S BROWN (ENG), P ANGLES (ESP),
66 D FICHARDT (RSA), O FARR (WAL), F JOHNSON (ENG), V NORRMAN (AM) (SWE),
67 J DONALDSON (WAL), J LUITEN (NED), C HEDWALL (SWE), D DRYSDALE (SCO), D WHITNELL (ENG), S SCHMIDT (GER), L BOQVIST (SWE), L HARM (GER), R RAMSAY (SCO), L FUENFSTUECK (GER), D HORSEY (ENG),
68 C PIGEM (ESP), O COWAN (GER), A HEWSON (ENG), M SIMMERMACHER (ARG), P BABNIK (SLO), S NUUTINEN (FIN), W BESSELING (NED), S KYRIACOU (AUS), P FIGUEIREDO (POR), K BROBERG (SWE), J HAGLUND (SWE), T DAFFINRUD (NOR), J GUSTAVSSON (SWE), K LUND (NOR), K LAMPERT (GER), R ROUSSEL (FRA), J SENIOR (ENG), S KIM (USA),
69 M KAWAMURA (JPN), F LAPORTA (ITA), A ARNAUS (ESP), J GEARY (NZL), J HANSEN (DEN), J KRUYSWIJK (RSA), R FOX (NZL), A MUIRHEAD (SCO), H PORTEOUS (RSA), M HERNANDEZ (ESP), A COCKERILL (CAN), S HEND (AUS), J WALTERS (RSA), S GARCIA RODRIGUEZ (ESP), L HALL (WAL), L ABERG (AM) (SWE),
70 N ITURRIOZ (ESP), S V?LIM?KI (FIN), H STENSON (SWE), Y CHANG (KOR), J MORRISON (ENG), D VAN DRIEL (NED), C ALONSO (ESP), J MCLEOD (AUS), J CALDWELL (NIR), D DAGAR (IND), J SCRIVENER (AUS), M ANTCLIFF (AUS), E PEDERSEN (DEN), E GIVENS (ENG), R ROCK (ENG), R MCGOWAN (ENG), Z LOMBARD (RSA), A THITIKUL (THA), S SHARMA (IND), A VAYSON DE PRADENNE (FRA), T MALIK (IND), L YOUNG (ENG), R SCIOT-SIEGRIST (FRA),
71 M JORDAN (ENG), K HENRY (SCO), C CHEVALIER (FRA), L GAGLI (ITA), R ENOCH (WAL), L GRANT (AM) (SWE), A WU (CHN), G PORTEOUS (ENG), A OTAEGUI (ESP), N H?JGAARD (DEN), C HERBIN (FRA), M SOUTHGATE (ENG), B ALLEN (USA), O FISHER (ENG), M DE ROEY (BEL),
72 M STARK (AM) (SWE), M HADDIOUI (MAR), S SODERBERG (SWE), K METRAUX (SUI), F MOORK (SWE), S BREGMAN (RSA), J NYQVIST (SWE), A CAUDAL (FRA), B POKE (DEN), O WILSON (ENG), A BJ?RK (SWE), L PACE (RSA), A RAI (ENG), S SCHOBER (AUT), P HANSON (SWE), A SANDHU (IND), M PAULSEN (NOR),
73 U WIKSTROM (FIN), A SORENSTAM (SWE), T BJ?RN (DEN), R KARLBERG (SWE), N GARCIA (RSA), A CA?IZARES (ESP), C WILLIAMS (WAL), K POGACAR (SLO), C LENNARTH (SWE), T KOIVISTO (FIN), R PARATORE (ITA), A DIMMOCK (ENG), C FRANKISH (ENG), K MACDONALD (SCO), M WARREN (SCO), M THOMSON (SCO), N JIMENEZ MARTIN (ESP),
74 W HILLIER (AUS), A SAUZON (FRA), B MORGAN (WAL), L GOMEZ RUIZ (ESP), L MURRAY (SCO), D HOWELL (ENG), B HEBERT (FRA), T TREE (ENG), L LEWTHWAITE (RSA),
75 L ALTMANN (BRA), S CROCKER (USA), N LEMKE (SWE),
76 L HUMPHREYS (ENG), J LAGERGREN (SWE), L WESSBERG (SWE), N ELVIRA (ESP), M MACLAREN (ENG), E NILSSON (SWE), M SKARPNORD (NOR), F PARKER (ENG), S BANON (ESP),
77 G COWLEY (ENG), C BOOTH (SCO), J KARLSSON (SWE), R SANTOS (POR),
78 L COLOMBOTTO ROSSO (ITA),
79 A BOULDEN (WAL),
80 H BURKE (ENG),
81 G GREEN (MAS),