Walton, who claimed the winning point for Europe at The 1995 Ryder Cup, qualified at Southerndown Golf Club with ten other golfers after carding a level par round of 70.
More than 420 players from almost 40 countries took part in qualifying events at Ashburnham, Machynys, Pyle & Kenfig and Southerndown.
At Pyle & Kenfig, American Skip Kendall carded a one under par round of 70 to lead the qualifiers, with compatriot Lance Ten Broeck, who once caddied for Swedish Ryder Cup player Jesper Parnevik, also making it through qualification.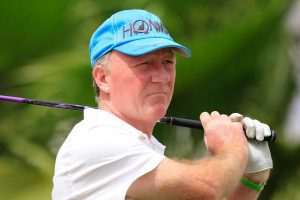 Paul Streeter carded the lowest round of the day, a five under par round of 67 at Machynys, with amateurs Jez Tomlinson and Mike White also qualifying. The pair are two of seven amateurs who will tee it up at the Senior Open.
All of those who qualified will hope to follow in the footsteps of American Pete Oakley, who came through the qualification process en route to a maiden Senior Major title in 2004 at Royal Portrush Golf Club in Northern Ireland.
The 144 man field for this year's Championship is now complete, and those who successfully qualified will join a host of Major Champions, Ryder Cup Captains and players and European Tour winners at Royal Porthcawl.
Englishman Paul Broadhurst will defend the Senior Claret Jug which he won at Carnoustie last year against stiff competition from stars such as Bernhard Langer, Colin Montgomerie, Tom Watson and Ian Woosnam.
A variety of ticket options are still available along with hospitality packages. In addition to full price season and day tickets, the Senior Open Championship is offering Twilight
Tickets (entry after 3pm) for Thursday, July 27 and Friday, July 28, priced £13.50 in advance or £15 on the gate. Young adults aged between 17-24 can purchase a Youth Ticket at a discounted price of £16.
Entry is free of charge for the Under-16s, accompanied by an adult, while parking close to the Royal Porthcawl course is also free.
Tickets are available from www.senioropenchampionship.com or call +44 (0) 800 023 2557.
Qualifiers
Ashburnham
M Molina
D McKenzie
M Wharton
F Quinn
K Kelsall
D Bell
C Grenier
S Creed (AM)
K Hastie (AM)
S Ball
Machynys
P Streeter
J Murphy
M White (AM)
G Boros
J Tomlinson (AM)
G Joyner
A George
A Franco
G Bruckner
J King
Pyle & Kenfig
S Kendal
L Ten Broeck
J Carriles
J Cheetham
P Wilson
W Wood
D Curtis (AM)
M Reynard
B Smith
D Westermark
R Haag (AM)
Southerndown
J Daley
B Ford
G Stubbington
M Ure
S Cipa
S McAllister
T Price
P Walton
R Hoit (AM)
D Thames
W Bladon
About Visit Wales
Visit Wales is the Welsh Government's tourism team.  Visitors spend around £14 million a day whilst in Wales, amounting to around £5.1 billion a year. Visit Wales is responsible for formulating tourism policy, encouraging investment in, and improving the quality of the visitor experience in Wales.  The team is also responsible for marketing Wales within the UK and internationally.   The ambition of the Welsh Government's tourism strategy for Wales is to grow tourism earnings in Wales by 10% by 2020.  The Year of Adventure 2016 was the first in a series of thematic years, and provides focus for product development and the promotion of Wales.  2017 is the Year of Legends, and 2018 will be the Year of the Sea.
Wales is a golf destination with big ambitions.  Since 2004, we've seen a 64% increase in the volume of golf visitors to Wales, while total related expenditure has risen by 79%These figures show the importance of golf to our economy and that hosting major golfing tournaments has played an important part in raising the profile of Wales as a golf destination.
 About the Senior Open Championship Presented by Rolex
The Senior Open Championship Presented by Rolex will be played over the world-renowned links of Royal Porthcawl Golf Club, Wales for the second time in 2017.
The Championship has been officially recognised as a 'Senior Major' since 2003, when the event owners, the European Tour and The R&A, incorporated the Championship into the schedules of both the European Senior Tour and the PGA TOUR Champions. These organisations are also long time partners with Rolex, as part of the brand's enduring support of golf, which marks its 50thanniversary in 2017.
Since its inauguration in 1987 at Turnberry in Scotland, the Championship has been hosted by the UK's most prestigious and challenging courses, and celebrated its 30th edition in 2016 at Carnoustie, Scotland. The event returns to Royal Porthcawl three years after the club became the first Welsh venue to host Europe's Senior Major, when Rolex Testimonee Bernhard Langer won the Championship for the second time.