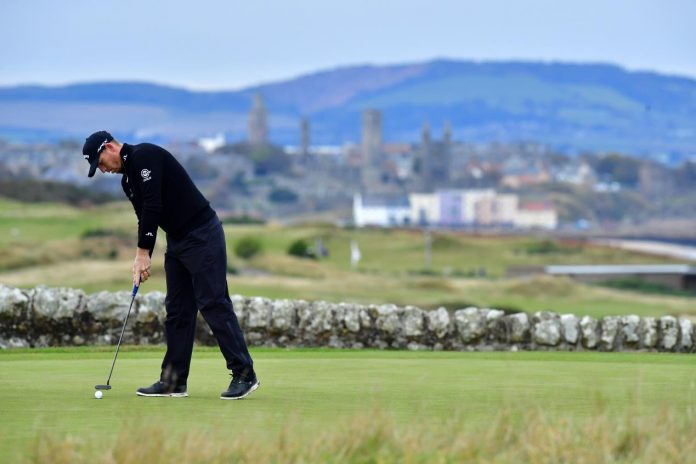 The image of Matt Wallace must be credited to Getty Images and used in conjunction with this release only. Please click on image to download a high-resolution version. You can also download video content and tournament information at the European Tour Media Hub:
Adrian Otaegui and Matt Wallace share the lead going into the weekend at the Scottish Championship presented by AXA, with Aaron Rai just one shot back as he aims for more success in Scotland.
Otaegui came in to the second round with a three shot lead, and followed up his impressive opening round of 62 with a battling 70 at Fairmont St Andrews as he targets a first strokeplay victory on the European Tour following his wins at the 2017 Saltire Energy Paul Lawrie Match Play and 2018 Belgian Knockout.
Englishman Wallace made the most of the favourable morning scoring conditions to record six birdies and a single bogey in his round of 67 to set the target at 12 under par. Playing in the company of Ryder Cup Captain Padraig Harrington, the four-time European Tour winner is aiming to build on his recent good form and play his way into Team Europe next year.
Aberdeen Standard Investments Scottish Open champion Rai is a shot behind the co-leaders after a round of 67 that included two eagles in his first six holes, with Adrien Saddier of France a stroke further back on ten under par.
Harrington is at nine under par alongside English pair Paul Waring and Garrick Porteous, with Scot Marc Warren, American Sean Crocker and Northern Ireland's Jonathan Caldwell on eight under par.
Player quotes
Matt Wallace: "Anytime you shoot under par, like we've done the first two days, they're both as good as each other. Yesterday was obviously a really nice start to get you into a tournament and then I kind of slowed down a little bit. Today was kind of the opposite. It was kind of a slow start, slowish start, but steady and then I picked up on the back nine.
"You always like to, always hope to (impress the Ryder Cup Captain) but it's not always the case. It's good that I've done that in front of him but I'm not sure it'll make much difference to Padraig. He will want players to be in there on merit and then if it comes down to a pick then he'll want someone that's in form.
"I'm going to try and do it where I don't need a pick this time so this is a nice start. I'm taking in some good form from the last few weeks without posting any numbers so hopefully I can do that this week."
Adrian Otaegui: "When I finished yesterday, I wish I could have stayed on the course and kept playing another 18 holes or another 36 holes. It's just another day with different feelings and I still think I did quite well today.
"I'm happy with the way I felt on the course, the way I played and obviously I had some bad holes today but I had some good ones and that's golf. I think the most difficult thing is to keep the momentum. When something breaks, it's just a different momentum and you have to try and get it again.
"I would love it (a stroke play victory). I know it's going to happen. My favourite way of golf is stroke play, so I definitely want to win that way."
Aaron Rai: "I was actually trying to play it a couple of yards right and pulled it a little bit but it was a good shot and you'd take that any day (eagle on the first hole). It is tricky to try and settle yourself in between that shot and walking to the next because you do have quite a lot of time to think about it. I did feel quite settled after that.
"I'm trying to focus on myself as much as possible and just to continue to do exactly what I've been doing over the last few months. If I do that, I'll give myself chances to keep getting better and keep progressing.
"I asked Lee Westwood yesterday what keeps him motivated and his simple answer was he loves the game. It's so refreshing to hear that from someone of his stature and his point of view in his career right now and I hope to do the same as much as possible."
Round Two Scores
132 A OTAEGUI (ESP) 62 70, M WALLACE (ENG) 65 67,
133 A RAI (ENG) 66 67,
134 A SADDIER (FRA) 67 67,
135 P HARRINGTON (IRL) 66 69, G PORTEOUS (ENG) 66 69, P WARING (ENG) 68 67,
136 M WARREN (SCO) 67 69, S CROCKER (USA) 70 66, J CALDWELL (NIR) 70 66,
137 B EASTON (RSA) 65 72, C PAISLEY (ENG) 66 71, B STONE (RSA) 67 70, L WESTWOOD (ENG) 67 70, D COUPLAND (ENG) 68 69, M SOUTHGATE (ENG) 69 68, K REITAN (NOR) 73 64,
138 A WU (CHN) 67 71, E PEPPERELL (ENG) 68 70, A MERONK (POL) 68 70, M SIMONSEN (DEN) 69 69, S CHAWRASIA (IND) 69 69, M ARMITAGE (ENG) 70 68, D GAVINS (ENG) 70 68, C HOWIE (SCO) 70 68,
139 E FERGUSON (SCO) 67 72, G HAVRET (FRA) 69 70, M JORDAN (ENG) 71 68, J HARDING (RSA) 75 64,
140 G FDEZ-CASTA?O (ESP) 67 73, D DRYSDALE (SCO) 69 71, J DONALDSON (WAL) 70 70, D PERRIER (FRA) 70 70, C SYME (SCO) 70 70, P FIGUEIREDO (POR) 70 70, B STOW (ENG) 70 70, J WALTERS (RSA) 71 69, W BESSELING (NED) 71 69, O WILSON (ENG) 72 68, S SODERBERG (SWE) 72 68, P ERIKSSON (SWE) 73 67, D LAW (SCO) 73 67, O FARR (WAL) 73 67,
141 R PARATORE (ITA) 68 73, B EVANS (ENG) 69 72, A LEVY (FRA) 70 71, J MORRISON (ENG) 72 69, D VAN DRIEL (NED) 72 69,
142 S JAMIESON (SCO) 67 75, H LONG (GER) 69 73, Z MURRAY (AUS) 69 73, C HILL (SCO) 70 72, J STALTER (FRA) 70 72, M BALDWIN (ENG) 70 72, L SCALISE (ITA) 71 71, B POKE (DEN) 71 71, R SANTOS (POR) 71 71, R PETERSSON (SWE) 71 71, A CHESTERS (ENG) 72 70, L VAN MEIJEL (NED) 72 70, R RAMSAY (SCO) 74 68,
143 S TILEY (ENG) 69 74, T GANDY (IMN) 70 73, S SHARMA (IND) 71 72, J FAHRBRING (SWE) 72 71, J SJ?HOLM (SWE) 72 71, D YOUNG (SCO) 72 71, M SCHNEIDER (GER) 73 70, S HORSFIELD (ENG) 74 69,
144 R JACQUELIN (FRA) 72 72, N LEMKE (SWE) 73 71, K APHIBARNRAT (THA) 75 69, D DIXON (ENG) 77 67,
145 S GALLACHER (SCO) 71 74, G MOYNIHAN (IRL) 72 73, L JOHNSTON (SCO) 73 72, C SHARVIN (NIR) 74 71, A COCKERILL (CAN) 75 70, J SENIOR (ENG) 76 69,
146 D HOWELL (ENG) 73 73, W ORMSBY (AUS) 73 73, J MCLEOD (AUS) 74 72, T TREE (ENG) 74 72, G BHULLAR (IND) 75 71, M LEE (AUS) 76 70,
147 D WHITNELL (ENG) 75 72, R WATTEL (FRA) 75 72, D BURMESTER (RSA) 75 72,
148 M KAWAMURA (JPN) 74 74, R CAMERON (SCO) 76 72, G FORREST (SCO) 76 72, M CAMPBELL (NZL) 77 71, J KASKE (FIN) 78 70,
149 C WOOD (ENG) 73 76, O LENGDEN (SWE) 75 74, N H?JGAARD (DEN) 77 72,
150 R MCGOWAN (ENG) 74 76, E WALKER (SCO) 74 76, M FENASSE (FRA) 78 72,
151 D HUIZING (NED) 76 75, C SORDET (FRA) 77 74, J WRISDALE (ENG) 79 72,
154 S HEND (AUS) 75 79,
160 L SLATTERY (ENG) 82 78,
**
OUT A CA?IZARES (ESP) 79 RT, R MACINTYRE (SCO) 78 WD, N KEARNEY (IRL) 75 WD, C SHINKWIN (ENG) RT,