by SAMIUR RAHMAN
Sports unite and divide. Sometimes two members of a family serve together to earn glory. Sometimes they are pitted against each other for the ultimate test. In Ashes this summer in Australia, two sons of former Australian great Geoff Marsh — Shaun and Mitchell — had a run of their lives with bat and ball which propelled Australia's clean sweep against arch-rivals England.
On the other hand, Hernandez brothers — Theo and Lucas — used to play for opposing clubs in the Real Madrid v Atletico Madrid derby, which is considered one of the most popular derbies in football world.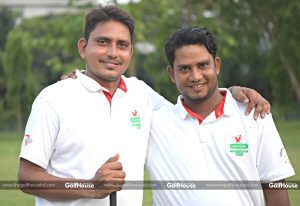 While these stories are well documented and circulated, we have our own brothers' stories in different sports that never get the same attention. In Bangladesh, there are a few siblings who are making their mark in golf.
The story of Dulal and Nazim is one such: One that is fraught with sacrifice, struggle and glory. Their father used to run a small shop just outside the Kurmitola Golf Club. But his income was not enough to run the six-member family, so from a very early age, Nazim and Dulal had to contribute to the family's income.
The oldest of four brothers, Mizan, was a ball boy at KGC. He took Dulal for the same job. But heaven opened a golden doorway for Dulal as he showed his golfing skills before the 2010 Dhaka South Asian Games. Dulal was an integral member of the team which won gold during that regional multi-discipline event. After that, there was no looking back for Dulal. The young boy, who once used to earn petty cash by running errands, now has a six-digit figure beside his name in the order of merit of BPGA. Last year Dulal won Gemcon Professional Golf tournament and finished second at the PGTI Dhaka Open the year before. However, his brother Nazim could not pick the same pace. Despite winning the Bangladesh Amateur Golf Tournament in 2014, Nazim is yet to earn a top spot in local tournament.
That failure, however, does not separate the brothers; it rather unites! Last year Nazim and Dulal came side by side in the leaderboard of Basundhara Open, held at the KGC. Nazim came third while Dulal finished fourth. Their joy was overwhelming as the brothers achieved the feat in front of their father. It was a hot humid summer day and weather tested the golfers to their fullest. But the scorching heat could not wipe smile away from their face.
Major Mahmud is a keen golfer and a certified golf referee. His dream is to make his sons pro golfers, and he is chasing the dream in the best possible way. Younger son Afnan Mahmud is considered as a young prodigy, who is now honing his golf skills in USA. After representing Bangladesh in youth games, Faldo series and some other regional tournaments, Afnan became eligible to play in few junior tournaments in USA. There he did very well and the results opened the doorway to a 45-day training camp under prominent trainers like Tom Burnet and Reed Whitaker. Afnan shone during the training program, which finally led him to a golf scholarship at the Alabama State University. He is now chasing his dream of playing on PGA tour. Afnan's elder brother Ishrak Mahmud Nafee is also a keen golfer. He is a pro and earned cut on few occasions. Son of golf enthusiast parents, Ishrak remembers the day when he was first introduced to this fascinating sport, "It was in September 2009 when my dad brought us to the golf course saying, 'you have played football, cricket and so many things. Let's try some golf, for a change'."
Initially, it was tough, admitted Ishrak, but later on both the brothers fell in love with the sport. They honed their skills by playing junior tournaments, members' tournaments and gradually got drafted into the national team. While Afnan is chasing his dream in USA, Ishrak is staying at home, trying to take his game to the next level.
Panna and Zakir is another such duo. Elder brother Panna first came to KGC to see foreigners, which was an act of a curious young mind. Later on, one of his keens managed got him a job at the KGC as a caddy. Then he brought Zakir, his younger brother there. Later on, Zakir surpassed the feats of Panna on the golf course, which is reflected in the order of merit as well. Zakir is now at 10th position in the BPGA order of merit, has SA games medals and few professional tournament topping accolades by his name.
Sometimes golf is a family sport; sometimes it is a family profession. In many cases, it is someone working as a caddy or ball boy that brings up another one from the family to increase the family earning. Or in other cases, golf enthusiast parents bring their kids in. Now, it is up to the top brass of golf in Bangladesh to make a natural course for the upcoming golfers so that they don't appear at the scene by chance. Rather healthy tournaments among juniors and iconic figures upfront will make way for new generation of golfers.
(The writer Sub Editor of Daily Kaler Kantho)