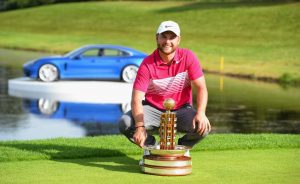 England's Jordan Smith claimed his maiden European Tour title with a play-off victory over defending champion Alexander Levy at the Porsche European Open.
The lead changed hands throughout the afternoon at Green Eagle Golf Courses in Hamburg as Levy and overnight leader Smith were engaged in an exciting final-round battle.
Levy led by a single shot as he stood at the 18th tee, but when playing partner Smith holed his ten-foot birdie putt to join the Frenchman at the top of the leaderboard at 13 under par, he was forced to tap in his tricky par putt to force a play-off.
Both players reached the putting surface in two at the first extra hole but Levy was in the box seat after sending his eagle putt to within three feet, with Smith another 12 feet away from the hole.
The young Englishman missed his tricky putt, leaving Levy with the chance to finish the contest but he missed his close-range birdie effort so the pair headed back to the 18th tee. After Smith sent his monster eagle putt to within three feet of the hole during the second play-off, the 2016 Challenge Tour Road to Oman winner tapped in his close-range birdie effort to secure his maiden European Tour victory in his 25th event.
Bangladesh's Siddikur Rahman and Sweden's Johan Edfors capped off the week with rounds of 68 and 70 to finish two shots off the pace at 11 under, with South Africa's Zander Lombard, Spain's Adrian Otaegui, and Sweden's Jens Fahrbring a further shot back.
Player Quotes 
Jordan Smith
"I've loved it. It's been nerve-wracking at times but I've really enjoyed it.
"It's all a bit surreal. Obviously the Challenge Tour last year and the EuroPro the year before that. It's been fun.
"I had a really good start to the year and the first aim was just to secure my Tour card, which I managed to do. And then the second goal was to win an event, which I've managed to do.
"Once he missed it then I knew we had to start again, regroup, and just go with it. The whole week tee to green is probably the best I have played all year, probably struggled a little bit on the greens, but it came together at the right time."
Alexander Levy
"I'm really proud of what I did today. I shoot three under in the conditions that were really tough and I played really well. I think there are a lot of good things coming for me in the next few months.
"I hit some pure shots. I struggled a bit today on the putting but I think I played really good golf and I improved my game week after week and that's really nice.
"I don't feel a lot of pressure. My dream was to win this tournament for my birthday present in two days but I didn't do that. I'm really pleased with what I did and I'm really happy."
Johan Edfors
"I didn't play all that badly on the front nine I just couldn't make any putts, and made some silly bogeys, so I was two over after the turn, so not what I was planning on. Made a really good comeback on the back nine and got the most out of it with four under there so I was really happy with it.
"It's my best result in a long time and it was nice to see that I could turn it around today and play good under pressure. I'm really happy with four solid rounds so I will try to bring that to the next event."
Siddikur Rahman
"It was a really great day. I couldn't expect this today but I am very fortunate my hitting was good, especially my putting – it was really good all four days – so I am really happy with today's round.
"The second shot unfortunately (on the 18th) went to the left and into the hazard, I talked to myself and said no problem as there is still a long way to go, one good shot, maybe one good putt. I was really inspired by the clapping and after that the putt was quite memorable.
"My putting and short game, without out that it's not possible to play like this."
Final Scores
275 J Smith (Eng) 70 67 67 71, A Levy (Fra) 67 70 69 69,
277 S Rahman (Ban) 70 66 73 68, J Edfors (Swe) 71 67 69 70,
278 Z Lombard (RSA) 70 72 69 67, A Otaegui (Esp) 71 66 70 71, J Fahrbring (Swe) 68 68 70 72,
279 M Ilonen (Fin) 72 70 72 65, L Cianchetti (Ita) 71 67 71 70, R Ramsay (Sco) 70 68 71 70, A Chesters (Eng) 68 67 72 72,
280 S Gallacher (Sco) 68 70 72 70, C Schwartzel (RSA) 67 71 73 69, A Knappe (Ger) 74 69 70 67, N Elvira (Esp) 69 70 73 68,
281 J Donaldson (Wal) 69 71 71 70, J Suri (USA) 66 72 69 74, S Heisele (Ger) 72 70 69 70,
282 S Gros (Fra) 70 71 70 71, D Boonma (Tha) 71 71 71 69, L Slattery (Eng) 69 73 71 69, P Reed (USA) 68 71 70 73, R Karlberg (Swe) 69 74 70 69, R McCarthy (Aus) 70 69 68 75, C Hanson (Eng) 70 72 70 70, R Sterne (RSA) 70 71 66 75, T Fisher Jnr (RSA) 70 68 71 73,
283 P Saksansin (Tha) 69 72 72 70, C Shih-Chang (Tpe) 75 68 70 70, E De La Riva (Esp) 68 73 70 72, C Koepka (USA) 69 68 73 73, R McEvoy (Eng) 66 72 72 73,
284 M Foster (Eng) 72 69 72 71, J Walker (USA) 72 68 75 69, T Bjørn (Den) 74 68 72 70, S Crocker (am) (USA) 69 70 71 74,
285 J Campillo (Esp) 73 70 68 74, M Jonzon (Swe) 72 67 73 73, J Lima (Por) 68 71 73 73, T Olesen (Den) 69 70 72 74, T Detry (Bel) 71 69 70 75, S Khan (Eng) 71 71 72 71, L Canter (Eng) 68 71 75 71, P Maddy (Eng) 71 70 74 70, K Aphibarnrat (Tha) 68 69 75 73, P Widegren (Swe) 70 71 70 74,
286 B Hebert (Fra) 69 72 71 74, M Carlsson (Swe) 70 73 71 72, R Jacquelin (Fra) 69 72 74 71, S Manley (Wal) 67 71 71 77, M Kieffer (Ger) 69 72 71 74, P McBride (am) (Irl) 70 72 72 72,
287 A Björk (Swe) 71 69 73 74, C Lee (Sco) 68 70 74 75,
288 G Bourdy (Fra) 69 74 73 72, C Paisley (Eng) 67 72 74 75, O Fisher (Eng) 71 70 72 75, J Ahlers (RSA) 71 69 75 73, J Dantorp (Swe) 71 69 73 75,
289 B Dredge (Wal) 70 73 75 71, M Siem (Ger) 69 71 73 76, D Papadatos (Aus) 71 72 73 73, N Bertasio (Ita) 72 68 73 76,
290 J Morrison (Eng) 72 71 73 74, G Havret (Fra) 76 65 75 74,
291 L Yan-Wei (Chn) 72 70 75 74, W Ashun (Chn) 71 72 72 76, T Lewis (Eng) 69 73 78 71, S Tiley (Eng) 69 71 74 77, H Arkenau (Ger) 70 73 72 76,
293 S Dyson (Eng) 71 72 78 72, R Rock (Eng) 70 69 76 78,
295 S Webster (Eng) 72 70 76 77, A Connelly (Can) 72 71 73 79,
144 P Dunne (Irl) 74 70 0 0, N Kimsey (Eng) 76 68 0 0, A Halvorsen (Nor) 72 72 0 0, R Gouveia (Por) 73 71 0 0, P Angles (Esp) 71 73 0 0, T Chuayprakong (Tha) 71 73 0 0, S Soderberg (Swe) 76 68 0 0, J Rutherford (Eng) 75 69 0 0, J Walters (RSA) 73 71 0 0, M Manassero (Ita) 71 73 0 0, W Zalatoris (am) (USA) 70 74 0 0,
145 J Luiten (Ned) 72 73 0 0, R Finch (Eng) 73 72 0 0, R Langasque (Fra) 74 71 0 0,
** J Parry (Eng) 72 DQ 0 0,
145 R Kakko (Fin) 72 73 0 0, P Hanson (Swe) 69 76 0 0, R Wattel (Fra) 74 71 0 0, T Pilkadaris (Aus) 73 72 0 0, R Gonzalez (Arg) 73 72 0 0, O Bekker (RSA) 74 71 0 0, M Orrin (Eng) 74 71 0 0, P Meesawat (Tha) 72 73 0 0, J Kruger (RSA) 71 74 0 0, M Kramer (Ger) 71 74 0 0, M Nixon (Eng) 71 74 0 0, S Walker (Eng) 72 73 0 0,
146 P Khongwatmai (Tha) 71 75 0 0, C Pigem (Esp) 76 70 0 0, B Etchart (Esp) 74 72 0 0, J Stalter (Fra) 74 72 0 0, J Hicks (USA) 72 74 0 0, M Wallace (Eng) 70 76 0 0,
147 F Aguilar (Chi) 69 78 0 0, A Hall (Aus) 71 76 0 0, D Lipsky (USA) 74 73 0 0, A Karlsson (Swe) 76 71 0 0, D Fox (Aus) 72 75 0 0, S Henry (Sco) 71 76 0 0, F Fritsch (Ger) 72 75 0 0,
148 P Tangkamolprasert (Tha) 78 70 0 0, R Echenique (Arg) 74 74 0 0, G Stal (Fra) 72 76 0 0, B Matthews (USA) 77 71 0 0,
** E Pepperell (Eng) 74 DQ 0 0,
148 A Da Silva (Bra) 77 71 0 0, L Jensen (Den) 73 75 0 0, C Selfridge (Nri) 75 73 0 0, B Ritthammer (Ger) 75 73 0 0,
149 P Peterson (USA) 72 77 0 0, N Fasth (Swe) 72 77 0 0, B Staben (Ger) 73 76 0 0, H Otto (RSA) 73 76 0 0,
150 J Quesne (Fra) 76 74 0 0, K Horne (RSA) 76 74 0 0, D Perrier (Fra) 77 73 0 0, J Winther (Den) 74 76 0 0, D Brooks (Eng) 73 77 0 0,
151 L Bjerregaard (Den) 77 74 0 0, G Storm (Eng) 75 76 0 0, P Dedek (Cze) 74 77 0 0,
152 M Warren (Sco) 72 80 0 0, G King (Eng) 73 79 0 0,
153 R Green (Aus) 78 75 0 0, J Roos (RSA) 77 76 0 0,
154 N Holman (Aus) 77 77 0 0, M Armitage (Eng) 73 81 0 0,
155 P Swangarunporn (Tha) 79 76 0 0,
156 N Adank (Ger) 77 79 0 0,
159 A Quiros (Esp) 84 75 0 0,
** D Howell (Eng) 77 RT 0 0, R Johnson (Swe) 76 DQ 0 0, N Johansson (Swe) 76 DQ 0 0, K Broberg (Swe) 72 DQ 0 0, A Maestroni (Ita) 77 DQ 0 0, M Hoey (Nir) 79 RT 0 0, P Perez (USA) 76 DQ 0 0, S Jamieson (Sco) 76 DQ 0 0, B Evans (Eng) 75 DQ 0 0, D Stewart (Sco) 78 DQ 0 0, Z Scotland (Eng) 80 DQ 0 0, A Wall (Eng) RT 0 0 0,