Country's ace golfer Siddikur Rahman is focusing on fitness as he looks to start the second half of the golfing season afresh. The two-time Asian Tour winner has participated in eight tournaments of the regional tour so far this season, but his meagre earning of 93,000 dollars shows why he is languishing at 17th position in the Order of Merit. He has missed cut in four of those eight events.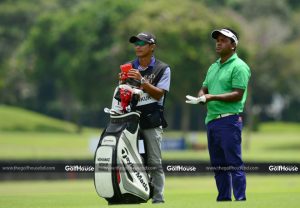 Siddikur's only success so far this season came in PGTI where he cruised to victory in the inaugural Chittagong Open. But in the other circuits, he hasn't quite done justice to his name yet. The 32-year-old golfer thinks his recurring back pain played a key role in that. Hence he is taking the time off to regain full fitness. He is also doing regular exercise and not taking carbohydrate, he said, so that he can get fitter than before.
Siddikur wants to play events with breaks as he doesn't want to aggravate his pain. "Fitness is my first priority. I will play maximum three tournaments on the trot and take a whole week's rest. That's how I'm planning to do things in the second half of the season," Siddikur told a Bangla daily recently.
"The pain hasn't reached a stage yet where I should have a surgery. But it returns after a few months. I'm yet to identify where it is coming from. However, I'm doing gym regularly and taking diet according to nutritionist's prescription."
However, Siddikur is looking forward to a better second half of the season. "I'm going to Bangalore where there is an Asian Tour event starting from the 3rd of August. I'm familiar with the course and it suits my game. I'll have a one week's rest after that and will go to Fiji. After returning from Fiji, I'll rest for a week again and then go for three weeks in Europe where I will be playing in three tournaments," Siddikur told a news channel.
The ace golfer feels he is still very young at this game and that he wants to play as long as fitness holds. "If you see Roger Federer or Tiger Woods, they are still playing at this age. They didn't reach this stage in a day. When I started playing, I didn't know the proper grammar of the game. I learned the game while playing. I am learning everyday and improving myself. So I want to carry on playing as long as my body allows. The rest depends on a lot of other factors which I cannot control," Siddikur said.