Babu Ahmed is one of the most respected golf mentors in the country. He has taught hundreds of amateurs and professionals, some of whom have gone on to earn international recognition. He has own simplistic method of teaching and he gives emphasis to details and asks his students for dedication. Siddikur Rahman is one of his favourite students who has gone on to earn international fame. Others like Zamal Hossain, Dulal Hossain and Shakhawat Sohel have also left a mark at the international stage. The veteran golf mentor, who sacrificed his own playing career for teaching, shares his golfing philosophy and his proud moments in an interview.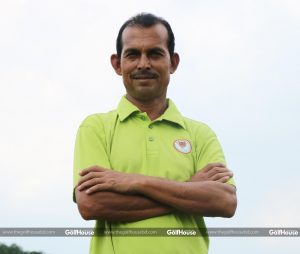 Q: Tell us how you came to golf and the overall golf scene at that time.
A: You can say I just walked into the game without knowing what it can offer. It was in the late '70s and during those days the game was only a pastime for foreigners here. I knew a caddie at the KGC and asked him to get me a job. So he got me the ball boy's job. In those days, mostly the foreigners used to play while there were a few caddies who also played. So I started practicing the game when I got time from my work. I improved fast and overtook the seniors soon. Then we started participating on the Indian tour.
Q: How did you come to coaching the players?
Q: There was an amateur tournament held here where Sri Lankan players played well. Mustafiz Sir, the then president of the federation and army chief, asked me how they played so well. I told him that those Sri Lankan players were not club members; rather they were all caddies or ball boys who formed their national team. Later under Major General Jibon Kanai Das's supervision, we formed a national team of 5-7 players which included Siddikur Rahman.
Meanwhile, I was invited to an event in Mumbai where I watched Jeev Milkha Singh from close and followed his game. After coming home, I shared with the players how Jeev approached his game and prepared a routine for the players. I feel out of those players, Siddikur took the lessons most thoroughly and hence he made it to the top.
Q: You started as a ball boy. You didn't turn a pro as a player, rather became a teaching pro. Why was that?
A: There weren't many teachers in those days. Ata master and Chan Mia were there. After them I was chosen for teaching and I was given salary by the club. So I felt quite satisfied with teaching.
Q: What was the best moment of your teaching career?
A: In 2010, golf was included in the South Asian Games. The golf federation was desperate to win a gold medal at home soil. Major Anis sir asked me to prepare the team. There was a declaration that 5 lac taka will be awarded for each gold medal. We won the team event and the individual one too. Dulal won the gold, Jamal won the silver and Zakir won the bronze in the individual category. That same year, Siddikur won the Brunei Open. So it was the beginning of a good time for our golf and a happy time for me personally.
Q: Do you think our golf has been able capitalize on that success?
A: When I went to India first, during the late '80s, there were only a couple Indians playing on the Asian Tour. Now there are so many of them on the Asian and European Tour and they are winning so many titles. So it takes time to earn success. We have started late, and I think we will need some time to be successful internationally.
Q: What should be done to take the game forward?
A: The support that the golf federation and golf clubs are giving is really appreciable. If this is continued, five years from now I think we will have more Siddikurs and more golfers like Sohel, Jamal, Dulal.
Q: Everyone says you have a simple teaching method. Can you elaborate it for us?
A: I believe that if basic is not right, you won't be able to succeed as a professional. I have worked with foreign trainers and implemented the lessons on my students. I teach members in one way and I teach the national team players in another way because the club members are older while national team players are young and fresh. So I try to teach them from the beginners' level in detail.
Q: Do you have any suggestion for the professional golfers?
A: I think they should follow the dedication and hard work of Siddikur Rahman. Siddikur doesn't waste time on other things; he is always busy with his game and tries to learn every day. Everyone should do that to be successful.
Q: TheGolfHouse has been promoting golf and tourism for more than two years now. What is your impression about it?
A: I wish we had this magazine in 2010 because the 2010 SA Games success was above everything for amateur golf in our country and wish that success was covered more by the media. I hope the game will have more coverage and people will follow the game more.