Five players share the lead on one over par after the second round of the Senior Open Championship Presented by Rolex as Royal Porthcawl Golf Club was battered by wind and rain on Friday.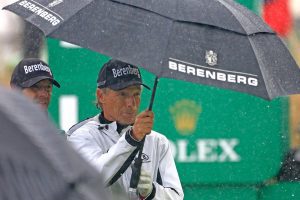 Bernhard Langer was victorious on the Welsh links in 2014 by a record 13 strokes, finishing with an 18 under par total, but conditions this time round were a different prospect as just one golfer in the 144-man field, Santiago Luna, carded an under par round.
Langer, who is seeking a record-setting tenth Senior Major victory, carded a three over par round of 74 for a one over par total – his first round over par in six played at Royal Porthcawl.
"It was much harder this morning than yesterday," said Langer. "It was blowing 25 (mph) with rain; it was just miserable.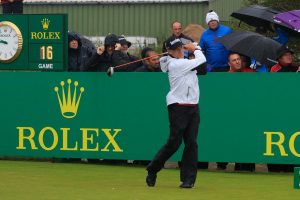 "The first two hours or so, the wind was blowing strong and it was raining on top of it. It was just very difficult to do anything. The first hour or two was probably as brutal as I've seen it; and I've been many places and seen a lot of things.
"I'm still in a good position. There's a lot of golf to be played yet."
Fellow former Ryder Cup Captain Tom Lehman from America carded a round of 72 to finish one over par, joining compatriots Steve Flesch and Billy Mayfair, and Argentina's Mauricio Molina in a share of the lead.
As one of 16 Major Champions in the field, Lehman is one of five former Open Championship winners hoping to add the Senior Claret Jug to their trophy cabinet – Tom Watson achieved this feat first in 2003 and then won in 2005 and 2007.
"Golf is about momentum, and if you can get off to a good start in bad weather and you can find some kind of rhythm where you're plodding along, making pars, and managing, then you can deal with conditions like that.
"I drove the ball well, put myself in places where I could get it on or near the green and chipped it and putted fairly well."
In sixth place on two under par is American Clark Dennis, who has been in superb form on the European Senior Tour, finishing tied fourth, third and fifth in his last three regular tournament starts.
Mike Goodes, Peter Lonard and David McKenzie are four under par, one shot ahead of a clutch of players in a share of tenth place, including local favourite Phillip Price, the most recent winner on the Senior Tour, two-time Senior Major Champion Roger Chapman and 2010 Ryder Cup Captains Colin Montgomerie and Corey Pavin.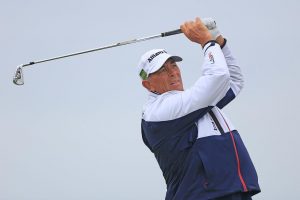 Tickets are available online from www.senioropenchampionship.com or on the gate, including Youth Tickets for 16-24 year olds. Under-16s are admitted free.
Scores after round two:
143 B Langer (Ger) 69 74, M Molina (Arg) 70 73, B Mayfair (USA) 71 72, S Flesch (USA) 72 71, T Lehman (USA) 71 72,
144 C Dennis (USA) 72 72,
146 M Goodes (USA) 74 72, D McKenzie (Aus) 73 73, P Lonard (Aus) 71 75,
147 P Price (Wal) 74 73, C Pavin (USA) 73 74, T Pernice Jnr (USA) 71 76, C Montgomerie (Sco) 71 76, P Fowler (Aus) 71 76, B Andrade (USA) 71 76, S Luna (Esp) 77 70, R Chapman (Eng) 75 72,
148 M Martin (Esp) 72 76, J Remesy (Fra) 71 77,
149 P Marksaeng (Tha) 73 76, I Woosnam (Wal) 74 75, M Mouland (Wal) 73 76, B Faxon (USA) 78 71, S Dunlap (USA) 76 73, J Kelly (USA) 76 73, S McCarron (USA) 75 74, M Jiménez (Esp) 76 73, T Watson (USA) 72 77,
150 G Sauers (USA) 75 75, R Cochran (USA) 77 73, D Gilford (Eng) 73 77, F Couples (USA) 75 75, P Linhart (Esp) 76 74, J Sluman (USA) 74 76, C Williams (RSA) 71 79, P Broadhurst (Eng) 75 75, D Waldorf (USA) 73 77, M Atlevi (Swe) 77 73, S Lyle (Sco) 74 76,
151 P Wesselingh (Eng) 74 77, G Turner (Nzl) 73 78, J Daley (USA) 78 73, M Harwood (Aus) 72 79, C Lutz (am) (USA) 77 74,
152 W Wood (USA) 75 77, W Austin (USA) 75 77, S Kendall (USA) 75 77, J Daly (USA) 72 80, C Franco (Par) 74 78,
153 O Browne (USA) 78 75, T Thelen (USA) 76 77, P Streeter (Eng) 77 76, T Price (Aus) 75 78, L Mize (USA) 76 77, A Bossert (Sui) 77 76, J Kingston (RSA) 76 77,
154 S Tinning (Den) 77 77, S Ball (Eng) 78 76, C Monasterio (Arg) 73 81, E Toledo (Mex) 76 78, T Wiratchant (Tha) 78 76, J Maggert (USA) 78 76, J Olazábal (Esp) 78 76, G Orr (Sco) 75 79, T Hamilton (USA) 72 82, J Sandelin (Swe) 77 77, P Goydos (USA) 79 75,
155 G Day (USA) 80 75, B Lane (Eng) 77 78, S Dodd (Wal) 75 80, A Oldcorn (Sco) 76 79, G Wolstenholme (Eng) 77 78, S Faldo (Eng) 79 76, D Frost (RSA) 81 74, L Zhang (Chn) 77 78, D Smyth (Irl) 76 79, C Mason (Eng) 70 85, M McNulty (Irl) 75 80, S McAllister (Sco) 78 77, J King (Eng) 77 78, M Dawson (USA) 79 76, R Haag (am) (USA) 73 82,
156 G Brand Jnr (Sco) 78 78, C Grenier (Aut) 76 80, G Joyner (Aus) 72 84, P Eales (Eng) 78 78, G Bruckner (USA) 78 78, P Walton (Irl) 75 81, J Smith (USA) 78 78, K Kelsall (Sco) 78 78, C Rocca (Ita) 79 77, M Reynard (Eng) 83 73, S Brown (Eng) 81 75,
157 L Tenbroeck (USA) 76 81, F Funk (USA) 78 79, R Spittle (Can) 78 79, J Buendia (Esp) 81 76, P O'Malley (Aus) 78 79, M Brooks (USA) 78 79, R Rafferty (Nir) 78 79, R Drummond (Sco) 74 83, B McGovern (Irl) 77 80, J Murphy (Eng) 76 81,
158 A Mednickson (Swe) 78 80, F Quinn (USA) 75 83, T Petrovic (USA) 79 79, J Van De Velde (Fra) 77 81,
159 J Carriles (Esp) 77 82, P Golding (Eng) 80 79,
160 E Darcy (Irl) 78 82, P McGinley (Irl) 75 85, S Richardson (Eng) 74 86, B Smith (Eng) 78 82, P Wilson (Eng) 81 79, A Franco (Par) 81 79,
162 D Westermark (Swe) 82 80, S Cipa (Eng) 83 79, K Idoki (Jpn) 79 83, D Curtis (am) (Eng) 81 81,
163 C Suneson (Esp) 80 83, B Ford (USA) 80 83, G Stubbington (Eng) 79 84, K Hastie (am) (Sco) 79 84,
164 W Short Jr (USA) 79 85, T Tryba (USA) 83 81, J Cheetham (Eng) 82 82, W Bladon (Eng) 84 80, M White (am) (Wal) 78 86, R Hoit (am) (USA) 79 85,
165 M Wharton (Eng) 81 84, A George (Eng) 83 82, G Boros (USA) 83 82,
166 J Rivero (Esp) 84 82,
167 M Ure (Eng) 81 86,
169 D Thames (USA) 79 90,
170 B Conser (USA) 87 83,
171 P Mitchell (Eng) 83 88, J Tomlinson (am) (Eng) 83 88,
173 S Creed (am) (Eng) 79 94,
176 D Bell (USA) 89 87,
179 M Heinen (USA) 83 96,
** J Durant (USA) 82 WD, B Tway (USA) 81 DQ, T Armour Iii (USA) 79 DQ