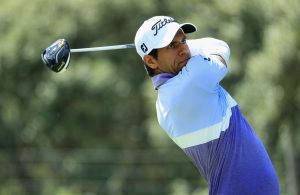 Aaron Rai moved one step closer to European Tour status as he took the halfway lead of Le Vaudreuil Golf Challenge after a flawless six under par second round of 65 in Normandy.
Three European Challenge Tour victories in a season earn immediate promotion to the Race to Dubai and the Englishman has already triumphed twice in 2017, winning the season-opening Barclays Kenya Open and the Andalucía Costa del Sol Match Play 9.
Runner-up at Golf PGA France du Vaudreuil 12 months ago, Rai has put himself in pole position to go one better this weekend as he leads by two shots – aided by not dropping a single shot for his first two rounds.
"I'm feeling pretty good," said the 22 year old. "It's been a very consistent and very steady two days, and to go bogey-free through 36 holes is very nice, so it's been a very good start – but it is just a start, there's a long way to go.
"It's definitely a tough course to play well on. There are a lot of run off areas around the greens and it's also quite firm, we've had a bit of wind over the first two days which has made things quite tricky, so you have to be very strategic.
"I've been trying to hit a lot of greens and just give myself chances – I think anywhere on the green, you're normally not going to leave yourself too far away, so that's been the plan so far and luckily enough it's gone pretty well.
"I think you have to keep in the frame of mind of doing your own thing if you want to do well. If you get a little bit too result-orientated and focused on the scores too much it can become very tough to perform as well as you can.
"It maybe crosses my mind occasionally, what I could achieve this week – it would be wrong to say that it doesn't. But I try to switch off as much as possible away from the course and have other things to do, other interests, because it is pretty intense on the course and maintaining that level through the week of a tournament is pretty tough."
Rai's nearest challengers are overnight co-leaders Ryan Evans and Mark Tullo who both shot rounds of 69 to move to nine under par, one shot ahead of leading Frenchman Mathieu Fenasse and Oliver Lindell.
Two shots further back, in a share of sixth place, are Morten Ørum Madsen, Christopher Mivis and Borja Virto, with 66 players – including two French amateurs Frederic Lacroix and Dimitri Mary – making the halfway cut, which fell at one over par.
Scores after Round Two:
131 A Rai (Eng) 66 65,
133 M Tullo (Chi) 64 69, R Evans (Eng) 64 69,
134 M Fenasse (Fra) 65 69, O Lindell (Fin) 69 65,
136 C Mivis (Bel) 68 68, B Virto (Esp) 68 68, M Madsen (Den) 69 67,
137 M Lafeber (Ned) 72 65, R Hjelm (Den) 69 68, A Velasco (Esp) 72 65,
138 T Linard (Fra) 68 70, N Cullen (Aus) 70 68, E Vieilledent (Fra) 70 68, M Cort (Eng) 71 67, E Johansen (Nor) 71 67, M Haastrup (Den) 71 67, E Van Rooyen (RSA) 70 68,
139 C Selfridge (Nir) 71 68, M Ford (Eng) 72 67, N Geyger (Chi) 71 68, O Stark (Swe) 70 69, F Maccario (Ita) 70 69, R Saxton (Ned) 70 69, S Tiley (Eng) 71 68,
140 P Maddy (Eng) 72 68, O Farr (Wal) 70 70, A Saddier (Fra) 68 72, N Maheut (Fra) 70 70, N Johansson (Swe) 70 70,
141 M Kramer (Ger) 70 71, D McElroy (Nir) 70 71, R Kellett (Sco) 71 70, C Sordet (Fra) 70 71, T Perrot (Fra) 70 71, M Lundberg (Swe) 70 71, K Johannessen (Nor) 73 68, M Søgaard (Den) 70 71, J McLeary (Sco) 71 70, M Godoy (Arg) 68 73, G King (Eng) 72 69,
142 M Ovesen (Den) 70 72, D Fox (Aus) 69 73, D Foos (Ger) 70 72, R Sciot-Siegrist (Fra) 72 70, B Eccles (Aus) 70 72, D Gaunt (Aus) 68 74, A Bernadet (Fra) 71 71, G Boyd (Eng) 73 69,
143 V Riu (Fra) 76 67, D Huizing (Ned) 69 74, W Besseling (Ned) 71 72, C Lee (Sco) 73 70, C Griffiths (Eng) 69 74, J Lando Casanova (Fra) 67 76, E Di Nitto (Ita) 71 72, T Murray (Eng) 72 71, M Schwab (Aut) 71 72, D Berna Manzanares (Esp) 71 72, F Mruzek (Cze) 74 69, P Tarver-Jones (Eng) 75 68, S Fernandez (Esp) 74 69, S Henry (Sco) 70 73, S Piaget (Mon) 75 68, F Lacroix (am) (Fra) 71 72, D Mary (am) (Fra) 70 73,
144 J Allan (Eng) 71 73, J Guerrier (Fra) 75 69, M Decottignies-Lafon (Fra) 71 73, T Shadbolt (Eng) 75 69, J Van Der Vaart (Ned) 70 74, J Doherty (Sco) 74 70, D Perrier (Fra) 74 70, S Arnold (Aus) 74 70, R McNamara (Irl) 74 70, B Neil (Sco) 69 75, V Perez (Fra) 74 70, E España (Fra) 73 71, A Snobeck (Fra) 71 73, K Samooja (Fin) 73 71, M Hoey (Nir) 72 72,
145 K Phelan (Irl) 72 73, C Russo (Fra) 70 75, E Lipparelli (Ita) 74 71, M Cabrera-Bello (Esp) 72 73, G Forrest (Sco) 69 76, S Hutsby (Eng) 78 67, B Evans (Eng) 72 73, J Kunzenbacher (Ger) 74 71, R McGee (Irl) 71 74, P Mazier (am) (Fra) 75 70,
146 A Pinguet (Fra) 76 70, D Van Driel (Ned) 71 75, E Goya (Arg) 76 70, J Sarasti (Esp) 71 75, P Whiteford (Sco) 72 74, P Mejow (Ger) 73 73, B Hafthorsson (Isl) 72 74, N Møller (Den) 72 74, M Trappel (Aut) 73 73, J Mullen (Eng) 70 76, R Echenique (Arg) 74 72, S Kim (USA) 74 72,
147 M Schneider (Ger) 77 70, S Heisele (Ger) 75 72, B Paolini (USA) 73 74, B Hellgren (Swe) 70 77, P Relecom (Bel) 72 75, A Maestroni (Ita) 77 70, K Eriksson (Swe) 73 74, R McIntyre (am) (Sco) 75 72,
148 M Laier (Ger) 73 75, H Joannes (Bel) 78 70, M Pastor (Esp) 75 73, G Cambis (Fra) 72 76, O Rozner (Fra) 72 76,
149 A Schwartz (Fra) 74 75, C Batut (Fra) 75 74, F Bergamaschi (Ita) 73 76, C Bouniol (Fra) 76 73, A Pavan (Ita) 71 78, J Garcia Pinto (Esp) 76 73, N Tacher (Fra) 76 73, D Vancsik (Arg) 78 71, P Shields (Sco) 74 75, F Daux (Fra) 76 73,
150 G Yang (Kor) 77 73, H Casey (Eng) 74 76, J Rutherford (Eng) 76 74, J Brun (Fra) 73 77, P Howard (Eng) 77 73, E Dubois (Fra) 75 75,
151 C Blomstrand (Swe) 79 72, J Coupade (Fra) 77 74, A Zemmer (Ita) 73 78, N O'Briain (Irl) 74 77,
152 C Brazillier (Fra) 77 75, J Verselin (Fra) 74 78, T Boulanger (am) (Fra) 77 75, J Gandon (am) (Fra) 77 75,
153 T Lawrence (RSA) 74 79, C Bezuidenhout (RSA) 76 77,
154 J Zunic (Aus) 73 81, B Chapellan (Fra) 79 75, J Vecchi Fossa (Ita) 78 76, M Ortolani (Ita) 75 79,
155 D Papadatos (Aus) 76 79, J Otaegui (Esp) 80 75,
157 F Laporta (Ita) 77 80, N Peyrichou (Fra) 80 77, A Seguin (Fra) 77 80, E Cuartero Blanco (Esp) 77 80, A Widemann (Fra) 77 80,
** J Lopez Lazaro (Fra) 80 RT, F Calmels (Fra) 81 WD, R Davies (Wal) 83 WD