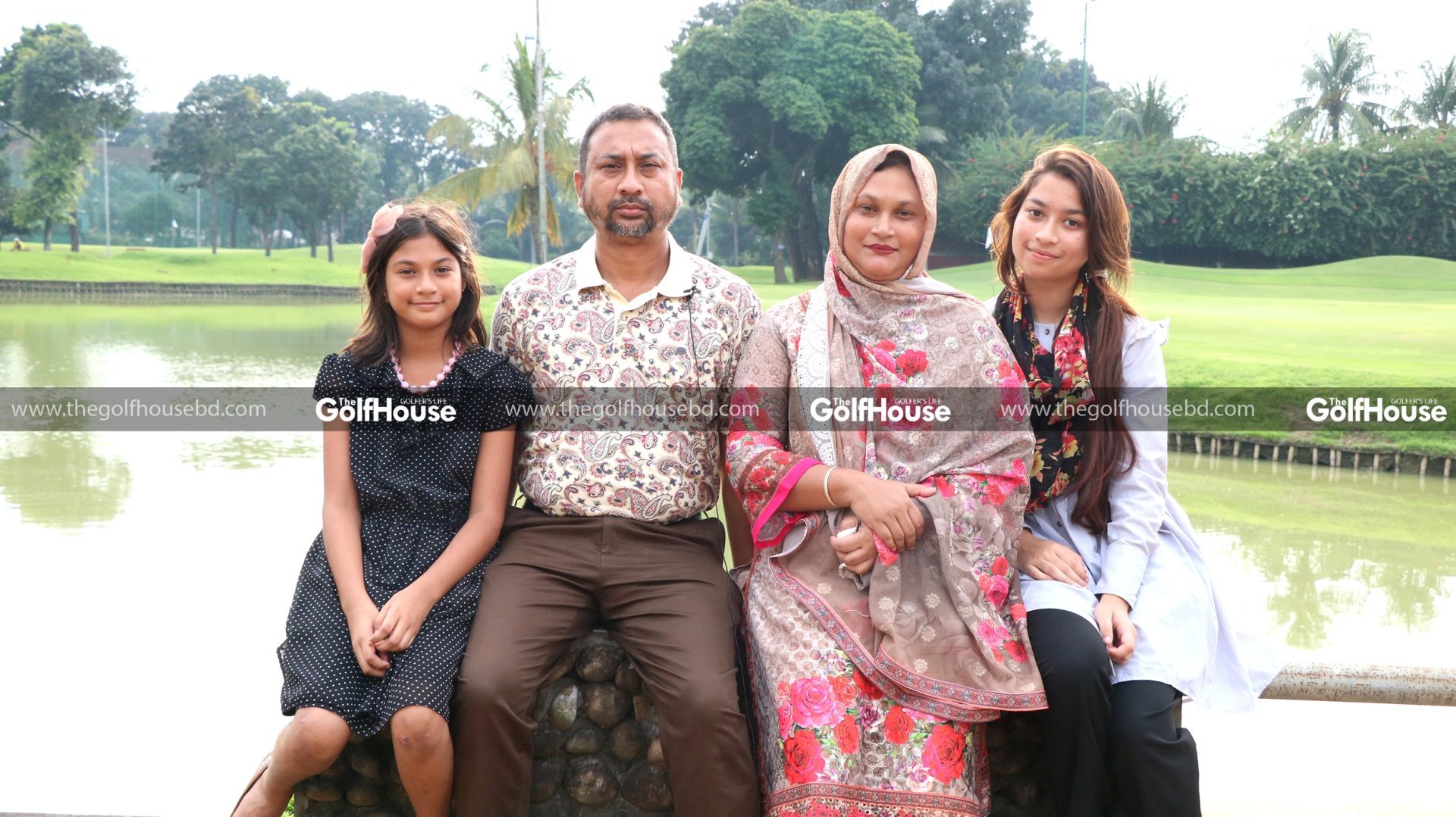 Golf may not be as big in Rangpur as it is in Dhaka or Chittagong, but the Rangpur Golf and Country Club has certainly given the opportunity to spend quality family time to spend to people like Mr Enamul Haque. A local businessman from the northern town, Mr Haque has involved his family – his wife and two daughters with this game — so that they can live a healthy life while enjoying the perks that the game golf brings with it.
How did the whole family start playing golf?
Enamul Haque: It was me who started first. I started playing in 2009. My wife and elder daughter started in 2012. Then my younger daughter also started playing. Now our whole family is a golfing family.
Why did you choose golf?
Enamul Haque: The reason for choosing golf was that we can play at any age and we can play in a family environment.
Do you play regularly in Rangpur?
Enamul Haque: I try to be at the golf course if I'm not out of the town.
Bhabi, how did you get involved with golf?
Nasreen Haque: I was kind of forced into golf by my husband. But now I and my daughters come out of our own interest.
Does playing golf hamper your household chores?
Nasreen Haque: We usually start at 3:30 or 4:00pm. We bring our daughters with us after finishing all the work in the house. Sometimes the older daughter can't accompany due to her studies. Otherwise we come here together and enjoy the time. We finish playing before maghrib prayers.
……………………………………………………………………………………………………………….
Also read: EUROPE WIN BACK THE RYDER CUP
……………………………………………………………………………………………………………….
What would you say to those women who are not yet playing golf?
Nasreen Haque: This game can be played at any age. It's a good exercise. So I would ask them to come to the golf course at least once.
What is your achievement in golf?
Enamul Haque: Since our golf course is outside the jurisdiction of Kurmitola or Army Golf Club, our orientation is not the same and hence our trophy cabinet is not rich. The main thing is we enjoy here and we want to play better in future.
How long have you been playing golf? Tell us about your game.
Sumaiya Haque: I've been playing since 2012. I'm enjoying the game and the privilege. My friends don't play golf. So I feel I'm quite privileged to have the opportunity to play the game. I will try to continue playing golf alongside my studies.
What would you say about golf and golfers of Rangpur?
Enamul Haque: As a citizen of Rangpur, I would like to thank Rangpur GOC Maj. Gen. Masud Razzak and Brig. Gen. Abul Fazal for setting up this wonderful golf course. I hope this golf club will be known as one of the best courses of the country. I would ask those who want to have a healthy life and want to enjoy quality time in good environment to come to this golf course and play the game. I would hope people would encourage their children to take up the game.