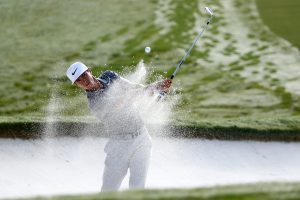 Thorbjørn Olesen leads a Major Championship for the first time in his career after the Dane finished with a birdie to sign for a four under 67 at the US PGA Championship and move to the top of the leaderboard alongside American Kevin Kisner.
The 27 year old is aiming to become the first player from Denmark to win one of golf's big four and entered this week in good form after a top ten at last week's WGC-Bridgestone Invitational, where he finished with a 65.
A birdie at the second hole got his round up and running before he bounced back from a bogey at the par three sixth with back-to-back birdies. Three birdies in his final five holes, paired with a second dropped shot of the day at the 17th, took the four-time European Tour winner home in 34 for a 67.
On a day when only 24 players broke par at a tricky Quail Hollow Club, Patrick Reed was the next best-placed European Tour Member in a tie for eighth on two under par, while Spain's John Rahm, Pat Perez of the USA and English pair Tommy Fleetwood and Jordan Smith were three shots off the pace on one under par.
Rory McIlroy, chasing a third US PGA Championship title and a fifth Major, was two shots further back after three dropped shots in two holes on the back nine stymied his charge and left him with a one over par 72 – alongside Grand Slam-chasing American Jordan Spieth, among others.
Player quotes
Thorbjørn Olesen
"I felt good. Especially the first 15 holes, I felt like I was playing really, really well. I hit my driver well, got myself in some really good positions. So that was the key, and obviously it was a really nice way to finish with that long putt on 18.
"I was very excited to get here to be honest. I played it two or three years ago. Obviously it's a lot different, there are a lot of holes I couldn't remember. But I just knew it was going to be a really good golf course.
"Definitely the greens have changed a lot, the speed and the grain on them. It's very, very tricky. If you hit too safe of shots to the greens, you leave yourself very tricky putts. It's very challenging but it's good fun to play.
"The first nine holes were just beautiful. There was no wind. It was not too hot, so we couldn't have gotten it better. On the back nine it got a bit hot. But I'm very happy, especially the way I drove it."
Rory McIlroy
"It was okay. I started well, two-under through 12, coming through part of the course where you're looking to pick a couple of shots up on 14 and 15. I played that stretch of holes, 13, 14 and 15, in three-over.
"So if I just could have had that three-hole stretch back, I think other than that, I played nicely. I did what I needed to do, birdied the par fives, birdied the holes that you should birdie.
"I'm just disappointed with that three-hole stretch, but I'm right in it. It wasn't very easy. It was tough, greens were difficult. The greens got very grainy as the day went on, as well. If you just hit a putt a tiny bit off line, it exaggerated it. It was tough to hole putts this afternoon. Hopefully the surfaces are a little better tomorrow morning and we can hopefully hole some more putts."
Jon Rahm
"It was a great day. You know, I've been looking forward to a day like this in a major championship for a long time. I don't think I've had this much fun on a major I don't think ever.
"Tee to green the first nine was absolutely perfect. Even if I stumble a little bit on the first few holes on the back nine, I brought it back. Overall, 1-under par on a major championship with the conditions that we had today, with the greens that we had today, I'm extremely satisfied.
"I tried to focus on my own stuff today. I mean, it is good to see. Those guys (McIlroy and Fowler) have played decent on this course before. Obviously the record they both have is amazing. To be able to see the different strategies they use, it's always going to be helpful. I tried to focus on my game more than theirs."
Tommy Fleetwood
"The course is brutal, really. It's a really tough test. Anything par or beating the course is a great score. So in the practice rounds, it's either playing rock hard and windy or it's been really wet with the rain and playing miles.
"So when you get into the tournament, you never know what to expect. I'm just really happy to be off the course at one-under.
"There's not a let-up, really. You've never got one shot where you kind of feel you can go easy for ten minutes or you have a little rest. It's just five hours of really tough golf."