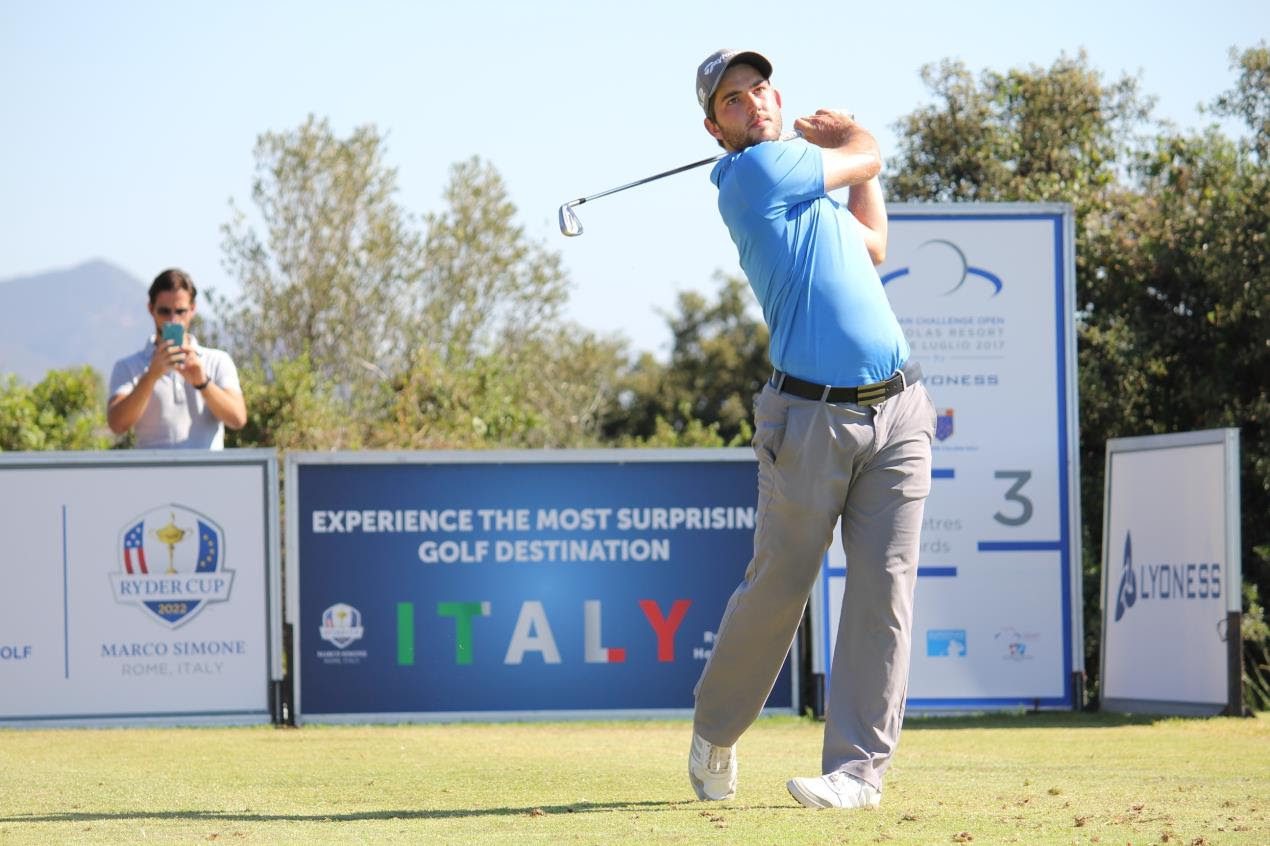 Bradley Neil will take a two-shot lead into the final day of the Italian Challenge Open by Lyoness after carding a third round 64 at Is Molas Resort.
The Scotsman continued his impressive run on the European Challenge Tour, where he has recorded sub-70 scores in his last eight rounds.
The 21 year old made the perfect start in Sardinia, bagging birdies at the first and second to move clear of overnight co-leader JoelSjöholm.
Two further gains over the front nine, followed by four more birdies over the back nine, took the former Amateur Champion to 20 under par overall – two clear of Sjöholm.
Having finished tied second at last week's Prague Golf Challenge, Neil believes coming close to a maiden professional win will work in his favour tomorrow.
"It took me a while to get comfortable in the final group last week, but it was good that I had that experience," he said.
"Also to be in the final group today was good as there were quite a few spectators watching us – which gave me a good idea of what to expect tomorrow.
"It was just more of the same today really. The only thing that changed was that I was only one under playing the par fives yesterday, whereas I birdied all three of them today, and that really helped move my round along.
"I'm quite disappointed as I haven't made any eagles on them yet, as they aren't very long, but there's always time for that tomorrow.
"I got off to a good start. The putter seemed to be hot and it was just a really solid round. My playing partner Joel's putting was ridiculous – he was holing everything from 30 to 40 feet.
"It got borderline frustrating but was actually quite good at times because it made me even more focused – I kept thinking to myself 'what do I need to do to get this guy off of me?'
"A two-shot lead is not enough on this course as all the guys are shooting good scores this week. I practice really hard to get in to these positions so I am just going to go out there tomorrow and enjoy myself."
Sweden's Sjöholm followed up a stunning second round score of 62 with a five under 66 to head into the final day in second place.
Chase Koepka, whose brother Brooks won his second Challenge Tour title in Italy in 2013, will start the final round three shots off the lead after a six under 65.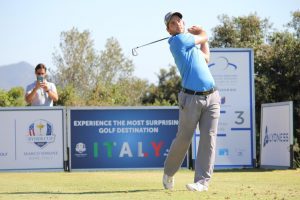 Scores after Round Three:
193 B Neil (Sco) 65 64 64,
195 J Sjöholm (Swe) 67 62 66,
196 C Koepka (USA) 65 66 65,
199 J Mullen (Eng) 66 69 64, G Porteous (Eng) 67 67 65, O Farr (Wal) 63 69 67,
200 E Van Rooyen (RSA) 68 66 66, M Orrin (Eng) 70 65 65, D Huizing (Ned) 67 66 67, L Gagli (Ita) 68 66 66, N Cullen (Aus) 67 66 67, O Lindell (Fin) 66 66 68, M Schwab (Aut) 67 68 65,
201 J Suri (USA) 68 65 68, J Cafourek (Cze) 65 69 67, R Saxton (Ned) 64 65 72,
202 A Rai (Eng) 66 67 69, R McCarthy (Aus) 66 69 67, T Murray (Eng) 66 69 67,
203 R Sciot-Siegrist (Fra) 66 69 68, N Johansson (Swe) 71 66 66, T Pulkkanen (Fin) 64 71 68, C Bezuidenhout (RSA) 69 67 67, A Pavan (Ita) 67 66 70, F Laporta (Ita) 71 67 65, A Tadini (Ita) 69 68 66,
204 J Heath (Eng) 69 67 68, J Guerrier (Fra) 67 71 66, M Pastor (Esp) 68 69 67, R McEvoy (Eng) 68 66 70, H Joannes (Bel) 72 65 67, A Wennstam (Swe) 69 69 66, G Moynihan (Irl) 66 73 65, P Widegren (Swe) 68 69 67,
205 S Soderberg (Swe) 71 68 66, C Sharvin (Nir) 68 67 70, A Karlsson (Swe) 65 69 71, M Ovesen (Den) 69 69 67, A Rozner (Fra) 69 70 66, J Dantorp (Swe) 73 65 67, S Brown (Eng) 70 66 69,
206 C Mivis (Bel) 66 71 69, C Selfridge (Nir) 70 69 67, N Ravano (Ita) 69 68 69, J Vecchi Fossa (Ita) 71 68 67, S Forsström (Swe) 70 67 69, M Delpodio (Ita) 69 68 69, D Van Driel (Ned) 68 69 69,
207 G Boyd (Eng) 66 72 69, V Perez (Fra) 71 68 68, T Linard (Fra) 67 69 71, M Eggenberger (Sui) 67 70 70,
208 C Ford (Eng) 68 70 70, O Stark (Swe) 63 75 70, V Riu (Fra) 68 70 70, J Girrbach (Sui) 74 63 71, J Senior (Eng) 70 69 69, D Foos (Ger) 71 68 69, E Goya (Arg) 68 68 72, E Cuartero Blanco (Esp) 69 66 73, M Fenasse (Fra) 66 71 71, M Tullo (Chi) 67 69 72,
209 L Galliano (Sui) 70 69 70, P Gal (Cze) 71 68 70, J Sarasti (Esp) 68 71 70, J Brun (Fra) 71 67 71,
210 R Coles (Eng) 71 68 71, A Saddier (Fra) 71 66 73, J Allan (Eng) 69 70 71,
212 R Evans (Eng) 71 68 73,
214 B Hellgren (Swe) 73 65 76,
140 C Griffiths (Eng) 70 70 0, J Kunzenbacher (Ger) 71 69 0, P Oriol (Esp) 68 72 0, M Ford (Eng) 71 69 0, P Whiteford (Sco) 67 73 0, A Zemmer (Ita) 68 72 0, S Khan (Eng) 73 67 0, R McGee (Irl) 69 71 0, J Rutherford (Eng) 70 70 0, M Lampert (Ger) 72 68 0, D Fox (Aus) 68 72 0,
141 R Finch (Eng) 71 70 0, M Ortolani (Ita) 69 72 0, A Velasco (Esp) 72 69 0, R Santos (Por) 71 70 0, M Laskey (Wal) 72 69 0, P Maddy (Eng) 70 71 0, F Mruzek (Cze) 74 67 0, M Nixon (Eng) 69 72 0, O Lengden (Swe) 70 71 0, S Fernandez (Esp) 71 70 0, G Migliozzi (Ita) 74 67 0, M Crespi (Ita) 65 76 0,
142 J Van Der Vaart (Ned) 68 74 0, B Evans (Eng) 72 70 0, M Baldwin (Eng) 70 72 0, B Virto (Esp) 69 73 0, R Kakko (Fin) 71 71 0, T Lawrence (RSA) 70 72 0, S Arnold (Aus) 74 68 0, A Connelly (Can) 73 69 0,
143 R Hjelm (Den) 73 70 0, M Rohwer (RSA) 69 74 0, O Suhr (Den) 70 73 0, B Eccles (Aus) 69 74 0, C Lee (Sco) 68 75 0, M Lundberg (Swe) 73 70 0, G Hurley (Irl) 72 71 0, C Braeunig (Ger) 73 70 0, B Rusch (Sui) 75 68 0, J Zunic (Aus) 71 72 0, F Bergamaschi (Ita) 73 70 0, E España (Fra) 74 69 0, M Cort (Eng) 66 77 0, R Kellett (Sco) 72 71 0, J Garcia Pinto (Esp) 71 72 0, M Kinhult (Swe) 71 72 0, M Schneider (Ger) 72 71 0,
144 G King (Eng) 74 70 0, K Johannessen (Nor) 74 70 0, R Charania (Ken) 72 72 0, T Rodrigues (Por) 74 70 0, N Møller (Den) 74 70 0, N Geyger (Chi) 68 76 0, J Hansen (Den) 73 71 0, A Maestroni (Ita) 74 70 0, W Besseling (Ned) 70 74 0, M Wiegele (Aut) 75 69 0, G Forrest (Sco) 73 71 0,
145 M Haastrup (Den) 71 74 0, R Echenique (Arg) 72 73 0, E Di Nitto (Ita) 72 73 0, J Makitalo (Fin) 74 71 0, M Madsen (Den) 73 72 0,
146 G Yang (Kor) 72 74 0, C Sordet (Fra) 73 73 0,
147 S Grant (Irl) 77 70 0, L Vaisanen (Fin) 69 78 0, I Cantero Gutierrez (Esp) 75 72 0,
148 S Piaget (Mon) 73 75 0, M Lafeber (Ned) 74 74 0, T Cruz (Por) 75 73 0,
149 E Lipparelli (Ita) 75 74 0, N Lindstrom (Swe) 71 78 0, J Parry (Eng) 73 76 0,
150 O Rozner (Fra) 71 79 0, E Dubois (Fra) 73 77 0, R James (Wal) 76 74 0, K Samooja (Fin) 72 78 0,
151 J Ramos (Por) 77 74 0, R Davies (Wal) 82 69 0,
** M Hoey (Nir) 76 WD 0,
152 D Suchan (Cze) 78 74 0,
154 P Dedek (Cze) 75 79 0,
** B Åkesson (Swe) 74 WD 0,