When Momin-ud-Dowla, chairman of the EON Group of Industries, planned to bring Leadbetter Academy to Dhaka, there were many skeptics. A lot of people thought that a private academy in a sport like golf, which still has not caught the imagination of the general people, will not be too viable. But doubters have been proved wrong so far. The academy, with its state-of-the-art technology and logistics and personnel, is proving to be a useful medium for professionals and amateurs alike to sharpen their skills. One year on, the academy has taken another bold step by introducing a two-year kids' school, designed to create golfers for future. How much impact this will have will only be known in time, but the initial signs are very encouraging.
Mr. Momin-ud-Dowla spoke about his idea behind starting the kids' school and his expectations from it during a detailed interview with TheGolfHouse.
Q: Bringing Leadbetter to Bangladesh was a challenge. What goal have you set for the academy itself?
A: It wasn't an easy job. We wanted to make Bangladesh renowned as a golf destination; hence we brought the academy here. It's not just coaching; Leadbetter has a lot of programs which give golfers global exposure. Leadbetter has set us a target that there will be a team of 10 professional golfers, selected in collaboration with the federation, some of whom will be top players in future. We need these kinds of project to continuously find out players like Siddikur through a process and a certain educational system, not by chance.
Golf is not a game that everyone can play because it's an expensive sport. But with the development of the economy, the game is also growing. Leadbetter Academy has 35 centers around the world and we are one of those. We are very much fortunate to have one here. Although this is a private institution, this represents national golf learning. We have brought a special focus for children.
Q: Talking of focus for children, what is the aim of Leadbetter School for Kids that has been inaugurated recently?
A: The aim is to produce golfers. Children are like clay, the way you mould them is the way they will turn out to be. Golf had got popularity through Siddikur's success, but if the next generation doesn't get proper golf education, the chances them becoming like Siddikur will be very slim. The Leadbetter School will teach fundamental grammar of golf to the kids during its two-year program. Furthermore it will work on fitness and lifestyle/attitude of the golfers. We hope that those who will successfully complete the two-year curriculum will be enriched internally and will become better golfers every day.
Q: Explain a bit more about various aspects of the school, including its curriculum.
A: Leadbetter Kids' School is a new curriculum developed by Leadbetter Global which is designed particularly for young kids and junior golfers to learn the game in four different areas. While golf is the main focus, it also emphasizes on fitness, education and life skills. We want our kids to learn golf as a lifetime game. This program will enable our future golfers to learn comprehensive grammars of golf which will make them skillful golfers. In Bangladesh, golf is a new sport and it has been popularized through the success of Siddikur Rahman. He represented us in the Olympics which was a great achievement. But we want to make sure a continuation of good golfers. In order to make sure of golfers to participate in international tours, we need good schooling and practice. We want to ensure that. This academy will produce such golfers, earn a brand name for the country and offer a new career path for golfers.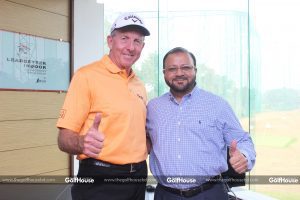 Q: And what about the logistics part?
A: Being located at the Kurmitola Golf Club makes it even more important because this club has all the international facilities. It gives them the opportunity for future golfers to play at the best club, with the golfing range and a fine course. The area is very safe for the children. We have nice attendants in the club who will make the guests and children comfortable. We have opened a fitness center, which is the only golf fitness center in Bangladesh. This will groom the physical aspects of the golfers. We have two fitness trainers for this purpose.
Q: Golf scholarship is available in developed countries. Do you think the two-year schooling program will help the kids apply for foreign scholarships?
A: Golf scholarship is quite common in USA and Europe. When kids with a handicap or a good record in golf or a certification from Leadbetter will go overseas, they will certainly get some priority. The scholarship, though, will depend on the individual institute. Leadbetter has a list of universities that they recommend. Golfers going abroad for studies can use the Leadbetter certificate in this regard. Meanwhile, Leadbetter is planning to have junior competition globally and they are planning to have competition among different Leadbetter academies. So this will open a lot of opportunities for our golfers to play and enhance their game internationally.
Q: What is your message to parents who want to try their children out in golf?
A: My suggestion to parents will be to try out our academy because it's not just a game, it also teaches one etiquette, behavior and lifestyle. Getting lesson from Leadbetter is like getting the best lesson in golf. A lot of people in Bangladesh can now afford this sport as it is very inexpensive here compared to other countries. We try to keep it as affordable as possible. Not only kids, other golfers are also taking advantage of the technology of our academy. So anyone who wants to improve their game can come here. A lot of golfers in our country have not learnt the game in proper way. There are a lot of things that can be rectified through use of technology. If you play golf, you better play good golf and proper golf.
Q: Leadbetter Academy is going to celebrate its first anniversary this month. Is the academy achieving its target?
A: First of all, we thankful to all our fellow golfers, trainers, parents and stakeholders. It's a tremendous achievement to have the best academy of the world in Bangladesh. Every day we are having improvements. New golfers are coming here with enthusiasm. We started with some new golfers 9/10 months ago some of whom have already upgraded from the kids room to the technology room. Very soon they will be on the ground. It will take time since this is something new. However, whatever we have achieved in one year is tremendous.