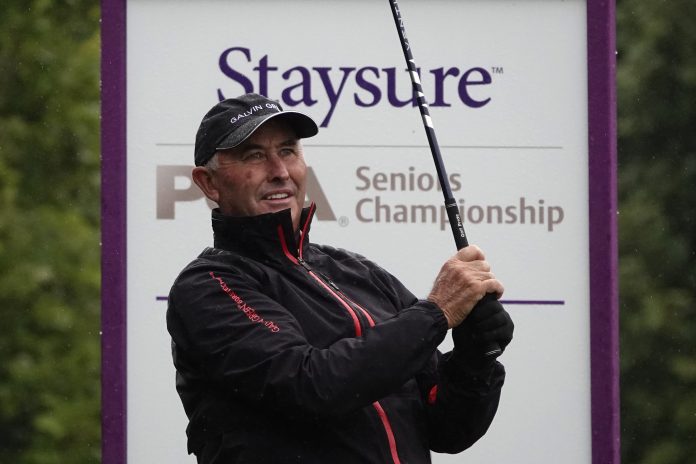 Round two report 
David McKenzie and Peter Wilson lead the Staysure PGA Seniors Championship on six under par after both posting four under par rounds of 68 at Formby Golf Club.
Both players were out early and had to battle tough morning conditions to set the pace and share a two-stroke lead from Austria's Markus Brier who is third on four under par. England's Paul Eales and Scotland's Paul Lawrie share fourth place on one under par and complete the only five players currently in the red on the English links.
Australian McKenzie received a late invitation to join this week's field and is pleased with his efforts in the opening two rounds after coming into the event with low expectations.
"It was a little bit unexpected to be honest," McKenzie said. "I didn't play that well at The Senior Open last week and haven't been playing well in America so it's nice to have some good scores.
"The difference has most definitely been putting and also it's fun playing a links course. I usually come over a week early to play The Senior Open, when I get in to it, and play a couple of local courses.
"You just get to use your imagination. There's three or four different shots you can play every time you have a shot into a green so it's picking the right one."
Wilson, who is looking for his maiden Legends Tour victory, is reaping the rewards of the hard work he put in over the winter months with his coach in South Africa.
"I'm really pleased," Wilson said. "We got lucky with the draw, we were meant to be off at 1pm yesterday but when we eventually got off at 5pm, the guys in the morning, they got absolutely hammered, so I think we'd be five or six shots better than them anyway.
"I struck the ball well, putted well, and the greens are about the best we've played on this year.
"Number one played a little bit different today. I hit a 54 degree in yesterday and today I went in with a rescue. It was brutal for maybe seven or eight holes.
"It's a top golf course. It's a challenge every hole, there's no let-up. Even on the last, I hit a sand wedge in during the first round and I hit a rescue in today, it's just a different class."
First round leader Rafael Gomez posted a six over par round of 78 to drop back to tied sixth on level par alongside two-time Senior Major Champion Paul Broadhurst.
This week's event is being played in the Alliance Pro-Am format, which sees two professionals paired with an amateur who competes in their own competition. The Alliance Pro-Am reaches its conclusion tomorrow and an exciting finish is in store, with former Liverpool striker Robbie Fowler leading the way on 72 stableford points, with former Manchester United forward Teddy Sheringham hot on his heels in second place on 70 points.
An amateur player will be crowned Alliance Pro-Am Champion tomorrow evening, while the professional field will be cut to the top 60 and ties at the end of round three.