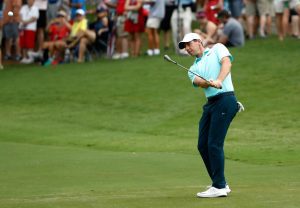 Rory McIlroy is in buoyant mood ahead of his return to Quail Hollow Club, a course upon which he has already won twice, as the Northern Irishman attempts to make it three US PGA Championship victories and halt the grand slam charge of Jordan Spieth.
While many of the headlines this week have revolved around The Open Champion Spieth and his efforts to become the youngest player in golfing history to win all of golf's big four, McIlroy is undoubtedly one of the strong favourites at a venue where he has an enviable record.
The four-time Major winner won his maiden US PGA Tour title at the Charlotte venue in 2010 while he also shot a course record 61 en route to a second victory here in 2015. Those two wins included, McIlroy has six top tens here in seven appearances, so it is no wonder he is feeling confident.
But the 28 year old will have to overcome Spieth, who clinched an incredible three-shot victory at the most recent Major in Royal Birkdale. Of the five players to win the career grand slam, three of them sealed the final title at the first time of asking, so history is on Spieth's side.
Of the 52 European Tour Members in the field at the final Major of the year, five are making their debuts – Ryan Fox, Dylan Frittelli, Haotong Li, Jon Rahm and Jordan Spieth – while one Member is attempting to seal a second Major title of the year, in the shape of reigning Masters Champion Sergio Garcia.
Player quotes
Rory McIlroy
"I've had a lot of success here before. I've always played well here and I've always felt comfortable on this golf course. There are a couple of changes at the start of the golf course. The first is a drastic change obviously and the third and fourth holes are a little different.
"It used to be that you got through the first five holes here at one or two under par and that was a decent start, and now you get through the first five holes at even par and that's when the golf course starts to open up for you.
"You have the par five, the short par four, you have ten, 11 is being made a little tougher with the little bit of length, but then you've got 14, 15.
"I still feel like the golf course gives you plenty of chances. It's going to play long this week with the weather. Obviously there's been a lot of rain over the last couple of days.
"But you know, it will probably play a couple of strokes harder than it used to play, especially with the par going from 72 to a 71. But I'm excited to be here. This has been a week I've been looking forward to for a long time and I'm glad it's here and I'm glad I'm showing up for this week feeling like my game is in good shape as well."
Jordan Spieth
"Expectations, I really don't feel any. This whole thing, this is a chance to complete the career Grand Slam – I'm here, so I'm going to go ahead and try. But I believe I'm going to have plenty of chances, and I'm young enough to believe in my abilities that it will happen at some point.
"Do I have to be the youngest? No, I don't feel that kind of pressure. Would it be really cool? Absolutely. And I don't come to a tournament unless I plan on giving it my all in preparation to have a chance and to ultimately close a tournament out.
"Last week was a good week. I didn't quite have my best stuff, but I come into Quail Hollow here on a very difficult track, and one that's going to be kind of wet and long, which puts even more of a premium on finding the fairway.
"I love these Bermuda greens and I feel like they are a good style and speed of greens to kind of get my putting right where I want it."
Sergio Garcia
"I like this place. I've played well here. I was very close of winning in 2005. The course is totally different now. There are obviously four or five holes that kind of play similar, but pretty much I haven't played here probably in the last five or six years or so.
"It's a different golf course. It's much longer and looks different. There are a couple of different holes here and there. So it definitely doesn't feel like the Quail Hollow that we used to come and play.
"I had a good Sunday last week, but there are some things that are not quite where I want them to be, and they need to be better very early, starting tomorrow morning.
"But you know, hopefully we'll get out there, have a good feeling, get on a good motion and on a good run and we can have a good week. If not, we'll fight with what we have and try to do the best way possible."