Liton Howlader of Kurmitolla Golf Club won the title of NewAge Professional Golf Tournament 2017 — his first title after turning professional — at the Kurmitolla Golf Club in Dhaka on October 18, 2017.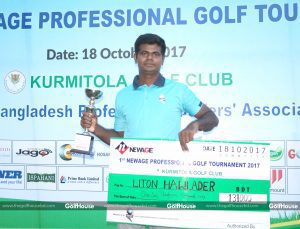 It turned out to be a neck and neck battle between Bangladesh's top professional golfers and the clubhouse lead kept changing after each round. Liton, however, held his never and claimed the title with a score of four-under-par. Zamal Hossain Mollah finished second two strokes behind while Sajib Ali became third with an even-par score. Mohammad Rasel of MGCC won the amateur title.
Dr. Tawfiq-e-Elahi Chowdhury, Energy Adviser to the Prime Minister, handed over the prizes to the winners.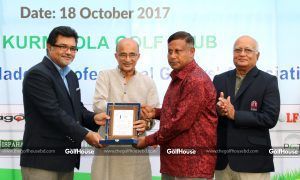 Chairman of NewAge Group Abu Sayeed Mohammad Quasem, Managing Director Arif Ibrahim, Vice Chairman of the group and President of BPGA Asif Ibrahim, Secretary General of BPGA Brigadier General GM Quamrul Islam (Retd) and high officials of the Kurmitola Golf Club were present in the concluding ceremony.
Under the patronage of NewAge Group, Bangladesh Professional Golfers Association (BPGA) organized the four-day tournament. Around 90 golfers, 80 of them professional, participated in the event.