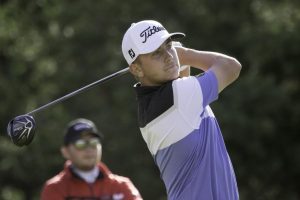 Oliver Lindell is looking to make the most of home comforts as the European Challenge Tour heads to Finland for the Vierumäki Finnish Challenge.
The young Finn is five months into his rookie Challenge Tour season and is starting to find his feet, having recorded top-ten finishes in his last two starts.
At just 18 years old, it was only five years ago when Lindell was winning as a junior at Vierumäki Resort – an experience he believes will help him significantly this week.
"I have spent all my life here," he said. "Growing up I always played tournaments here and I won a junior event here in 2012.
"I think you need to be good off the tee and make a lot of greens. The greens are in better shape than last year which is important as putting is going to be really key this week.
"Last year I got off to a very bad start here. I made a double bogey on the tenth, then a triple bogey on the 11th, and I was five over after two holes.
"I made a good comeback to finish level par after my first round, but I made too many double bogeys during my second round and missed the cut – I feel a lot stronger this year though."
An excellent amateur, Lindell triumphed on the Nordic Golf League aged just 16 in July 2015, and then chose to join the paid ranks in November that year.
During his first full season on the Nordic Golf League the man from Porvoo continued to impress, winning on two further occasions on route to claiming second place on the satellite tour's Order of Merit.
After making the step up to the Challenge Tour, Lindell admits he initially found the transition tricky – but now believes he is a much-improved player after nine appearances on Europe's top developmental tour in 2017.
"I feel like I have really got used to the Challenge Tour," he said. "My game is a lot better than last season as the greens are harder and you have to always be on the fairways or you're in trouble.
"When I was playing on the Nordic Golf League you could hit it anywhere off the tee, it didn't matter if you were in the rough, whereas on the Challenge Tour you can't afford to be in the rough.
"My driving is a lot better now – especially during my last three tournaments – and hopefully I can continue to play well at home this week."
Joining Lindell in Vierumäki is fellow Finn Tapio Pulkkanen who, at fourth place in the Road to Oman Rankings, is the highest-ranked player in the field.
Back to action on the Challenge Tour after teeing it up at the 146th Open Championship are Australia's Ryan McCarthy and England's Toby Tree.
Chase Koepka also returns to the fold. After finishing tied second in his last Challenge Tour outing in Sardinia, the American will be hoping he can go one better in Finland.