Samiur Rahman
Go far up to China for seeking knowledge, that's how the saying goes. For me, the case was not like that though, but the experience of learning golf in the valley of a mountain in China was like a mystic dream. Being a sports reporter of a leading national daily, I had my chances to cover numerous golf tournaments; mostly Asian Tour sanctioned Basundhara Bangladesh Open. But hitting the ball in the driving range of a golf course in China was beyond my imagination. That happened after I was selected for a training camp for sports journalists conducted by Hong Kong Sports Press Association, held in Hong Kong and China, during the first 10 days of April.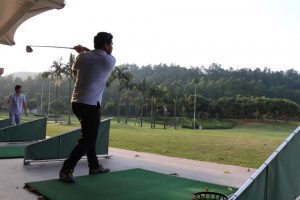 Nansha Golf Club is a lush green golf club located in a valley in the province of Guangzhou. It is also very close to the seaport of Guangzhou. The breeze across the South China Sea tosses up the long green trees which cover the mountains and create a heavenly visual harmony. The golf club has two 18-hole courses. The mountain course is stretched along 6996 yards with a 72-hole par while the valley course is laid upon 6611 yards, which also has a 72-hole par. The name speaks for the traits about both the courses. The mountain course is far more challenging for the golfers because of the nature of the landmass. There are deep ditches, terrains, slopes and strong wind, which puts up a great deal of challenge in front of the golfers. The valley course is rather calm and delighting one. It has lush green fairways, cleverly twirled by a lake and greeneries. This course will not take a big toll on golfers' physique; rather it is ideal for golfing weekend to shed out all the tensions and workloads.
This golf course is the breeding ground of China's first lady golfer who made it to the top. Shanshan Feng is China's first golfer to become member of LPGA, which she joined in 2008. Her life story is very similar to our Siddikur Rahman. Shanshan's father was an employee of local golf association, and from a very early age she turned to golf. Now she is the first Chinese golfer (male or female) to win any major championship. She also won the bronze medal in the Rio Olympics, golf's first ever induction in the biggest sporting event on earth!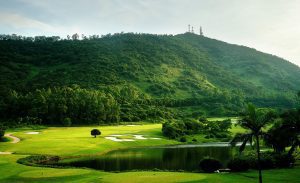 For those, who want to mix business with pleasure of golf, Nansha Golf club could be an ideal destination. From Hong Kong, it takes a boat ride of one and half hours to reach Nansha. While departing, a passenger can easily take the facility of directly going to Hong Kong Airport via seaways with all the formalities done in the ferry terminal. For accommodation, Nansha Grand Hotel and Nansha Technology Park guesthouse hold top class facilities. The clubhouse of Nansha Golf Club is small, but a well facilitated one. For practicing, a wide driving range is also there.
Nowadays China is a busy destination for business and Hong Kong is the business capital of Asia. So keen golfers who also travel the world for business purposes, could keep the name of Nansha Golf Club in mind and try to test their swinging skills in the valley of China.
(The writer attended the 3rd Asian young sports reporters' training camp, organized by HKSPA)