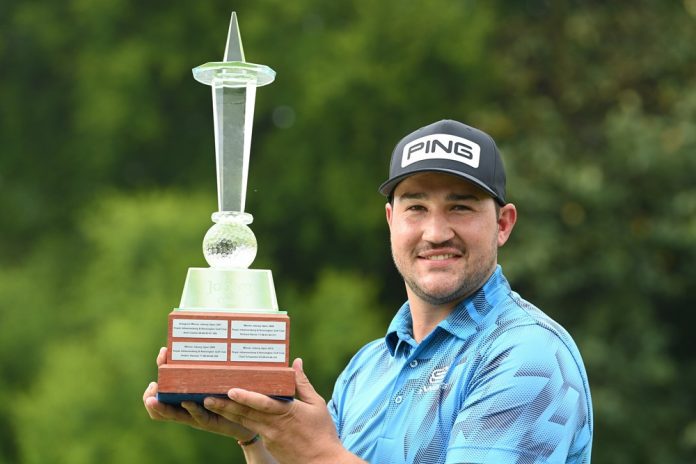 The home favourite had matched his lowest DP World Tour round on days one and two, with a pair of 65s sending him into the weekend at Randpark Golf Club at 12 under and with a four-shot lead.
Soon after the completion of the second day's play, it was decided the opening tournament of the 2022 DP World Tour season would be reduced to 54 holes to allow non-South African resident players, caddies and tournament support staff return to their home countries, with international travel restrictions imposed on the country after the emergence of a new COVID-19 variant.
Weather delays over the first two days meant that the second round had to be completed on Saturday morning but when the rest of the field completed their own second rounds, Lawrence was still four ahead.
A bogey at the first on day three trimmed his advantage but more dangerous weather swept in at 12.12pm local time. The additional lightning storms and heavy rain left large parts of the course unplayable, leaving officials with little option but to call the result after 36 holes.
Lawrence's compatriot Zander Lombard was second on eight under, a shot clear of another South African in Shaun Norris and England's Ashley Chesters in a share of third spot.
The win also hands Lawrence, Lombard and Chesters a place each in the field for The 150th Open Championship next year, with Norris already exempt.
Lawrence takes his first win in just his 22nd DP World Tour event, with six made cuts and a previous best finish of 17th.
He arrived in Johannesburg as an affiliate member but after adding to his Sunshine Tour victory at the 2019 Vodacom Origins Stellenbosch, he now has a DP World Tour exemption until 2023 and moves to the top of the fledgling DP World Tour Rankings in Partnership with Rolex – with 75% points awarded to the field for a 36-hole event.
Player Quotes
Thriston Lawrence: "It's so surreal. I don't think anyone thought it would turn out this way, to finish on a Saturday afternoon but I'm just really thankful. It's a life-changing moment for me. It's an unbelievable feeling.
"It's a lifelong dream that has come true. I played unbelievable golf these last few days. I had my card on the Sunshine Tour but I really wanted to move on to the next step. It happened so quickly. There's a lot of things that could happen next year.
"You know now you're on the Tour and you don't have to worry about invites and it gives you a lot of confidence. I wouldn't have thought it last week to be standing here in front of you guys.
"You don't get these opportunities often. I've had four years of co-sanctioned events so you build up experience but it's just unblelievable.
"You want to see yourself up there but the last year-and-a-half of Covid it's been tough so you sort of see your dreams fade. For it to change this week is unbelievable.
"It's a lifelong dream (to play The Open) and now it's come true. I've never played a Major, and to play your first ever Major at St Andrews is an unbelievable achievement for me and I can't wait, I'm so excited.
"It's a bit blurry for me at the moment, I would have liked to have taken it down 18 today and celebrate a winning putt but it's a lifelong dream not just to play in a Major, but to win a DP World Tour event. From a young age it's always been a goal of mine and it's an unbelievable feeling to achieve it."
Zander Lombard: "It's a pity the tournament finished the way it did. I think we all wanted to play today, but the opportunity to play the 150th Open Championship at the Home of Golf, you can't dream of things bgger than that..
"And hopefully now I can go and compete at the Open. IT's a course I have played well at and I'm expecting a lot of good feelings going into June."
Ashley Chesters: "It's very exciting. I played there as an amateur in 2015, and I did quite well which was nice but I did say at the time it would be great to go back as a professional. I'm really excited, really happy.
"We played quite a lot of golf there as amateurs and obviously I've played the Alfred Dunhill Links, so I know the course really well and hopefully that will give me a good chance come July."