The arrival of LIV Golf in 2022 has sent the world of men's professional golf into chaos with big-name players resigning Tour memberships and signing massive financial deals to join the start-up golf league. Here is how it all unfolded and what lies ahead in this new world order.
---
WHAT DOES LIV GOLF HAVE TO GAIN?
There's an element of 'who at LIV Golf' in this question. For Greg Norman there would be great satisfaction in causing turmoil for the PGA Tour, which he has long held in low regard. In that sense, it is mission accomplished for the Shark (with the added bonus of remaining in the limelight well past his playing days). The bigger question is about those putting up the money – Saudi Arabia's Public Investment Fund (PIF) – and what their goals might be. Nobody really knows, though common sense says that beyond any sports washing narrative there must be, in the longer term, a profit motive. The Saudi monarchy's publicly stated goal is to pivot away from their heavy reliance on oil for economic growth and towards a more open, inclusive and dynamic society. There is some evidence to suggest there has been movement in this direction (not to the satisfaction of basic human rights expectations of most in the west, but movement all the same) and golf, like their investment in other sports, is a part of that. While running week-to-week tournaments has been lucrative for the PGA Tour and its players, the Premier Golf League concept (which the Saudis seem to have simply copied) featuring teams owned by billionaires or large corporations and pitting only the very best of the best against each other could potentially be much more profitable. While unlikely, those actually writing the cheques understand the complex nature of professional golf and its ecosystem, they have clearly been convinced the model has legitimate business potential. Between gambling, merchandising, media rights and sponsorship, there is a significant amount of money to be made if the concept is delivered correctly. However, it is equally likely there are other motivations at play and the eye-watering and unsustainable sums being spent to sign players at the moment can be seen as evidence of that. Attracting big name players early is crucial to the venture's success and the only guaranteed way to achieve that is with cash, something the PIF has plenty of. Clearly, though, it's not a long-term strategy and the league will need to start paying for itself (likely sooner than later)if it is to survive. The downside of access to all that money is that it can be cut off at any time and Norman does not have an open-ended cheque book to rely on. Also overlooked in most of the analysis to date has been the value of LIV Golf(and other sports investments)to the Saudi monarchy domestically. While not democratically elected, the country's rulers are under pressure from within to modernise, and becoming a major player in international sport reinforces the perception they are doing that.
DID THE PGA TOUR AND DPWORLD TOURS HAVE ANY CHOICE BUT TO BAN/SUSPEND ITS MEMBERSWHO LEAVE TO PLAY LIV GOLF?
There is always a choice, of course, but for the PGA Tour in particular it's difficult to see what else they could have done. (At the time of writing, the DP World Tour had not banned their members, only
THE'PRODUCT' PROFESSIONAL GOLF HAS TO SELL ATTHE HIGHEST LEVELIS THE GOLFERS THEMSELVES. IT'S WHATTHE SPONSORS PAY FOR.
suspended them, and it's not known if they ultimately will). Many have argued the Tour should sit down with LIV Golf and negotiate, but it's difficult to see exactly what they would be 'negotiating'? The intent of the Saudi-backed circuit is clear: to scoop up all the best players. Given the PGA Tour has successfully built their entire model on being home to all the best players, how would agreeing to let those players go elsewhere (en masse) make any sense? That's not negotiation, that's capitulation and there would be few businesses in the world that would opt for that route. The 'product' professional golf has to sell at the highest level is the golfers themselves. It's what the sponsors pay for.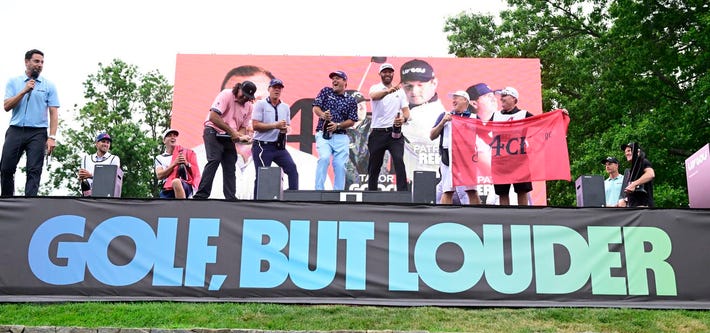 Lose all the best golfers and sponsors will quite rightly start wondering if the Tour is delivering the product they are paying for. Under those circumstances, the PGA Tour needs to hold on to as many players as possible by whatever means possible and, unedifying as it is, that includes issuing an 'us or them' ultimatum. All of which isn't to say the strategy won't backfire or be defeated in court, it is merely to point out that it's hard to see what the alternative might have been. This is a complex and fast-moving situation and in the moment is all but impossible to know which decisions might be right or wrong. History will ultimately tell us if Tour chiefs Jay Monahan and Keith Pelley have handled things the right way but it will be a considerable amount of time before that becomes clear. In the meantime, their reactions are at least understandable.
WHAT IS THE ASIAN TOUR'S ROLE IN ALL OF THIS?
Beyond the big names' bank accounts and agents, it is hard to imagine a bigger beneficiary in the saga enveloping professional golf than the Asian Tour. On its knees at the hands of COVID, which made a border crossing circuit's task of putting on tournaments an impossibility, the Asian Tour joined forces with Golf Saudi by sanctioning the Saudi International (formerly on the European Tour) and receiving an injection of cash for other events. But this wasn't some goodwill gesture by Greg Norman and his backers. The Asian Tour plays a critical role in the future of LIV Golf and its players. With a blanket ban from the PGA Tour and occasional bans on the DP World Tour, players will WANT to play more events despite their protestations that they want to play less, and many will NEED to so that they can accrue world ranking points. Whether LIV events qualify for those
points themselves is yet to be determined, but the Asian Tour and, particularly its new Saudi-funded International Series events, provide that platform. Chief Executive and Chairman of the Asian Tour, Cho Minna Thant has become quite the power player in the world of golf. After having discussed potential partnerships with other Tours, Thant took the LIV route in what is proving a prudent move.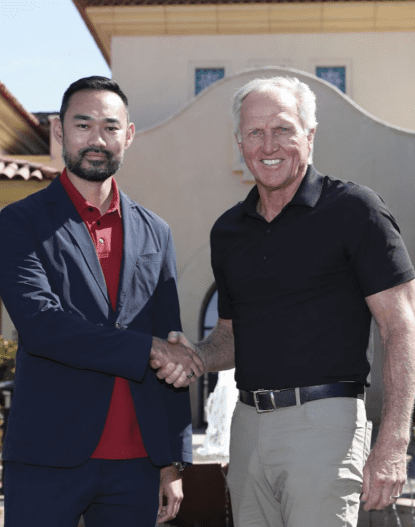 The Asian Tour has a seat at the Official World Golf Rankings table that has met and will ultimately vote on LIV events getting points, and as Norman continues to be shunned Thant can simply not be ignored. Money has poured into the Tour from the Saudis, and interest is already rising from players, with Paul Casey recently admitting WhatsApp threads have included discussions on playing standard Asian Tour events that now offer much more prizemoney. The recent announcement that the LIV
Tour will go from eight to 14 events in 2023 and that a relegation and promotion element will come into play is also huge for the Asian Tour. With no other Tour partnering with LIV at this time, the obvious answer for where the promotions come from is Asia. And that
could lead to an increase in young players going to Asia with hopes of rising to the riches of the LIV circuit rather than the Korn Ferry or Challenge Tours as a steppingstone to the PGA and DP World Tours. Included in a press release about the expanded schedule, the words "LIV Golf League players are expected to compete in numerous International Series tournaments" suggests the Asian Tour will receive an influx of big names when the International Series is also expanded as part of the 25 LIV Golf associated tournaments.
ALTHOUGH ASIA WILL OFFER OPPORTUNITIES, SO TOO WILL OTHER SMALLER TOURS THAT WOULD BE MAD TO TURN AWAY BIG DRAWCARDS WHO CANNOT PLAY ON THE PGA TOUR.
HOWWILL LIV GOLF REBELS BE ABLE TO EARN ENOUGHWORLD RANKING POINTS TO GET STARTS IN MAJOR CHAMPIONSHIPS?
This remains the big question for a number of the players who have made the move to LIV, while some others with recent major championship wins on their resume or a swag of grand slam titles won't be too concerned with majors (at the time of writing) still welcoming them. As mentioned previously, the Asian Tour will offer chances to access world ranking points that, although not offering the 'Field Rating'(as it is now known) of say a PGA Tour event, will be a less credentialed field and the chance to claim points. The change to Field Rating from 'Strength of Field' came into effect in August this year, along with the addition of a 'Strokes Gained (SG) World Rating' based on an individual's stroke play performance. This change will help the better players on smaller Tour's, such as major winners teeing it up in Asia. "IN its analysis, OWGR ensured that consistent high-level play resulted in significant improvement in a player's ranking, regardless of which Tour he competes," a statement from the OWGR committee said when the changes were announced. Although Asia will offer opportunities, so too will other smaller Tours that would be mad to turn away big drawcards who cannot play on the PGA Tour.
Circuits like the PGA Tour of Australasia are in a strategic alliance with the DP World Tour and by that relationship the PGA Tour, with the former co-sanctioning the Australian PGA and Australian Open. With ongoing court action between a handful of players and the DP World Tour, the Old World Circuit is unlikely to stop players teeing it up in its events, with our biggest tournaments offering chances to accumulate rankings points.
So too will tournaments on South Africa's Sunshine Tour as well as events on the Japanese Tour. Japan could prove a worthy option for many, with the Field Rating often high for its biggest events that has allowed numerous Japan Golf Tour players to climb the world rankings in the past and earn major championship spots. Plus, a history of inviting big names to events like the Dunlop Phoenix tournament, including Brooks Koepka the 2017 winner.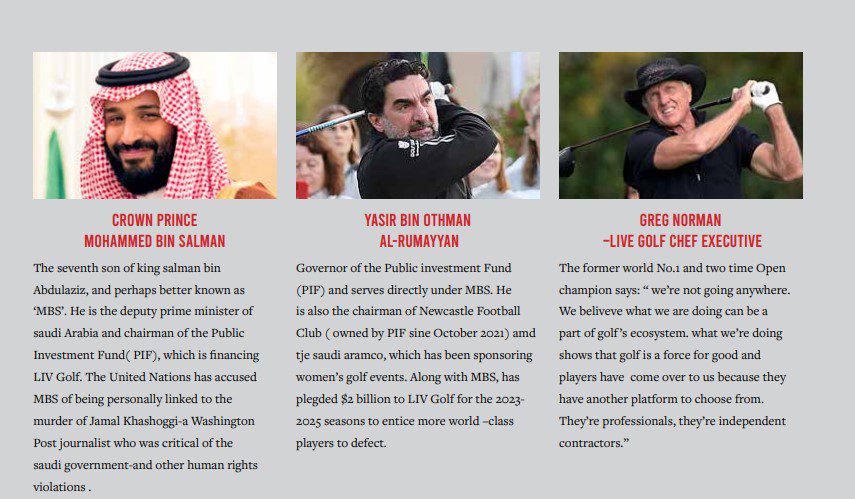 IT'S FITTING THE GAME'S BEST WOMEN ARE NOT SUBJECTED TO THE SAME SCRUTINY AS THEIR MALE COUNTERPARTS FOR THEIR INVOLVEMENT WITH SAUDI ARABIA
THERE'S VERY LITTLE SAID ABOUT LPGA AND LET PLAYERS COMPETING IN GOLF SAUDI EVENTS.WHY?
This is one of the more interesting aspects of the professional game that LIV has brought
into focus: coverage of women's golf generally, and the huge disparity between the 'haves' and 'have nots' in professional golf. The main reason little is said about Saudi ties to women's golf(particularly the Ladies European Tour through Saudi-owned oil company, Aramco)is because little is said about women's golf at all. In some ways the reaction to LIV versus the reaction to the Aramco Series is a direct correlation of the coverage of the
game in other areasCompare the amount of TV hours dedicated to any women's golf tournament with the corresponding men's event and you will see the disparity clearly. As an example, the 2022 men's PGA Championship boasted more than 250 hours of coverage across network TV, digital and cable. The women's PGA was on Network TV for 14 hours. With that in mind it's fitting the game's best women are not subjected to the same scrutiny as their male counterparts for their involvement with Saudi Arabia. The second
element at play is somewhat similar in that it points to the broad disparity within the
professional game. With LIV Golf, the players most harshly criticized and scrutinized have been the highest profile and most successful. Phil Mickelson, Dustin Johnson,
Bryson DeChambeau et al are seen as already financially secure many times over and fans seem to have difficulty understanding how they could be motivated by money. Conversely,
further down the LIV food chain were several golfers who never rated a mention for their
decision to play because they were seen as 'needing the money'. Something in the human psyche identifies with others we consider like ourselves and while few could conceive a world where discussions in the millions of dollars are a part of everyday life, most can empathies with someone financially less secure. So just as Blake Winded and Travis Smyth received little backlash for teeing up in London and Portland so, too, do Bronte Law
and Steph Kyriacos escape intense scrutiny for being Golf Saudi Ambassadors.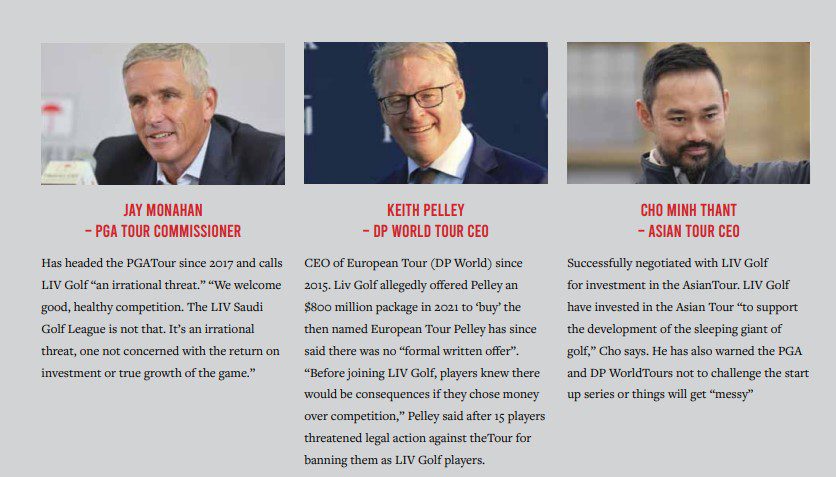 THE PGA TOUR / DPWORLD TOUR ALLIANCE …WHOWINS,WHO LOSES FROM THIS ARRANGED MARRIAGE?
This is the classic "depends on who you talk to" question. There will be players on both sides of the Atlantic who like this deal and those who definitely do not. By way of example, older DP World Tour members – and those who are recently retired or have moved onto the senior's circuit –tend to see this whole thing as a betrayal of everything they
helped build over the last half century."Can you imagine what Seve would be saying about this?"is a common reaction. "We're now officially nothing more than a 'feeder tour.' There is also a strong body of opinion on the Old World circuit that finds it hard to believe any business would give away ten of its best assets – even to a 'partner' – at the end
of each year. Then again, on the other side of the debate, many can point to the fact that the ten PGA Tour cards on offer at season's end are a pathway to bigger and better things for those with ambition. And even some who might not see America as the promised land. If we take 2021 as an example, Laurie Canter (a LIV player) would have been awarded the tenth and last PGA Tour card. All for finishing 24th on the 'Road to Dubai.' On that front, there will surely be those on the PGA Tour who will see the arrival of ten foreigners as a threat to their livelihoods. But they, as history tells us, are likely to be the journeymen types, those happy enough to drift along keeping their cards and not much else. The real players – the modern-day Nicklauses, Palmers and Trevinos – have always welcomed all-comers. Beating the best, whoever they might be, has always been their mantra. So, it safe to assume that men like Scottie Scheffler, Jordan Spieth and Justin Thomas will welcome anyone and everyone to their shores. As for which Tour is winning and which one is losing, take it for granted that the PGA Tour will not be coming out of this poorer in any way. As the bigger and more powerful Tour on the establishment side of this equation, they held more cards than their DP World equivalents. But, having said that, PGA Tour Commissioner Jay Monahan will surely have had to compromise at least a little in order to keep the DP World Tour out of Saudi clutches. So, in that respect, Keith Pelley – assuming he was smart enough to use the Saudi threat as leverage in his negotiations with Monahan –will have come out ahead. That won't have been enough to keep every DP World member happy, of course. Even in the wake of this so-called "strengthening" of the transAtlantic strategic alliance, there are many who will feel as if they are losers. Giving half the field away to the PGA Tour in big events like the Scottish Open will see a lot of unhappy Europeans sitting at home while those damned Yankees scoop up much of the massive prizemoney on offer. Like I said. It depends who you talk to.
WHAT HAPPENS TO THE RYDER CUP NEXT YEAR?
The damage done by LIV to what one might expect the 2023EuropeanRyderCup team to look like is, so far at least, not too drastic. Sergio Garcia and Paul Casey are perhaps the only departures that will make a significant difference to the Old World line-up in Rome. But the next edition of the biennial contest remains a long way off. It would be folly to think that Saudi money will not be flowing into the bank accounts of other prominent European golfers between now and September 2023. That possibility/likelihood has implications
far beyond the result of the contest between the U.S and Europe. Since the matches
became truly competitive in the early 1980s – courtesy of Europe's socalled "big five"
of Seve Ballesteros, Nick Faldo, Bernhard Langer, Sandy Lyle and Ian Woosnam – who wins and loses has actually become less important.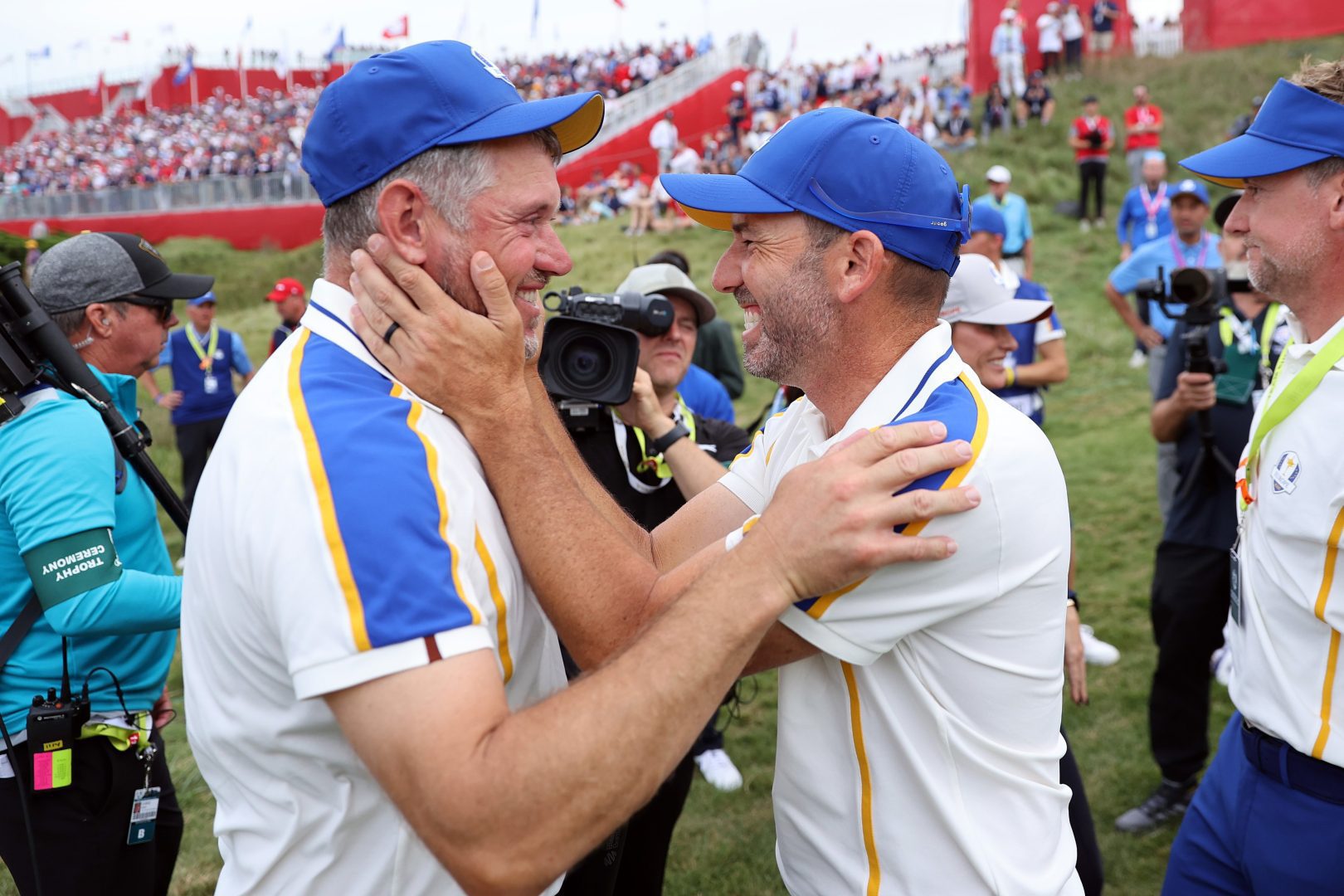 …THE ARRIVAL OFLIV ON THE WORLD STAGE HAS POTENTIALLY DIREIMPLICATIONS FOR THE RYDER CUP (AND THE PRESIDENTS CUP) AND THE DP WORLD TOUR.
What really matters is that, by Sunday, evening, the overall score is reasonably close. That is what people remember, even casual golf fans. Runaway victories by either side are relatively boring for all but the most partisan spectators. During a tight finish to the Sunday singles – players struggling to breathe never mind swing a golf club – is when the Ryder Cup is at its best. Sadly, with the exception of Medinah in 2012, that hasn't been the case recently, the overall spectacle diminished as a result. That trend will only continue-especially in favour of the deeper American side – if players continue to make the jump to the LIV circuit. While the Europeans can usually come up with a potent-looking 12- man line-up, the loss of even three or four players would make a huge difference to
that strength. There simply isn't enough quality on the DP World Tour for the side to survive even a handful of departures. The Americans, of course, could probably
field as many as three teams with enough quality to give the strongest European side a
real contest. So it is that the arrival of LIV on the world stage has potentially dire implications for the Ryder Cup (and the Presidents Cup) and the DP World Tour. While the match between the U.S and the International side is a PGA Tour production, the involvement of the Ponte Vedra-based circuit in the Ryder Cup is relatively minimal. Just as the four most important events in golf are outside the control of the PGA Tour, so is
the most important team event. Which is in almost complete contrast with the other side of the Atlantic. As has been well documented over the years, the former European Tour relies on the proceeds derived from a home fixture to fund the next four years of its operations. Such a reliance on one huge source of income is a dangerous policy for any business. One can only hope that the deal struck with the PGA Tour goes at least some way towards mitigating any reduction in the Ryder Cup's currently broad appeal.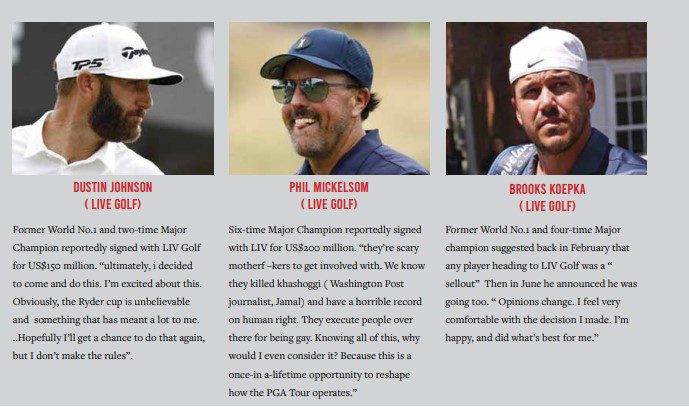 IF NORMAN WAS TO GET HIS WAY AND RECRUITTHREE OF OUR BIGGEST NAMES AND SUPPORTERS OF GOLF IN AUSTRALIA, ITIS HARD TO IMAGINE AN EVENT HERE WOULDN'T BE PART OFTHE PUZZLE.
WILL LIV GOLF COME TO AUSTRALIA?
Thanks to the Norman connection, Australia has long been rumoured to be a potential landing place for a LIV Golf event in some form or another. And the latest word from the group officially puts Australia in the frame for 2023. When announcing the expansion of the alliance with the Tour formerly known as European, PGA of Australia CEO Gavin Kirkman admitted to discussions with people involved in the rebel movement, before going down the current path. But that has not stopped the whispers of an imminent arrival on our shores of the new series. Despite widespread criticism for Norman and his new venture from people like Karrie Webb, the media and Ian Baker-Finch, the 'Great White Shark' still appeals to many golf fans in this country. As does the prospect of getting some of the biggest names in the game teeing it up here, something that has been a sporadic treat in the past. The PGA Tour, which owns the Presidents Cup, has an existing relationship with the Victorian Government that has led to three staging's at Royal Melbourne, with two more Cups to be contested in the state over the coming years. This relationship makes Melbourne and the iconic Sandbelt anunlikely fit. But there are plenty of other courses around Australia, with one high-profile New South Wales club rumoured to be the potential landing place. And, of course, the close relationships Norman has fostered over the years with numerous high-flying Aussies potentially allowing him a leg up in finding a destination. Rumours of a LIV scouting trip to Sydney and unnamed sources (a common theme when it comes to LIV) were all anyone had to base any suggestion of a LIV event coming to Australia before a press release in late July that openly listed the country as part of the expanded 25 event schedule. Word that some courses have been wary of getting involved for fear of backlash means confirmation is still some time away, and whether an event played here would be a LIV tournament or International Series on the Asian Tour was not explicitly clear. There is also the swirling discussion of creating an All-Australian team in the LIV ecosystem, although something of that nature already exists in 'Punch GC' captained by Wade Ormsby. But Norman is reportedly setting his sights high on the Aussie player front, with Cam Smith (pictured right) asked of his intentions in the aftermath of winning The 150th Open Championship, and his close friend Marc Leishman and fellow major winner Adam Scott the others bandied about. Smith took umbrage with the timing of the question, but has been consistent in his answers on the topic with his "team around me worries about all that stuff" reply no surprise. Leishman uses the same management team but has given no significant indication of his feelings, while Scott is known to enjoy a lighter schedule and has mused on the topic numerous times with no definitive statements. If Norman was to get his way and recruit three of our biggest names and supporters of golf in Australia, it is hard to imagine an event here wouldn't be part of the puzzle.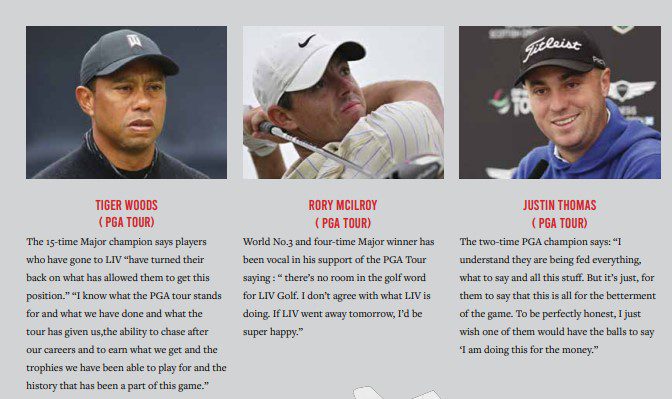 WITH ALL THIS UPHEAVAL, WHAT DOES IT ALL MEAN FOR THE AUSTRALASIAN TOUR AND ITS PLAYERS?
The PGA Tour of Australasia has been a regularly mentioned entity in the LIV Golf circus, and sits as perhaps one of the big beneficiaries from the unfolding drama. For those supporting the concept ofthe new player in the game, mention ofthe PGA Tour's move to a wraparound schedule with tournaments almost every week and its detrimentto our local Tour have been constant. There is no question the American circuit's decision to start its season before the Aussie summer meant players, including our own, had no choice but to remain in the United States and accumulate FedExCup points to keep their card. It also meant bigger names had opportunities to collect points and cash much closer to home. The issues go deeper, but with LIV challenging the status quo, the PGA Tour has responded by reverting to a calendar-based schedule, one that will put the Australian summer window back in play. There will also be some big money international events to be played outside of North America, with Australia a potental option due to our history of producing players and wouldrenowned courses. "I would love if the PGA Tour would go down there and play some golf…I miss playing at home. I'm sure all the fans at home miss seeing world-qulity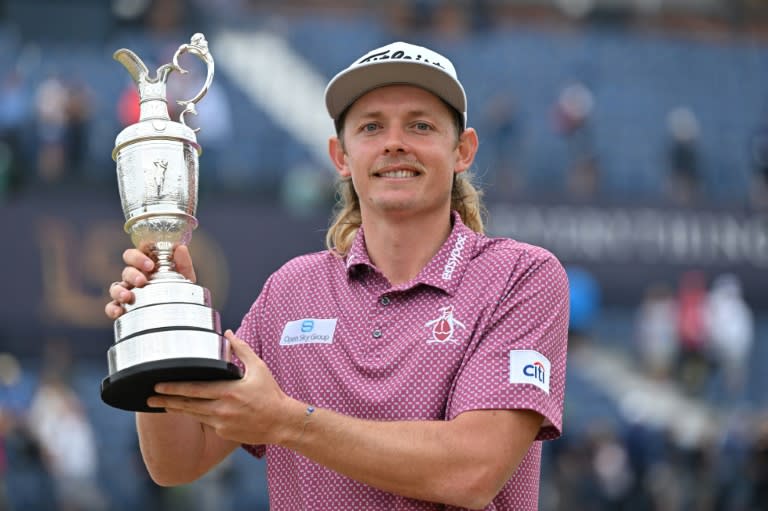 golf," Cam Smith said at the U.S Open. For the players at home, bigger events and co sanctioning coming our way might actually cost places in our larger events or see tournaments played here without them. "Not sure if you understand what my comment means? Didn't mention anything about handouts … just stating that it would be hard to watch an event in your home country and not get the chance to participate," Jarryd Felton replied to Travis Smyth recently on Twitter. Felton's point hits on the messaging of the local Tour. "The ISPS HANDA PGA Tour of Australasia is focused on its strategic alliance with the DP World Tour, which is providing unprecedented pathways for our players to progress on that Tour, along with the Korn Ferry Tour via the PGA Tour," Kirkman said. 'Pathways' is a word that has become a catch cry for the local Tour, with the PGA and DP World Tours looking to attract players as LIV attempts to do the same, more opportunities will be presented for Tours like the Australasian to provide ways for its players to make their way up the ladder. Korn Ferry Tour events in Australia are supposedly on the horizon and, as was the case when the then Nationwide Tour played Down Under, locals can use them as a springboard to more lucrative circuits and expanded opportunities. So, too, the top-10 of the DP World Tour rankings earning PGA Tour cards the following season, something that playing the Australian Open and PGA could help achieve for local and overseas players looking to advance their cause.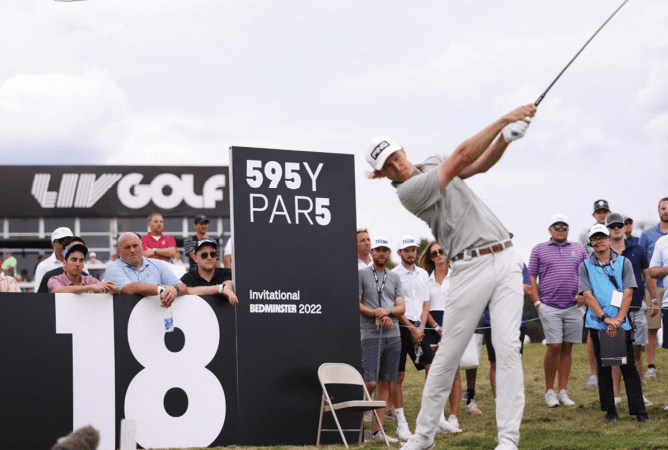 … MORE OPPORTUNITIES WILL BE PRESENTED FOR TOURS LIKETHE AUSTRALASIAN TO PROVIDE WAYS FOR ITS PLAYERS TO MAKETHEIR WAY UP THELADDER.
IS THERE ANY PROSPECT OF A LIV GOLF / TOURS TRUCE?
The short answer is "not right now." But it is surely inevitable that the three bodies
involved in this increasingly polarising dispute will have to at least have a chat about how to proceed going forward. Already, there are positive signs on that score. During the BMW International Open in June, former World No.1 Martin Kaymer spoke eloquently for the need to get all sides talking. Nothing will ever be resolved, said the former U.S Open and PGA Champion, as long as PGA Tour commissioner, Jay Monahan and DP World Tour chief executive, Keith Pelley, resolve not to even meet with LIV representatives. The current situation, continued Kaymer, was only going to further polarise the issue.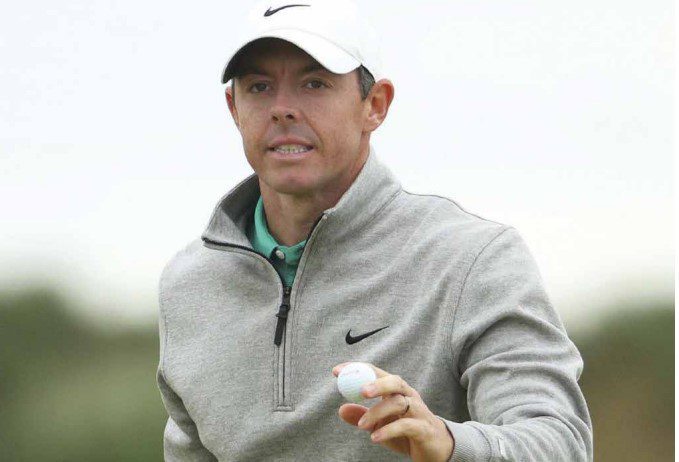 Less than a month later, Rory McIlroy – one of the most outspoken critics of all things LIV and Saudi Arabia – was making similar noises. Along with the rest of the world, the Northern Irishman – chairman of the PGA Tour's Players Advisory Council – seemed to have had enough of the deafening silence emanating from both sides. Speaking at Adare Manor during the JP McManus Pro-am, McIlroy conceded the time was drawing near for some sort of discussions to take place. Perhaps the biggest obstacle to that, however, is Monahan. The $9 million man at the head of what has long been the world's biggest and richest Tour has, publicly at least, talked himself into something of a corner with regard to LIV. Clearly threatened by the possibility of the PGA Tour's elite status disappearing, Monahan has never shown any inclination towards any kind of compromise. Stuck in the mire that is his increasingly tired and almost 12-month long product, the "commish" has never appeared to be anything but  unwilling to give up any part of the calendar year, no matter how much sense it might make for the game as a whole. That is perhaps the biggest problem professional golf currently faces. Selfinterest is everywhere, especially on the PGA Tour.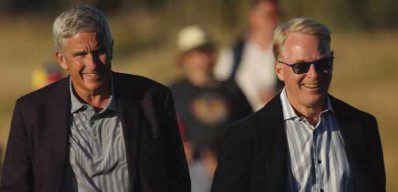 Happy enough to allow its members occasional releases to play in Europe, Asia, Australia – just about anywhere really – they are suddenly unwilling to compromise even a little. The
reason is obvious, of course. The PGA Tour is a classic bully whose true colours are being increasingly revealed as its supremacy is challenged by someone – LIV – bigger,
stronger and richer. Perhaps the most revealing comment Monahan has made since LIV emerged was to the effect that if this is a fight about dollars, his Tour is destined to
lose. Of course, he has subsequently announced a series of big-money events he hopes will prevent any further defections. By his own definition, he is fighting a losing
battle. Perhaps only when that defeat is official will we see an end to this nonsense. Stay tuned. But expect nothing firm until Monahan has metaphorically been dragged
screaming from the room that will inevitably become a debating chamber.It just has to.