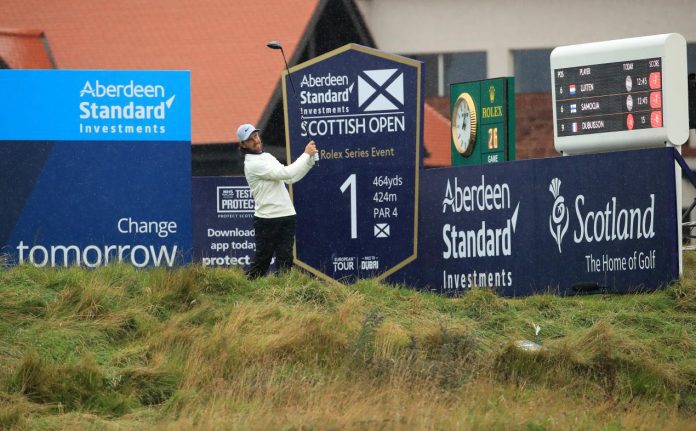 The image of Tommy Fleetwood must be credited to Getty Images and used in conjunction with this release only. Please click on image to download a high-resolution version. You can also download video content and tournament information at the European Tour Media Hub
Round Three Report
Tommy Fleetwood will go in search of a third Rolex Series victory at the Aberdeen Standard Investments Scottish Open after making the most of wet conditions at The Renaissance Club.
The 29-year-old carded a brilliant round of 69 to move up the leaderboard and will tee it up in final group tomorrow alongside leader Robert Rock, who has a two shot advantage at nine under par, and Australian Wade Ormsby.
Fleetwood is joined at seven under par alongside Ryder Cup teammate Ian Poulter, who battled to a 73, Swede Marcus Kinhult (71) and Ormsby (70).
Spaniard Adri Arnaus, Frenchman Victor Dubuisson and Malaysia's Gavin Green shared the lowest rounds of the day with a trio of 67s to sit at five under alongside England's Andy Sullivan, who recorded a 69.
Home favourite Robert MacIntyre carded a 68 to sit in a group of 12 players at four under including fellow Scotsmen Grant Forrest and Marc Warren, and Rolex Series champions Brandon Stone and Lee Westwood.
Player Quotes 
Tommy Fleetwood: "To be fair, there was a period early doors where it was fine. It was playable and I think as the rain got worse, obviously you get wetter and the day gets a bit longer, but when we sort of got to the edge of the golf course and the wind picked up, the rain, this is the worst it's been all day.
"And 18, finishing with a birdie. I said on the fairway, again, stood over the ball and I was pretty prepared for any scenario after hitting that one. I could have duffed it or shanked it or done whatever and wouldn't have been too surprised.
"Actually where it went, it was the most surprising thing. The putt from two feet out looked like it was going in. That one felt really, really good to finish the day, shoot two under out there, I just felt like I won today, like the battle against the golf course after that. It was a nice way to finish."
Ian Poulter: "It tests everything, that you have. You've got all shots from archives you haven't hit for a while. It's miserable. But we're playing golf. We're in a lucky position to be here playing this Aberdeen Standard Investments Scottish Open for a lot of money. So a lot of guys have put a lot of hard work in to get us here. We're here. We're wet. So we just need to dry off and go again tomorrow.
"I'm going to say it was a massive mental challenge, and we needed all of the greenkeepers help to get us here. They were squeegeeing hard the last few holes to get us in to close of play today. It's not easy. That wasn't an easy test of golf.
"My thoughts are not about tomorrow. You know, sounds stupid, but I really lost count of what I was scoring out there around that back nine. I had no idea. I couldn't write numbers on the scoreboard. I couldn't keep my hands dry. I'm in contention. That's a good thing, right. So, I played three rounds. Rocky has obviously shot an incredible round of golf today, to shoot that in those conditions. We're in touching distance. That's all I can ask for."
Marcus Kinhult: "It was a bit of a roller coaster out there for me. Played well, actually, and then around 12, 13, we thought they might call it off, but they didn't. I'm glad we got to finish today, because it would have been tough to come out tomorrow morning, and I had a pretty good finish today. It was fine. I'm happy.
Wade Ormsby: "It just got tougher and tougher as we went around. I put the umbrella down after about four holes and thought I would just deal with it, but by about the 11th hole, it was brutal. And out by the coast there, it was getting a spot of wind, ran out of towels after about 14 holes so a grind coming in.
"Give yourself a chance with one round to go, big event, that's what we all play for. Give it a good crack tomorrow."
Round Three Scores 
204 R ROCK (ENG) 65 67 72,
206 I POULTER (ENG) 67 66 73, M KINHULT (SWE) 66 69 71, W ORMSBY (AUS) 66 70 70, T FLEETWOOD (ENG) 69 68 69,
208 A SULLIVAN (ENG) 67 72 69, G GREEN (MAS) 70 71 67, V DUBUISSON (FRA) 73 68 67, A ARNAUS (ESP) 75 66 67,
209 L WESTWOOD (ENG) 62 71 76, K SAMOOJA (FIN) 65 70 74, D HORSEY (ENG) 70 67 72, G FORREST (SCO) 71 66 72, E PEPPERELL (ENG) 68 70 71, B STONE (RSA) 69 70 70, C SHINKWIN (ENG) 69 70 70, M WARREN (SCO) 70 69 70, A RAI (ENG) 70 69 70, B HEBERT (FRA) 70 70 69, J WINTHER (DEN) 71 69 69, R MACINTYRE (SCO) 74 67 68,
210 L HERBERT (AUS) 66 65 79, M LORENZO-VERA (FRA) 68 66 76, S JAMIESON (SCO) 64 73 73, A BJ?RK (SWE) 63 75 72, M KORHONEN (FIN) 68 70 72, N COLSAERTS (BEL) 68 70 72, M SOUTHGATE (ENG) 68 71 71, C SYME (SCO) 70 69 71, P HARRINGTON (IRL) 71 70 69,
211 J LUITEN (NED) 63 72 76, F ZANOTTI (PAR) 69 67 75, R H?JGAARD (DEN) 68 70 73, G HIGGO (RSA) 72 67 72, E VAN ROOYEN (RSA) 71 69 71, F LAPORTA (ITA) 71 70 70, S CROCKER (USA) 73 68 70, J WANG (KOR) 73 68 70,
212 C LEE (SCO) 65 71 76, P LARRAZ?BAL (ESP) 72 64 76, H LI (CHN) 68 70 74, V PEREZ (FRA) 69 69 74, E FERGUSON (SCO) 69 70 73, M LEE (AUS) 66 74 72, J SMITH (ENG) 70 70 72, J SURI (USA) 70 70 72,
213 S SHARMA (IND) 70 67 76, J CAMPILLO (ESP) 71 67 75, D HOWELL (ENG) 72 67 74, J MORRISON (ENG) 72 67 74, M FITZPATRICK (ENG) 69 72 72, M WALLACE (ENG) 70 71 72, E MOLINARI (ITA) 74 67 72,
214 M ANTCLIFF (AUS) 69 70 75, M PAVON (FRA) 68 72 74, C HILL (SCO) 71 70 73, A OTAEGUI (ESP) 71 70 73,
215 S V?LIM?KI (FIN) 68 69 78, M KAWAMURA (JPN) 69 69 77, J LAGERGREN (SWE) 68 72 75, G COETZEE (RSA) 71 69 75,
216 B WIESBERGER (AUT) 70 69 77,
217 A WU (CHN) 70 70 77, T DETRY (BEL) 71 69 77,
218 S HEND (AUS) 71 70 77,
219 C WOOD (ENG) 69 71 79,
**
142 T PULKKANEN (FIN) 70 72, D BURMESTER (RSA) 71 71, M KAYMER (GER) 72 70, G MIGLIOZZI (ITA) 72 70, S BROWN (ENG) 72 70, T AIKEN (RSA) 72 70, J HARDING (RSA) 73 69, S HORSFIELD (ENG) 76 66,
143 G MCDOWELL (NIR) 69 74, D LAW (SCO) 69 74, R FOX (NZL) 69 74, R MCEVOY (ENG) 70 73, S NORRIS (RSA) 71 72, T PIETERS (BEL) 71 72, S HEISELE (GER) 71 72, J STALTER (FRA) 72 71, H PORTEOUS (RSA) 73 70, R JACQUELIN (FRA) 74 69, D WILLETT (ENG) 74 69,
144 P HANSON (SWE) 69 75, J JANEWATTANANOND (THA) 70 74, A QUIROS (ESP) 71 73, S KJELDSEN (DEN) 72 72, J CATLIN (USA) 72 72, J HANSEN (DEN) 73 71, P O'HARA (SCO) 75 69, O WILSON (ENG) 77 67,
145 C PAISLEY (ENG) 72 73, N ELVIRA (ESP) 72 73, J GUERRIER (FRA) 73 72, A CHESTERS (ENG) 73 72, R PARATORE (ITA) 74 71, R BLAND (ENG) 74 71, N BERTASIO (ITA) 75 70, S GALLACHER (SCO) 75 70,
146 L BJERREGAARD (DEN) 70 76, K BROBERG (SWE) 73 73, R FISHER (ENG) 73 73, G STORM (ENG) 74 72, D DRYSDALE (SCO) 76 70, T OLESEN (DEN) 76 70,
147 C BEZUIDENHOUT (RSA) 69 78, O FISHER (ENG) 72 75, M CAMPBELL (NZL) 73 74, M KIEFFER (GER) 73 74, N FENWICK (SCO) 80 67,
148 J WALTERS (RSA) 75 73,
150 J SCRIVENER (AUS) 75 75,
151 L GAGLI (ITA) 77 74, R RAMSAY (SCO) 80 71,
152 P LAWRIE (SCO) 73 79, L CANTER (ENG) 76 76, R LANGASQUE (FRA) 79 73, A LEVY (FRA) 80 72,
153 T BJ?RN (DEN) 77 76,
154 M JIM?NEZ (ESP) 78 76,
157 A PAVAN (ITA) 81 76,
**
OUT G BHULLAR (IND) 77 DQ, P WARING (ENG) 74 WD, A JOHNSTON (ENG) 71 RT,
Bad Time Registry
Round One: No bad times
Round Two: No bad times
Round Three: No bad times