Brigadier General Mohammad Shamsuzzaman is the current vice-president (admin and finance) of Bhatiary Golf & Country Club, currently serving his second stint at the position. He was involved with the overall supervision and conduct of the recently held American Express City Bank Chattogram Open. Even though the performance of the locals in the event was not too inspiring, Mr. Shamsuzzaman takes pride from the fact that they hosted so many national and foreign golfers without a single incident. Here he speaks about the challenges of hosting such a prestigious tournament and the dedication of the dedicated BGCC staff and tournament officials.
Bhatiary Golf & Country Club just hosted a prestigious tournament. How successful was it?
The third Chattogram Open was definitely a success where a lot of local and international golfers took part. The quality of the course was brilliant. We worked rigorously for three months for hosting this event. From an administrative point of view, we are proud that we completed the event smoothly ensuring the safe and sound accommodation, transportation and hospitality of the golfers. We had to coordinate among various agencies and authorities of government and others to ensure the best branding, promotion and logistical affairs. I think the image of BGCC was heightened.
What was the biggest challenge in hosting the event?
The biggest challenge was ensuring security. We hosted many foreign players.  Everyone involved with the event worked with dedication and hence it proved to be pretty flawless. Another challenge was conducting the event on time. Starting and finishing an event of such magnitude dot on time requires farsightedness, deeper understanding, meticulous planning and utmost sincerity in execution on the part of the club officials and staff and other associates involved in the management and operation of the of the tournament and respect for order, instructions and discipline on the part of the players. Besides, by the grace of Almighty Allah, there was hardly any rain during the tournament which made things easier for us.
From the perspective of the local players' performance, how satisfied are you?
Our expectation is obviously very high, maybe not everyone has met the high standards. However, 16 local players made the cut, which was a good thing. The winner's score of 24-under set a new record for this course, which is also a point of great satisfaction.
BGCC is a signature golf club. What is it that makes it different from the other golf clubs?
The scenic beauty of BGCC is pretty unique. In other courses, they make slopes by cutting lands, but it is a natural golf course with gifted ups and downs. This course is challenging as well as physically demanding. Anyone who comes cannot forget the experience. The greens and fairways are maintained very well.
How can golf be made the second biggest sport in Bangladesh within the next six years?
The reality is not a lot of people play golf in our country. You need to have the equipment and the access to the golf course to play, which is very difficult for most people. If we have to popularise the game at the mass level, we need to take large-scale programmes at grassroots level. Since we are getting some success at the international level, if we can get all the support from the government and sponsors, it might be possible. We need concerted effort from all quarters. We need more courses, more sponsors for players and nurturing of the players from a very young age. You also need trailblazers who can make the game popular. People go to watch Tiger Woods because he can perform miracles on the golf course. Considering myself to be one of the luckiest, I had the opportunity to watch Tiger in Quicken Loans National PGA Tour at TPC Potomac at Avenel Farm, Maryland in 2018.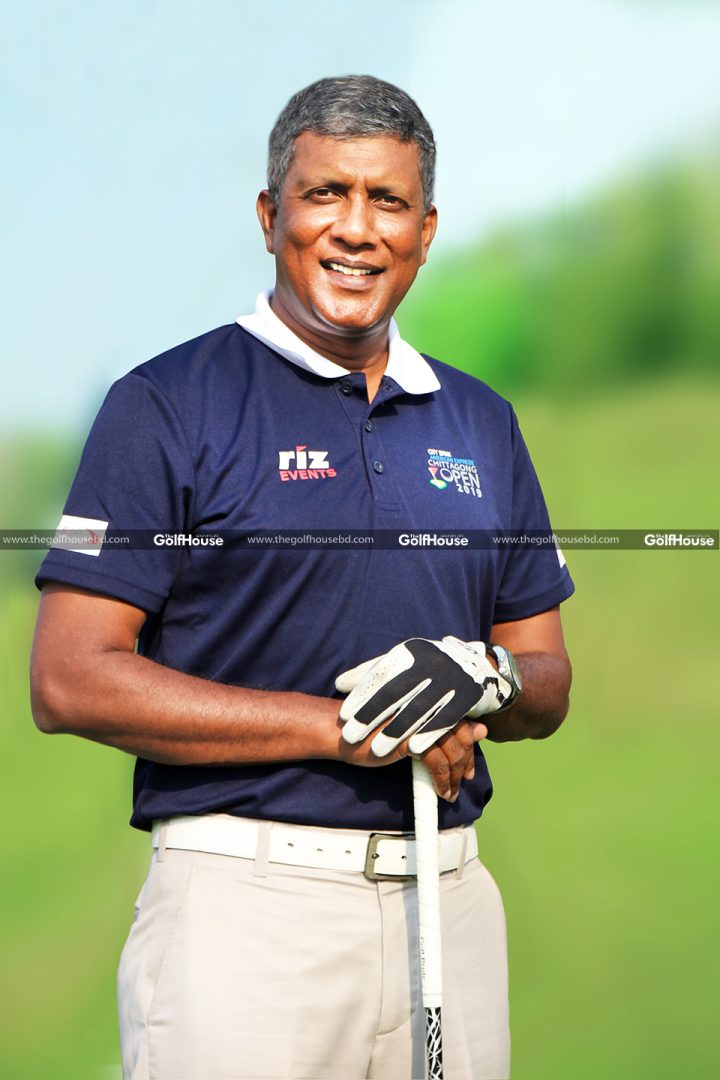 How did you get involved with golf?
I started my golfing journey in 2007 when I was a commanding officer of a unit at Bogura. I had a very different impression of the game at that time. Then I used to play tennis. Our senior officers persistently encouraged us to join golf. So one day I was kind of cajoled into going to the golf course. I used to think it was a very easy game, but when I took to the course soon I realised how wrong I was; it was a very difficult sports. I couldn't get the ball up in the air even, what to talk about taking it far and straight. It made me determined to learn the game. I gradually improved in it. I served as the VP, Admin and Finance of BGCC in 2012-13 period as well. It was at that time that I made good progress. Then I played in Army Golf Club and Kurmitola. Now I cannot think about staying without golf.
What is it about golf that attracts you most?
There are various facets of golf. It is a character builder. You play the game against yourself and you have to stay away from the temptations on the course as you are playing on your own. Keeping the temptation in check is a great character building exercise. If we can expose our nation to this game properly, it can work as a national character builder. Secondly, you get a serene environment at the golf course and you get to meet new people almost everyday. This game keeps me lively and physically fit.
Does anyone else in your family play golf?
I tried to bring my wife and my elder daughter to golf. But they are not really that keen into golf.
Any message to those people who are not playing yet?
It is never too late to start playing golf. You can start this game at any age. Those who are not playing, the day they start playing they will start to realise what they had been missing all this time; I am more than sanguine they will repent. If you have the opportunity, you should start playing golf immediately.