Tahmina Rehman (Lipi) is one of the leading amateur women golfers of the country. She has her own business and other occupations but she never stays away from her biggest passion – golf.
Tahmina surprised everyone when she won the Standard Chartered Lady Captain's (2011) hole-in-one and got a handsome reward in the shape of a car for her effort.
"That is my best memory in golf. Making the hole-in-one and winning the car is unforgettable," the veteran golfer said in an interview with TheGolfHouse magazine.
She said she fell in love with the game the first time she stepped into the Kurmitola Golf Club. "Golf is an amazing sport. I fell in love with the game the first day I came and I knew I would do well in it. I went to the driving range, got trained in the sport. Now here I stand after eleven years, having won a number of tournaments. I play 18 holes three days a week. I play with lady golfers, expats and all."
She has played in some of the finest golf courses in the world including Thailand, Spain, Hawaii, Tory Pines in California but Kurmitola remains close to her heart.
"Although I had the opportunity to play in many places but I love our Kurmitola Golf Club. It is like a heaven in Dhaka city. Where else would you find such fresh air in middle of the city?" she said.
But what still makes her coming back to the golf course again and again with so much social and family duties apart from her business ventures? She feels one can manage time if he/she has the dedication to something.
"You have to manage your time. You can play on weekends or even at early morning on weekdays. There are so many benefits of this game. Your brain remains busy as you play because you have to keep in mind a lot of things like your choice of club according to your distance, wind direction, hand speed, thickness of the grass, your posture just to name a few. It gives you physical as well as mental exercise. And the good thing is you can play completely on your own if you want to even if playing with others make is all the more engaging and fun."
Tahmina feels the game needs more promotion in our country especially among women. "We need to have more international tournaments for more golfers to participate. Girls should be more involved with this game. If they can come and watch, they will definitely get interested. There are all the equipments here to learn the game. Oh yes, and there is no need to worry about getting sun-burn or other physical hazard, because this game unlike football or cricket, comes with a lot of protection and cover. So women like men should come to the golf course and utilize their time in the most productive way."
"There is no sport that a woman cannot venture into. All a woman ever needs is a strong mindset and the rest will follow," said Rehman.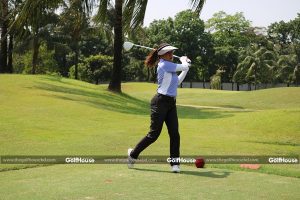 She also enlightened us with few of her other bold initiatives which were equally remarkable. She did her undergraduate and Masters degree for USA and came back home to start up business.
"Back in 2000, I was determined to get into the dredging business, having seen a lot of prospect in the field. And I proved my worth by becoming the first woman in the private sector dredging business of Bangladesh.
"I did not stop only there, I also initiated a women centric NGO, the BDAWL (Bangladesh Alliance for Women Leadership) in 2008 becoming its founding member and treasurer," she said.
For someone who has achieved so much in a world that is not so vocal about women dreamers, Rehman had motivating words to say-
"I have not let anything stop me from doing what I always wanted to do. At BDAWL, we try to build that courage, the leadership techniques amongst women."
Conversing on her admission into the world of golf she mentions her husband, "I used to play squash before, that's when my husband encouraged me towards golf. One day I came to Kurmitola, to play alongside my husband. Since that day, 11 years ago, I have never looked back, falling completely in love with every aspect of the game."
Naturally, we wanted to know what attracted her so much about the game.
"Well, it's the challenge! Golfing helped build my character; I believe I am more composed, calm and patient today because of the game. There are a lot of calculations involved and one has to solve them every time to make that – 'one single shot'. Anyone who likes to take up challenges should definitely try golfing as a sport. Also it's a great way to relieve your stress. "
Carrying on the conversation, Rehman pointed out how things had improved significantly over the years especially for women in golf. The government has helped us a lot in this regard. There is a separate training institute for women and even children. I have a plan to take up formal training someday and try for a professional tournament if I see myself fit. After all, life would be bland without a good challenge!"