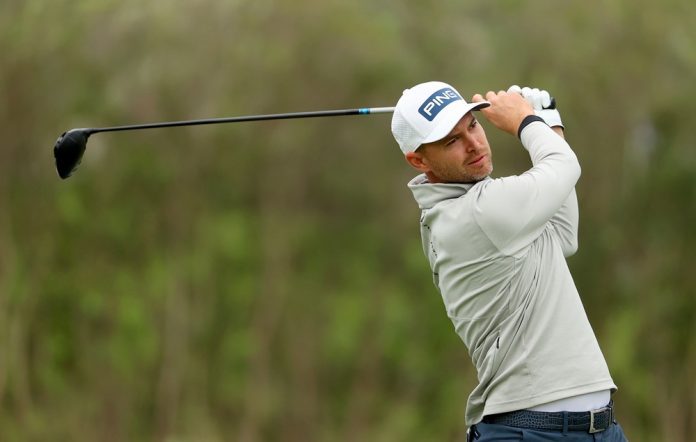 The South African is chasing a maiden European Tour win as he aims to secure his playing privileges for next season with a strong finish to the Race to Dubai.
The two-time Sunshine Tour winner had entered round two at Golf Santa Ponsa a shot off the lead, and with testing conditions greeting the early starters, he was still in that position when he teed off in the final group of the day.
The wind made scoring tough in the afternoon too, but the 34-year-old made five birdies and a single bogey to get to 11 under par through 17 holes before darkness brought play to a close.
Home favourites Jorge Campillo, Sebastian Garcia Rodriguez and Alvaro Quiros and Dane Jeff Winther were in the clubhouse at seven under par, with English pair Laurie Canter and Richard Mansell and German Matti Schmid amongst seven players one shot further back at six under par.
Player Quotes
Bryce Easton: Lovely day, made it look a bit more difficult for myself on the back nine, had to grind out a few par saves. I played the front nine lovely, managed to hang in. Tough coming in at the end there. Obviously getting dark. Overall very happy with how today went, happy with where I am.
There were a lot of cross winds that were – is it helping a fraction or hurting a fraction – it's one of those where you just don't quite know. Small greens, small targets, so it's definitely a factor. It was a tricky day.
My biggest concern coming up the last couple was how the tee times will shape up. I think a nine o'clock start, so not too early and a two tee start would be great for me.
Jorge Campillo: "It was just solid, not very stressful. I hit it good off the tee, which helps. Some decent irons. I had some up and downs coming in which were OK too, so stress free. It was nice.
You do have to be patient. The greens are not as good as they were yesterday morning and the wind is quite tricky. You have to be patient, try to put the ball into play and don't make silly mistakes. But I like these type of conditions. I like playing in the wind, I don't like the rain, but it didn't rain, so it was perfect.
I knew it was going to be tougher but I kind of like it. The course is player tougher but I didn't do anything different, you've just got to be more focused and pay more attention to the wind. beside that, it's pretty much the same.
Hopefully I can keep hitting it as good as I am, make a few putts and give myself a chance on Sunday. That would be nice.
Jeff Winther: Yesterday was really good, today was like a circus. I had no idea where the ball was going. Hit two fairways today.
It's not really the weather conditions, it's more when you don't have a clue where your driver is going. That's the biggest issue really. As my caddie said on the way up to the recording area "It was easier counting your fairways than it was your putts". I just hit two today, so I'm way off.
Just relax (tomorrow), try to have fun. You can get some good lies and some really bad lies out here. You saw it on our second last hole, Victor (Dubuisson) hit a great drive just off the fairway, had an impossible lie. I was two yards left of him – perfect. You can get really unlucky out here.
Alvaro Quiros: Today was about patience because weather conditions have changed a lot. The temperature was nice, but strong winds – that always makes our life a little more difficult. To be honest, from tee to green up until hole 12 or 13 I was hitting every green. It was good for the circumstances.
With this strong wind you need to think more of the trajectory and different shapes. It is pushing you to play certain shots at times.