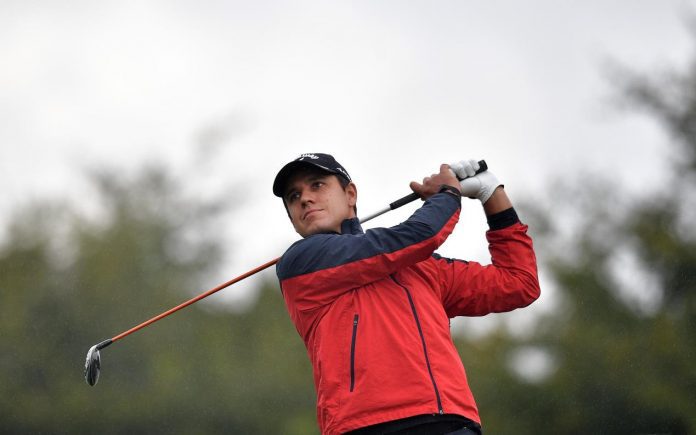 The image of Enrico Di Nitto must be credited to Getty Images and used in conjunction with this release only. Please click on image to download a high-resolution version.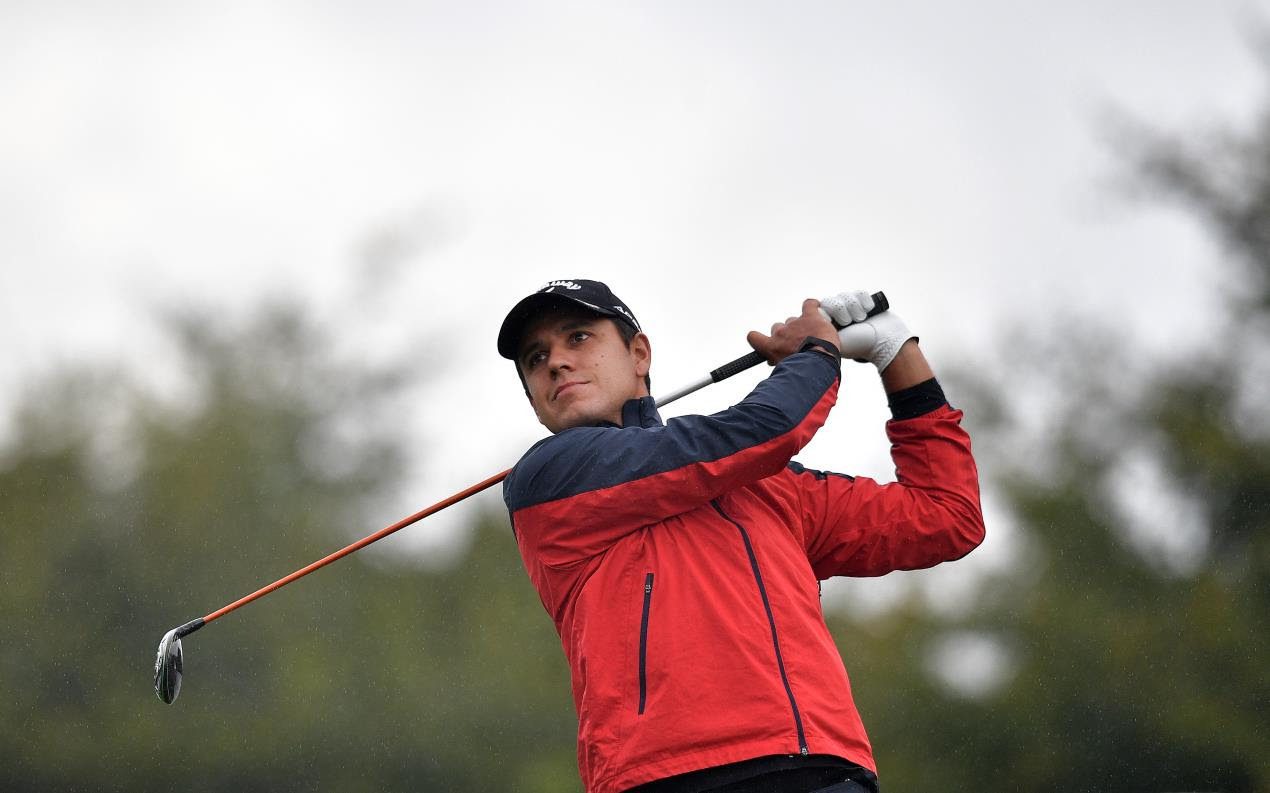 Day Two report
The Italian was one over at the turn but six back nine birdies earned him a four under par round and a six under par total, therefore handing him a one-stroke lead over England's Robert Dinwiddie and Iceland's Gudmundur Kristjansson at end of the second round at Galgorm Castle Golf Club.
Enrico Di Nitto holds an overnight lead for the first time in his European Challenge Tour career after posting a four under par round of 66 on Day Two of the Northern Ireland Open Supported by The R&A.
Di Nitto, who earned a Challenge Tour card for 2020 via the Satellite Alps Tour last year, leads a Challenge Tour event for the first time but will try to approach tomorrow's third round with the same mindset as usual.
"It's really, really tough out there because of the wind and some rain," he said. "We're not too used to it in Italy so it's kind of new. The tee shot is pretty important here. I played pretty well from the tee and I holed great putts, so I'm pretty happy with that.
"The change was the birdie on 12. It was raining really heavily and I had a putt for birdie. I holed it so that changed my mindset a little bit and that was it.
"I'll try not to think too much about the lead. It's new for me on the Challenge Tour, I think it's the first time, so it will be tough. I'll try to think shot-by-shot and I'm just going to see what's going on."
The 27-year-old is looking to emulate countryman Francesco Laporta, who was crowned Road to Mallorca Number One last year after winning twice in his final three events of the year, including the Challenge Tour Grand Final.
"I admire Francesco because of his attitude," he said. "I love seeing him around the course because he has a brutal mentality. I just think if he can do it, then why not?"
The tied-second duo of Dinwiddie and Kristjansson lead a group of five players in tied fourth on four under par, including Englishman Ryan Evans who posted a five under par round of 65. He's joined in a tie for fourth by Belgium's Christopher Mivis, English duo Bradley Moore and Alfie Plant, and Denmark's Martin Ovesen.
The low round of the day – and the week – went to England's Richard Mansell. After posting a five over par 75 in the first round, he roared into contention with a bogey-free seven under par 63 on Day Two to sit on two under par, four shots off the lead. A total of 64 players survived the cut of three over par.
Scores after round two:
134 E DI NITTO (ITA) 68 66,
135 G KRISTJANSSON (ISL) 68 67, R DINWIDDIE (ENG) 69 66,
136 B MOORE (ENG) 67 69, A PLANT (ENG) 67 69, M OVESEN (DEN) 68 68, C MIVIS (BEL) 69 67, R EVANS (ENG) 71 65,
137 B HELLGREN (SWE) 68 69, S TARRIO (ESP) 69 68, B NEIL (SCO) 70 67,
138 J QUESNE (FRA) 66 72, T KOIVISTO (USA) 67 71, K JOHANNESSEN (NOR) 69 69, R PETERSSON (SWE) 70 68, B RUSCH (SUI) 71 67, M BULLEN (ENG) 72 66, R MANSELL (ENG) 75 63,
139 D YOUNG (SCO) 68 71, C ROSS (SCO) 68 71, C O'ROURKE (IRL) 69 70, S MANLEY (WAL) 69 70, C ROBB (SCO) 71 68, W ENEFER (ENG) 71 68, A WILSON (ENG) 71 68, J FAHRBRING (SWE) 71 68,
140 C BERARDO (FRA) 67 73, C CANNON (ENG) 68 72, D KEMMER (USA) 68 72, N KIMSEY (ENG) 69 71, J GALBRAITH (NIR) 70 70, M FORD (ENG) 70 70, G HIGGO (RSA) 72 68, S FERNANDEZ (ESP) 73 67,
141 B TALBOT (ENG) 68 73, J ALLAN (ENG) 69 72, M GALIANO AGUILAR (ESP) 69 72, N JOHANSSON (SWE) 70 71, R VAN WEST (NED) 70 71, N KEARNEY (IRL) 71 70, A KNAPPE (GER) 71 70, J DANTORP (SWE) 72 69, S FORSSTR?M (SWE) 74 67, L NEMECZ (AUT) 74 67,
142 M LUNDBERG (SWE) 68 74, J GRENVILLE-WOOD (ENG) 69 73, T SLOMAN (ENG) 70 72, A WILLEY (ENG) 70 72, J FLOYDD (ENG) 70 72, P L?NGFORS (SWE) 70 72, H ELLIS (ENG) 71 71, H STUREHED (SWE) 71 71, J AXELSEN (DEN) 71 71, D BOOTE (WAL) 72 70, G BLOOR (ENG) 72 70, M WAITE (ENG) 73 69, A BJORNSSON (ISL) 73 69, S GREGORY (ENG) 74 68,
143 A PALMER (ENG) 70 73, D BORDA (ESP) 71 72, H MAGNUS (ISL) 73 70, A KOPP (AUT) 73 70, M ORRIN (ENG) 74 69, M EGGENBERGER (SUI) 78 65,
144 G CASTAGNARA (ITA) 70 74, M ELVIRA (ESP) 71 73, T MCKIBBIN (AM) (NIR) 71 73, E DUBOIS (FRA) 71 73, G BOURDY (FRA) 72 72, J LANDO CASANOVA (FRA) 72 72, F LACROIX (FRA) 73 71, C SAHLSTROM (SWE) 73 71, M WIEGELE (AUT) 74 70,
145 H ARKENAU (GER) 70 75, S TOWNDROW (ENG) 70 75, J SANDBORG (SWE) 72 73, R MULLARNEY (IRL) 73 72, N KRISTENSEN (DEN) 73 72, G HURLEY (IRL) 73 72,
146 J SAINZ (ESP) 73 73, J GIRRBACH (SUI) 74 72, M HOEY (NIR) 76 70, H WOAN (ENG) 76 70, J HARRISON (ENG) 78 68,
147 D QUINONES (USA) 71 76, V RIU (FRA) 71 76, S MATUS (CZE) 72 75, A ZEMMER (ITA) 73 74, R DE SOUSA (SUI) 78 69,
148 E WALKER (SCO) 68 80, D GAVINS (ENG) 70 78, J WRISDALE (ENG) 71 77, G KING (ENG) 73 75, J KUNZENBACHER (GER) 74 74, B HUTCHINSON (ENG) 74 74, B GILL (ENG) 76 72,
149 D CAREY (IRL) 71 78, L OWEN (ENG) 72 77, C BRAEUNIG (GER) 72 77, S GREHAN (IRL) 73 76, C PURCELL (IRL) 74 75, J VECCHI FOSSA (ITA) 75 74, N M?LLER (DEN) 76 73, H DU PLESSIS (RSA) 78 71,
150 T CLEMENTS (ENG) 71 79, F MACCARIO (ITA) 72 78, D MCELROY (NIR) 76 74,
151 B FOLLETT-SMITH (ZIM) 73 78, A JOHN (GER) 76 75, R MCGEE (IRL) 76 75, F MORY (FRA) 77 74, R HARMER (ENG) 77 74, E LIPPARELLI (ITA) 80 71,
152 J HILL (AM) (NIR) 76 76, J HASSAN (ENG) 80 72,
153 B LAWLOR (IRL) 74 79, S HENRY (SCO) 75 78, R DAWSON (IRL) 76 77, P MCBRIDE (IRL) 79 74,
154 M PENGE (ENG) 70 84,
155 C KNIPES (ENG) 74 81, S FERREIRA (POR) 79 76,
157 J OCHOA (ESP) 82 75,
158 M RUSH (USA) 80 78,
162 F DAUX (FRA) 81 81,
163 M GRASSOTTI (SWE) 80 83,
**
OUT J THOMSON (ENG) 78 WD, J KOLBING (GER) 78 RT, M DECOTTIGNIES-LAFON (FRA) RT ,