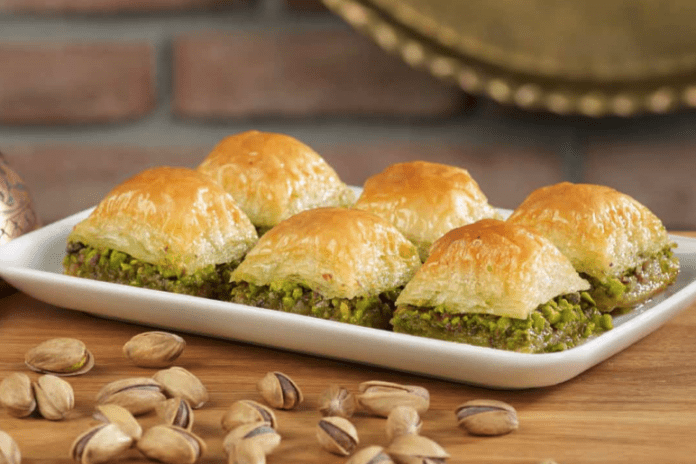 Sweets were offered to the gods in ancient Mesopotamia, ancient India and other ancient civilizations. Dried fruit and honey were probably the first sweeteners used in most of the world, but the spread of sugarcane around the world was essential to the development of dessert.
The word "dessert" originated from the French word desservir, meaning "to clear the table" and defined as a usually sweeter course that concludes a meal.
The classic Turkish desserts are edible jewels and exotic. Turkish baklava is delicate. In a good baklava, the butter comes forward, and your fingers are not sticky with syrup. Baklava comes in all shapes – rolls, diamonds, circles and spirals – and had various nut fillings.
Here's baklava dessert recipe that everyone must try once in their lifetime.
 Baklava
Ingredients
40-50 Phyllo pastry sheets
200-250g unsalted melted butter/clarified butter or ghee
1 cup finely ground pistachios
½ cup finely ground almonds
1 tbsp ground cinnamon
½ tsp ground nutmeg
1½ cup water
2 cups sugar
1 tsp lemon juice
Salt, a big pinch
Method
Take a baking pan and brush the inside of the pan with clarified or melted butter and place the first phyllo sheet in the pan. If the sheet is too big to fit the pan, trim it to fit. Now, using a wide pastry brush, lightly brush the top of that first sheet. Continue layering and buttering until half portion, 20-25 of total 40-50 sheets.
In a mixing bowl, mix all ground spices and nuts and put the nut filling on top of it and spread evenly. Cover the filling with another layer of remaining sheets, brush each sheet with clarified butter and continue repeating all the remaining sheets as instructed before.
Coat the top and edges with clarified butter again, then with a sharp knife that has been previously dipped into hot water, cut all the way through the layers. You can cut it into a simple little square or cut it into a diamond.
Bake the baklava into a preheated oven into 180° C for 25-30 minutes, until the top gets golden brown.
Meanwhile, prepare the syrup. In a small saucepan, combine the sugar, water, lemon juice, salt and bring to a boil over medium heat, reduce the temperature to low, and simmer, uncovered, for 5 minutes. Let the syrup cool until you are ready to use it.
Let the baklava cool for 5 minutes; then use a spoon to drizzle the syrup into all of the cuts. Allow the baklava to cool completely before enjoying, a few hours or overnight. Garnish with chopped nuts.