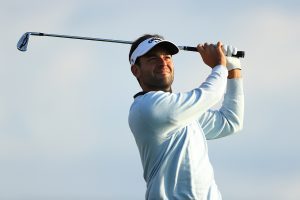 Carlos del Moral carded the joint low round of the week to rise up the leaderboard as wet weather caused more delays during the third day of the Viking Challenge.
Heavy showers had prevented the second round from being completed yesterday, and after more rain overnight, the decision was taken to reduce the tournament to 54 holes with the second round concluding today.
Play did not start until 3pm local time, but when the second round got back under way it was del Moral who shone brightest at Miklagard Golf.
The Spaniard showed no signs of being affected by the delays, following three birdies over the front nine with four more gains over the back nine to sign for a 66.
The 31 year old will start the final round two shots behind leaders Clément Sordet and Daan Huizing, and after such a strong second round display del Moral admitted he feels right at home in Kløfta.
"I feel very comfortable on this type of golf course," said del Moral, who is six under overall. "With the amount of rain we have had over the past three days the greens are rolling really nicely, and my putting was really good so I was able to take advantage of the conditions.
"Tee to green I didn't play that well, I am working on changing my swing at the moment, but overall I am very pleased with my score.
"I hit a lot greens, not that close though, and that meant I had to be really good with my putter. Luckily it was really hot today, and I am so happy to have done so well in difficult conditions.
"It was actually not too bad for me today. I arrived at the course at six in the morning but when we heard that play had been suspended I went back to sleep for a couple of hours – so it was just like a normal day really.
"I need to work a little bit on my game tomorrow but I am feeling pretty confident. Hopefully I can keep the putter hot as anything can happen over 18 holes."
Also impressing on Day Three in Norway were America's Chase Koepka and Italy's Aron Zemmer, who both made scores of 67 to move to five under par overall.
Elias Bertheussen, the highest-placed Norwegian player in the field, will go into the final round five shots off the lead on three under overall – comfortably inside the cut line which fell at two over par.
Scores after Round Two:
136 C Sordet (Fra) 70 66, D Huizing (Ned) 69 67,
138 J Doherty (Sco) 70 68, C Del Moral (Esp) 72 66,
139 R Enoch (Wal) 69 70, B Eccles (Aus) 71 68, A Zemmer (Ita) 72 67, T Pulkkanen (Fin) 70 69, C Koepka (USA) 72 67,
140 C Ford (Eng) 72 68, M Lundberg (Swe) 71 69, C Blomstrand (Swe) 72 68, A Wennstam (Swe) 72 68, N Johansson (Swe) 72 68,
141 K Samooja (Fin) 70 71, A Bernadet (Fra) 73 68, E Bertheussen (Nor) 70 71, T Tree (Eng) 71 70, T Murray (Eng) 69 72,
142 S Hutsby (Eng) 70 72, J Elson (Eng) 68 74, S Kim (USA) 67 75, S Piaget (Mon) 72 70, M Kinhult (Swe) 67 75, S Fernandez (Esp) 74 68, S Henry (Sco) 73 69, M Lampert (Ger) 73 69, R Kellett (Sco) 72 70, M Schwab (Aut) 74 68, J Heath (Eng) 71 71, B Poke (Den) 70 72,
143 M Madsen (Den) 71 72, A Saddier (Fra) 71 72, R Saxton (Ned) 72 71, V Riu (Fra) 69 74, T Lawrence (RSA) 68 75, R Evans (Eng) 70 73, B Hafthorsson (Isl) 73 70, M Ford (Eng) 74 69,
144 M Hoey (Nir) 72 72, J Dantorp (Swe) 74 70, R McEvoy (Eng) 74 70, P Howard (Eng) 73 71, B Evans (Eng) 70 74, T Linard (Fra) 74 70, M Laskey (Wal) 72 72, A Olsen (Nor) 73 71, J Garcia Pinto (Esp) 73 71,
145 B Hellgren (Swe) 70 75, R Green (Aus) 74 71, M Trappel (Aut) 71 74, G Moynihan (Irl) 73 72, J McDonald (Sco) 72 73, M Ovesen (Den) 70 75, S Forsström (Swe) 69 76, M Cort (Eng) 73 72, E Goya (Arg) 73 72, A Altuntas (Tur) 77 68, N O'Briain (Irl) 71 74,
146 J McLeary (Sco) 70 76, M Søgaard (Den) 74 72, A Bjornsson (Isl) 73 73, M Wiegele (Aut) 69 77, J Sarasti (Esp) 72 74, P Mejow (Ger) 74 72, L Vaisanen (Fin) 73 73, P Widegren (Swe) 74 72, V Maroy (Nor) 72 74, G Hurley (Irl) 74 72, N Geyger (Chi) 71 75,
147 J Pastor (Esp) 76 71, N Cullen (Aus) 75 72, H Rönneblad (Swe) 74 73, R Hjelm (Den) 73 74, R Davies (Wal) 73 74, J Van Der Vaart (Ned) 74 73, E Johansen (Nor) 73 74, N Von Dellingshausen (Ger) 73 74, D Berna Manzanares (Esp) 74 73, M Baldwin (Eng) 72 75, R Dinwiddie (Eng) 76 71, J Brun (Fra) 77 70, J Lando Casanova (Fra) 74 73,
148 M Schneider (Ger) 75 73, K Phelan (Irl) 74 74, H Joannes (Bel) 73 75, A Maestroni (Ita) 73 75, K Johannessen (Nor) 73 75, R Echenique (Arg) 75 73, A Ellingsberg (Nor) 72 76, J Hansen (Den) 73 75, L Gerhardsen (Nor) 77 71, P Tarver-Jones (Eng) 76 72, J Sjöholm (Swe) 76 72, C Mivis (Bel) 74 74, D Foos (Ger) 73 75, J Arnoy (Nor) 77 71, R James (Wal) 72 76,
149 E Di Nitto (Ita) 78 71, F Maccario (Ita) 74 75, N Ravano (Ita) 79 70, R Santos (Por) 75 74, K Eriksson (Swe) 74 75, N Lindstrom (Swe) 79 70, G King (Eng) 77 72, C Braeunig (Ger) 75 74, J Guerrier (Fra) 75 74, O Stark (Swe) 74 75,
150 C Selfridge (Nir) 75 75, J Makitalo (Fin) 78 72, G Boyd (Eng) 74 76, C Bezuidenhout (RSA) 76 74, C Aronsen (Nor) 74 76, P Mikalsen (Nor) 76 74, J Allan (Eng) 74 76, E Dubois (Fra) 77 73, S Aadusaar (Est) 75 75,
151 F Bergamaschi (Ita) 77 74, J Kunzenbacher (Ger) 72 79, L Nemecz (Aut) 73 78, O Wilson (Eng) 77 74, C Griffiths (Eng) 75 76, K Johanson (am) (Nor) 72 79,
152 S Stavnar (Nor) 80 72, J Rutherford (Eng) 76 76, L Galliano (Sui) 78 74, W Besseling (Ned) 73 79, S Grant (Irl) 77 75, O Lindell (Fin) 80 72, W Harrold (Eng) 74 78, M Eggenberger (Sui) 74 78, J Bower (Eng) 78 74, M Heien (Nor) 79 73,
153 M Ulseth (Nor) 76 77, S Jeppesen (Swe) 76 77, J Vecchi Fossa (Ita) 76 77, B Neil (Sco) 77 76, T Shadbolt (Eng) 80 73, M Braadlie (am) (Nor) 75 78,
154 O Loftsson (Isl) 79 75, S Einhaus (Ger) 76 78,
155 F Daux (Fra) 78 77, B Skogen (am) (Nor) 78 77, J Volden (am) (Nor) 82 73,
156 L Cianchetti (Ita) 77 79, G Pinto (Por) 80 76, R Charania (Ken) 79 77,
158 P Roos (Fin) 78 80, J Ramos (Por) 77 81, K Krokeide (am) (Nor) 82 76,
167 S Isik (Tur) 84 83,
173 J Johannessen (Nor) 91 82,
** R Kakko (Fin) 74 DQ, M Tullo (Chi) 76 DQ, P Maddy (Eng) 81 WD, M Pastor (Esp) 79 WD,